Kit: Cold Weather Riding Gear 冬季骑行装备推荐
MATT NEUNDORF
2
4546
---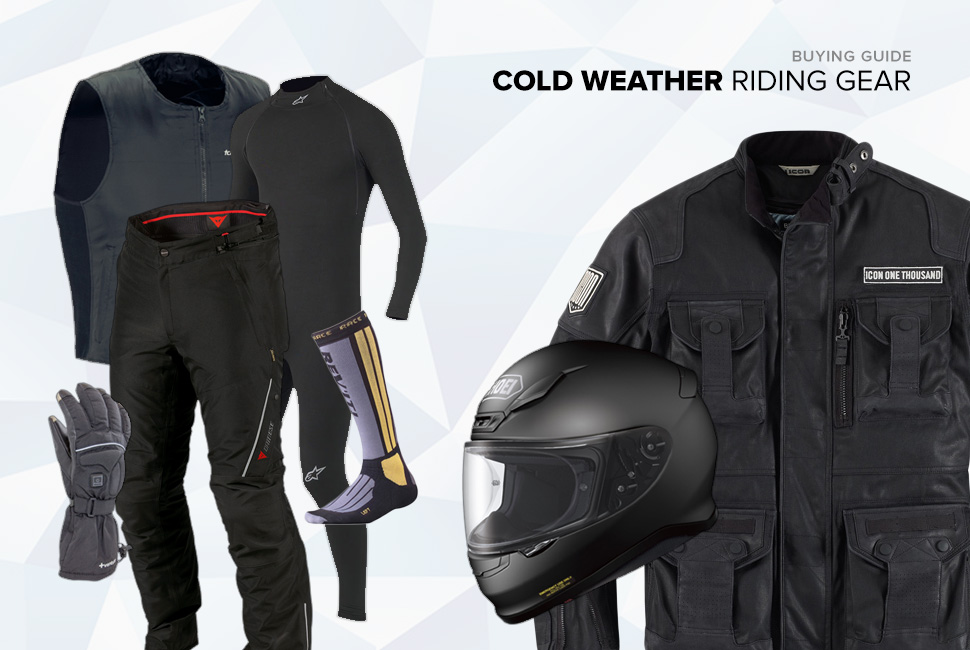 BE COOL, NOT COLD
Kit: Cold Weather Riding Gear
BUYING GUIDE
PRICE : $100-$499
By MATT NEUNDORF
on 1.20.14
Warm sunny days are still two or six weeks away for those of us in the northern regions (depending on your groundhog of choice) — and yet taking your motorcycle out for a few "pre-season" blasts can be a joyous, refreshing experience. At 55 mph a simple flip of your visor is like downing a triple-shot of your favorite espresso; at eighty-five it's even better. Hell, a simple whiff of spring air mixed with just a touch of exhaust is enough to give you the stamina of Sting — provided you've prepared. Otherwise, prepare for much shivering and an early decision to head back to the heated garage. The solution is having the right gear to stay warm and protected. We've lined up our own personal arsenal for your cold-weather-riding pleasure. 
Alpinestars Winter Tech Performance Suit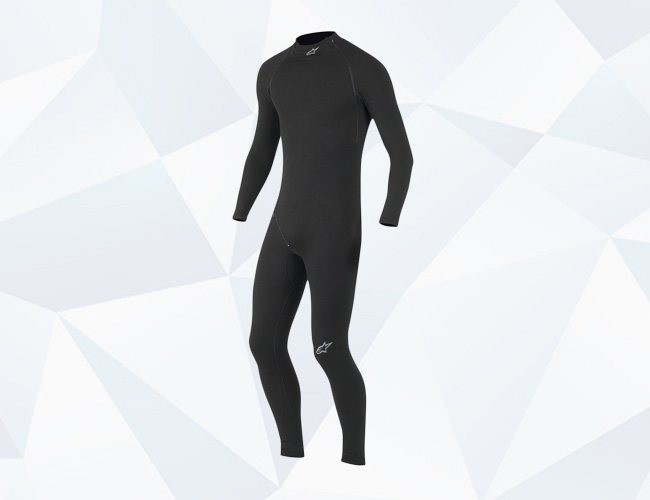 A warm body begins at the first layer, the one right next to the skin. Alpinestars' Winter Tech Performance Suit is dual-layer onesie designed to keep you from cutting glass whilst cutting corners. Hidden zippers and a tubular seamless construction keep any frosty air away from your core; it's made using a moisture wicking polypropylene and elastine fabric that acts as a compression device to support your muscles and reduce fatigue while it keeps you warm. Just make sure you back it up with lots of heavier outerwear.
BUY NOW: $220
Rev'It Tour Winter Socks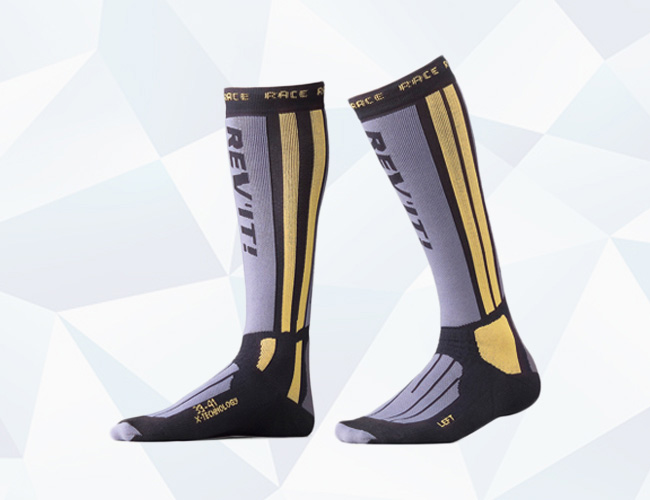 Granted, cold feet may have saved your college roommate from making the biggest mistake of his life but, almost every other time, they're a bad thing. A soft and insulating layer of pure Merino wool is woven into these anatomically shaped knee-highs, while a moisture wicking interweave takes care of any potential foot-funk when slid into your favorite boots. They're even labelled "left" and "right".
BUY NOW: $39
Dainese Street Tracker Gore-tex Conformato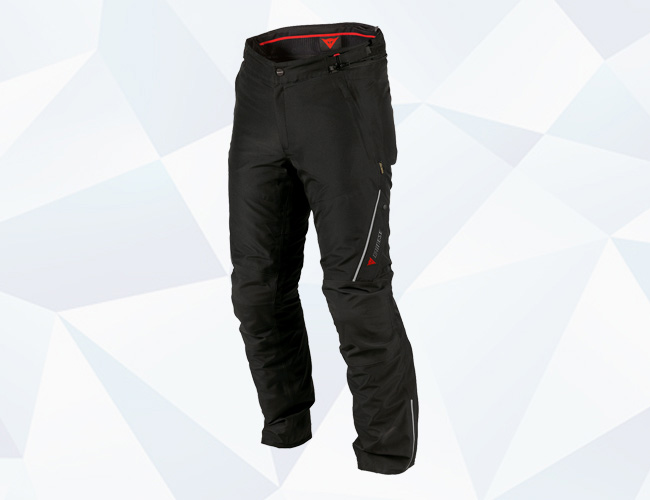 Outer layers need to block wind, resist abrasion and keep out Homer's nemesis: lousy Smarch weather. The Dainese Street Tracker Conformato pants do an excellent job of this for your lower half. A Gore-tex membrane is laminated to the outermost layer to keep moisture out from both sides while the integrated air inlets can be opened when conditions improve. Removable and adjustable EN-certified composite knee protectors, along with some softer padding hidden near the waist and hips, help save your bacon should you find an icy patch. Add on Dainese's suspender kit and you can even grab a coffee in Brooklyn on your way home.
BUY NOW: $430
ICON 1000 Beltway Jacket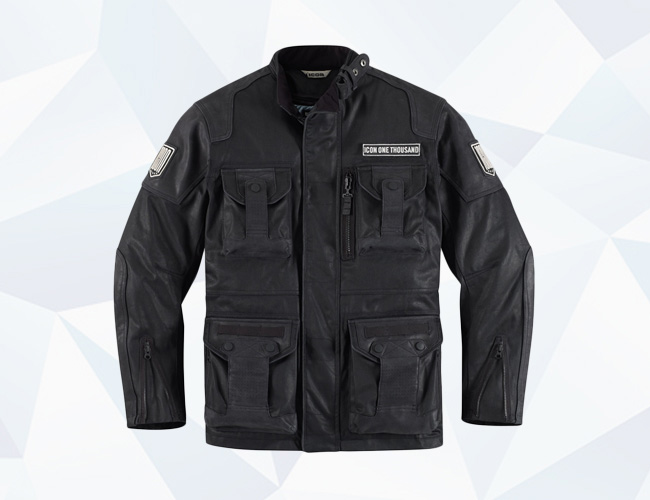 Waxed cotton has long been the go-to fabric for fighting the chillier elements — just ask any Brit. It blocks wind, breathes well and sheds water faster than a duck's ass. The ICON 1000 Beltway Jacket is a three-quarter length coated canvas upper that takes those historical learnings to the next level. Premium leather panels adorn the abrasion-prone zones with removable CE-certified D30 armor snugged in underneath. The main zipper features a magnetic storm flap to seal out the elements; the interior sports a removable quilted liner finished in an steely blue so cool it makes Daniel Craig's peepers seem bland. There are also fourteen — yes fourteen — pockets for you to stash your EDC should a mission crop up.
BUY NOW: $600
Venture Heat Epic 2.0 Battery Heated Gloves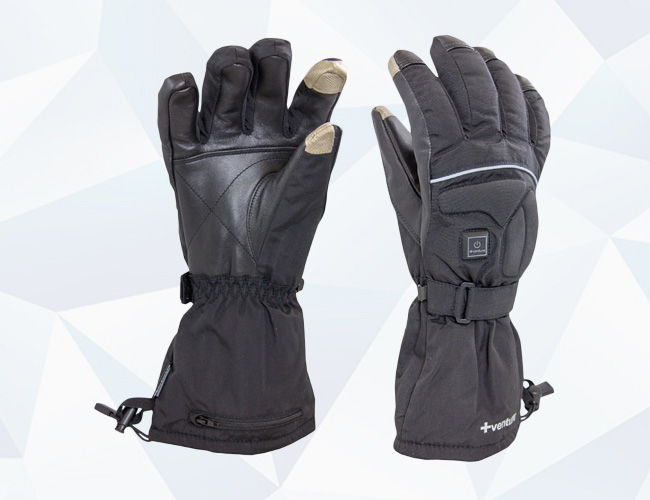 The warmest and driest gear everywhere else means jack shit if you don't have a decent pair of gloves — have fun steering with a cold-induced hand cramp. Venture Heat's new Epic 2.0 Battery Heated Gloves are powered by an array of lightweight, rechargeable Lithium-Ion batteries to keep the thermostat cranked where you need it the most. Three temperature settings are available at the push of a button, which incidentally light up to show you how hot things will get: green for low, yellow for medium and red for high. The finger tips on the thumb and forefinger are even touchscreen compatible, so you can still search for Steppenwolf on that new Harley Ultra Limited in your garage.
BUY NOW: $210
Tour Master Synergy 2.0 Electric Vest Liner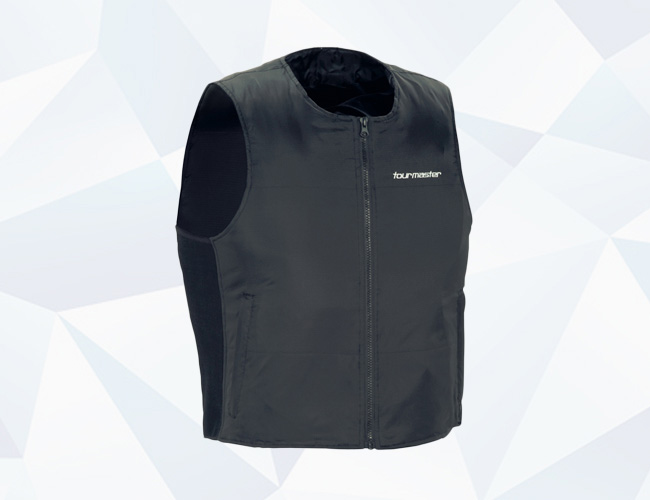 If you're one of those well-prepared riders who thought to install a battery adapter on your bike, the world is your electrically heated oyster, starting with the Tourmaster Synergy 2.0 Electric Vest Liner, which can be quickly connected and cranked up to keep your core toasty. Lightweight and flexible steel fiber heating elements are woven into the interior and work in all weather conditions. Even unplugged, that extra layer could be essential — the sun still sets pretty early these days.
BUY NOW: $175
Shoei RF-1200 Helmet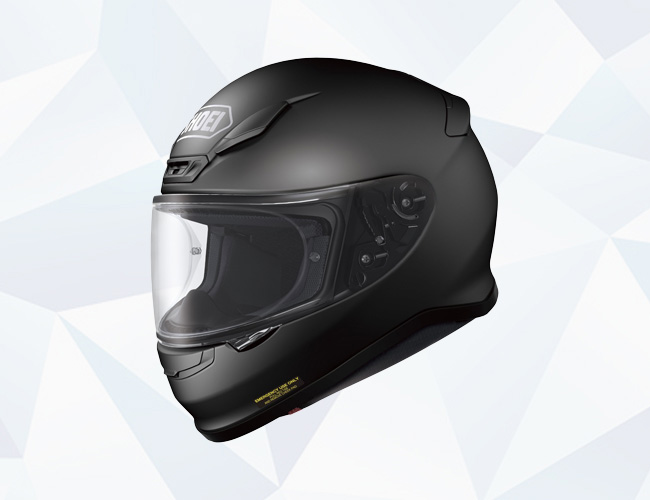 Protecting your melon means more than keeping both feet out of the grave when the mercury is low. You need full-face protection that flows through the wind and won't weigh you down. The Shoei RF-1200 Helmet called the wind-tunnel home for most of its development, and the result is a super-slick shell that's Shoei's lightest, and is also damn warm. Snell certification is standard issue, as are a three-position lower vent, a triple channel upper air opening and four exhaust ports to dole out the requisite refreshment. A fully removable 3D Max-Dry System II liner contours your dome for the ultimate in comfort and even features Shoei's E.Q.R.S (Emergency Quick Release System) should paramedics ever be needed.
BUY NOW: $498+