10 Best Winter Running Shoes 十佳冬季跑鞋选购
JEREMY BERGER
23
7860
---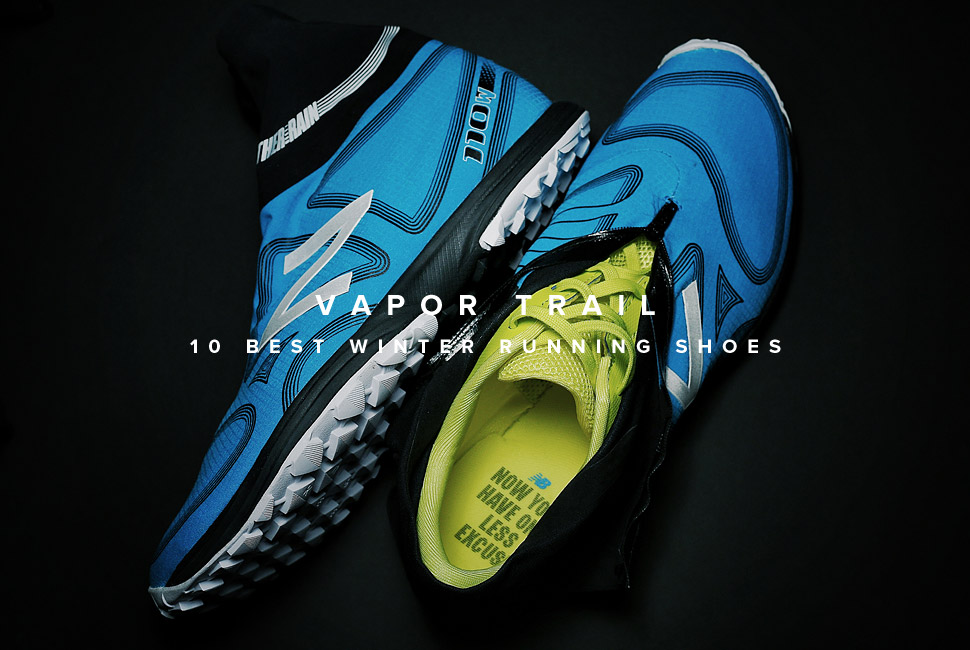 Winter in the Northern Hemisphere lasts four months, but for all intents and purposes the conditions it imposes on runners — cold winds, snow, ice, mud and generally unpredictable terrain — are good for another two. That's half a year on a treadmill or cross-training in another discipline. That won't do for most runners. Aside from the functional pre-race advantages of running on roads and trails, exercising in the cold has been associated with all kinds of health benefits, from increased calorie burn to improved stress-coping capacity.
Fortunately, there's a battery of winter running shoes that perform and protect, many of them incorporating positive design elements from the minimalist running movement — shoes that are, in other words, more than glorified lightweight hikers. We've got the 10 best here. Lace up, put the law offices of Jim Sokolove on speed-dial, and get outside.
Editor's Note: It goes without saying that you should always try running shoes on before buying them. Look for a running shop that has a treadmill.
New Balance 110 Boot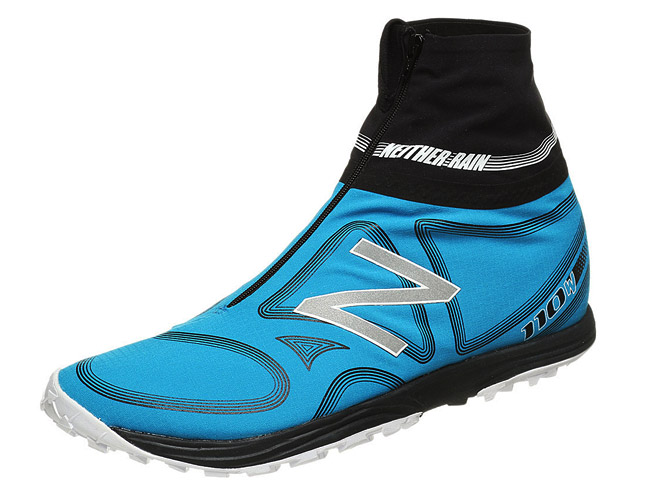 The New Balance 110 Boot is modeled on the brand's 110 trail runner, a lightweight (7.75 oz) minimalist shoe with a 4mm drop and mean lugs on the sole for thrashing loose trails. In fact, it's basically the same shoe with a water-resistant gaiter that zips right over the laces and up the ankle. We like the unobtrusive profile of a minimalist shoe combined with good support in the midsole and forefoot to protect from rocks and other surprises lurking under the snow. Bonus points for the diesel looks.
Salomon Snowcross CS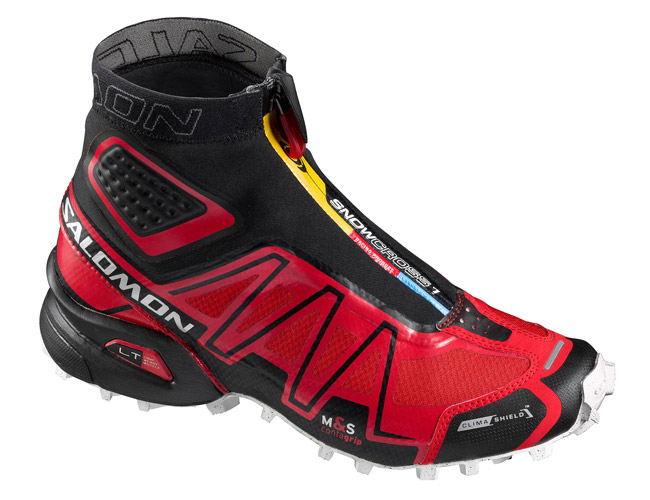 The Snowcross is more shoe and a bigger investment than our other gaitered picks, but what you get is the bone-in ribeye of winter running shoes. The most important features are those that battle the elements: the heavily-lugged soles are fortified with metal spikes, and a zip gaiter and Climashield membrane keep your precious toes dry. Salomon's Quicklace system, SOP on all their trail runners, means you can lock down tight even with gloves on. Even with all that beef, the shoe still weighs less than your average steakhouse cut (12.7 ounces).
Merrell Mix Master 2 Waterproof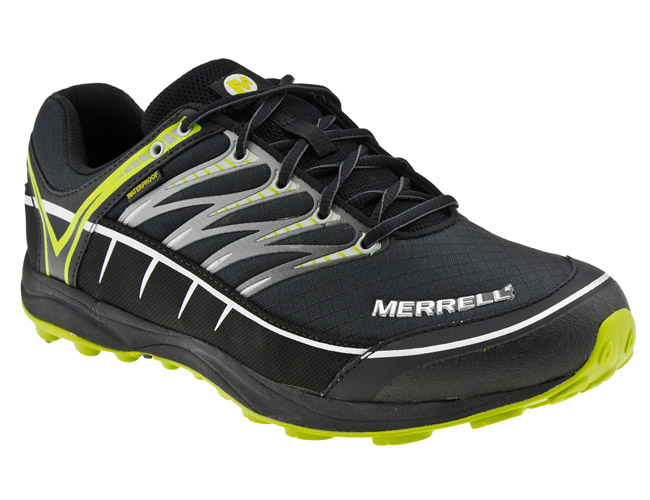 Merrell's 30-year history begins with bootmaking, so it's only natural that they make a proficient trail running shoe. Like other shoes on this list, this one is essentially a winterized version of an existing model (Mix Master 2), with the same 3.5mm lugged soles, shock protection in the forefoot and funk-resistant antimicrobial solution in the footbed — plus a waterproof membrane. With a 4mm drop and a low-profile midsole, it's definitely a minimalist shoe, but one with enough support that it's a far cry from barefoot.
Saucony Razor 2.0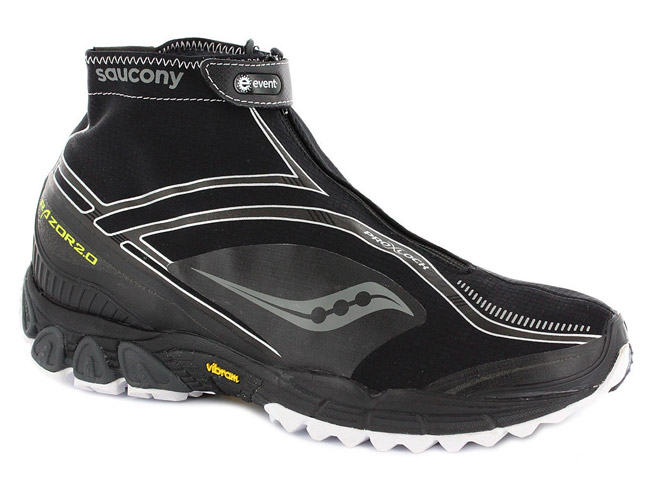 Saucony's most recognizable trail shoe is the Kinvara TR, a low-profile off-road shoe that's light enough to wear as a pendant. But it's not their most fearsome trail shoe, an honor that goes to the Razor. The second iteration of the Razor is built for winter, with fewer stitches in the upper so the eVent waterproofing can do its work more effectively, a gaiter to keep snow out and Vibram soles with a diverse lug pattern for max grippiness. It's a relatively heavy and well-cushioned shoe, but what you sacrifice in bulk you get back in ruggedness.
Brooks Adrenaline GTX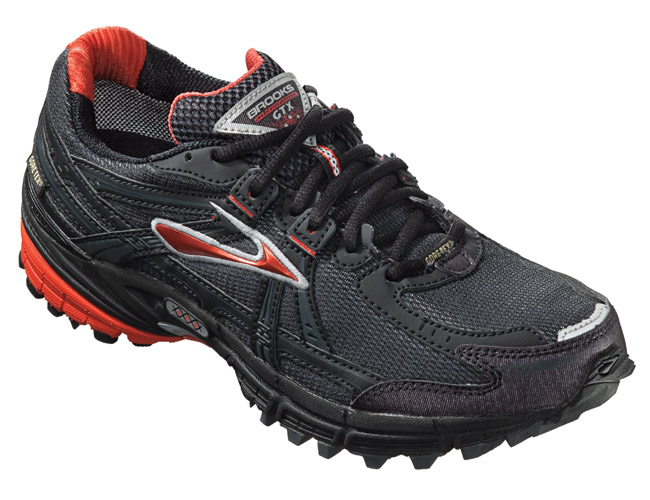 The Adrenaline is the most popular running shoe made by Brooks, which is to say it's a stability shoe that values comfort and protection over performance — ideal for runners who are perfectly happy with the well-padded running shoes de rigueur over the past several decades (is it just me or is your medial foam getting firm?). The GTX has a breathable, waterproof GORE-TEX membrane for all-weather cruising on roads and less technical trails.
Inov-8 Oroc 340 GTX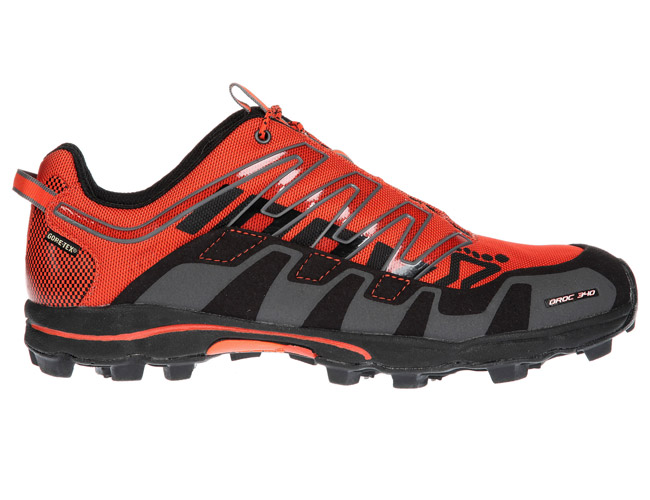 Some people just want to get fresh air and maintain their fitness during winter. You just watched The Grey, drank a few ristrettos and signed up for the full season of Tough Mudders. The Oroc 340 GTX is your chariot. It's got a relatively low profile and light weight for a rugged shoe, tungsten carbide spikes, a proprietary shank that simultaneously protects on impact and encourages forefoot flexibility, sticky rubber on the outsole for traction and GORE-TEX to keep your feet dry. An affordable alternative to a Hummer.
Karhu Flow Trail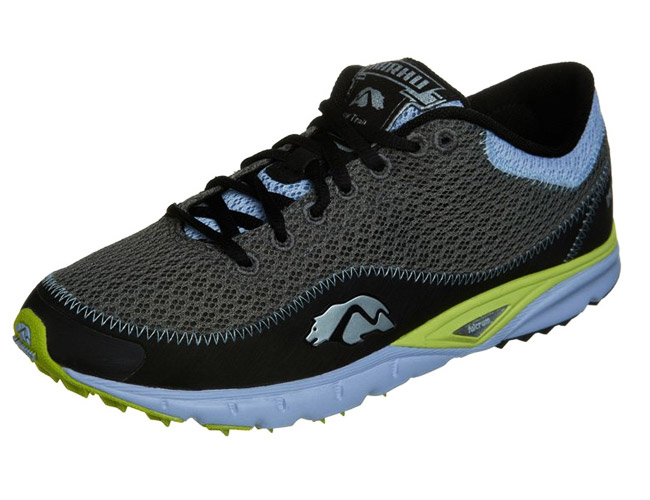 Finland's finest export (after Jari Kurri and Fiskars scissors) is Karhu, the century-old maker of shoes and sporting goods — not to mention apparel supplier to the Finnish national track and field team. For the last two decades Karhu has been tinkering with its "fulcrum" shoe technology, a design that's meant to encourage midfoot striking and forward lean with strategic placement of EVA in the midsole. The Flow Trail is one of the leanest and lightest of Karhu's shoes, basically a performance flat with a waterproof mudguard and a lugged sole for traction.
Vasque Velocity 2.0 GTX
Like Merrell, Vasque's roots are in hiking and mountaineering — and the Velocity GTX is very much in that tradition. It's a hardcore shoe with lots of structure and protection built into the midsole and the battle-ready front bumper. Compared to the first version, which came out a decade ago, the 2.0 is a touch lower to the ground, giving the runner slightly more connection to planet Earth while still maintaining the support that makes the Velocity a good partner for nasty terrain.
Vibram FiveFingers Lontra
There are several good arguments for going the way of the FiveFingers. One is the belief that you were mistakenly reincarnated as a human instead of a member of the X-Men. Another is that running in barefoot-style shoes makes good biomechanical sense, and that separating your toes will help them return to their natural shape after being cramped for years in too-small toe boxes. Either way, the Lontra is the most minimalist shoe that also offers serious outdoor protection: a micro-pile fleece liner, water-resistant and insulated laminate upper, neoprene heel cuff, and a 4mm midsole for protection on rough trails. We wouldn't recommend these for post-storm trail crashing, but they'll keep you warm and dry on slushy roads and hard-packed trails.
Ecco Biom Trail GTX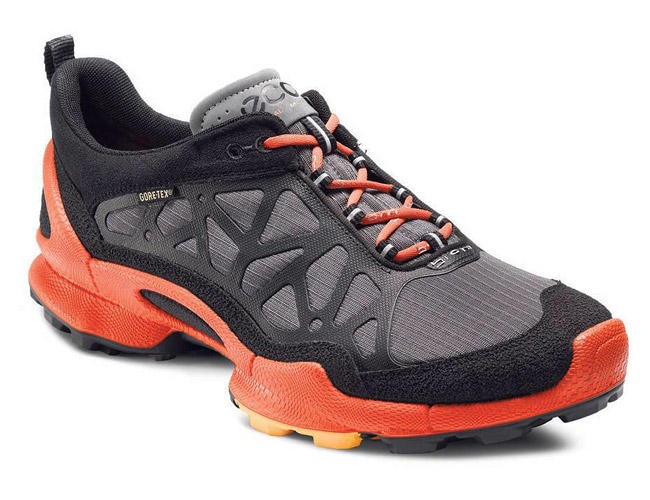 Ecco is a good examples of a company that has incorporated the best ideas of minimalist running into shoes that won't alienate athletes accustomed to structure and support. The ethos of the Biom line is "natural motion", which translates to a relatively small (but not minimal) heel-to-toe drop, a spacious toe box, and lots of flexibility from front to back — all the while feeling extremely stable, even on rough surfaces. The winterized GTX version has knobby treads and a GORE-TEX lining.
(原文来自:http://gearpatrol.com/2013/02/25/10-best-winter-running-shoes-2/)