Kit: Upland Hunting 狩猎装备选购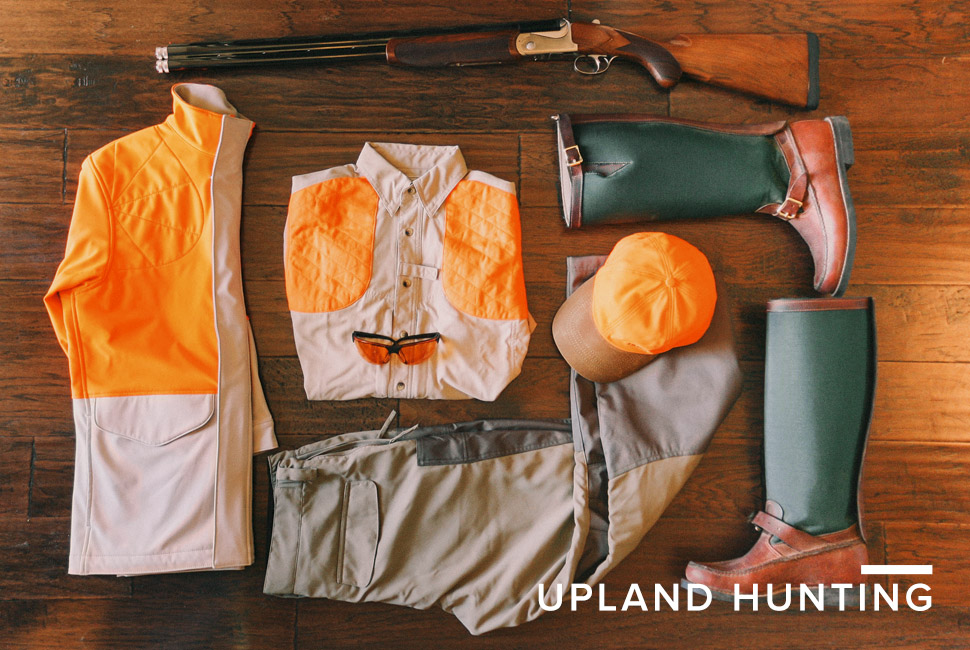 Original photography shot with the Canon EOS 6D digital SLR. Unleash your inner photographer.
As the mercury drops, game enthusiasts from across the fruited plain trade in their drift boats andfly rods for double barreled breach-break shotguns, some blaze orange, and a Labrador, if they're lucky. Upland hunting takes many shapes and forms depending on where you call home: there's the cold Northeast, the prairies and cornfields of the Midwest, the Intermountain region on down to the South. Still, more unites these sportsmen than divides them; tall-tales, cold walks and fantastic wingshots are all par for the course. The gear, though, is probably our favorite part. So gather round — we've hand selected the best of this year's gear to keep you covered from head to toe while you're out on the hunt.
Mansfield Blaze Orange Soft Shell Jacket
As the months march on, you'll find that navigating the fall weather can be just as tricky as navigating the upland brush. Luckily, for all situations cold and wet, the Mansfield Blaze Orange Soft Shell Jacket from Filson is more than enough to keep you warm and dry. The face of this jacket is bonded to a full fleece interior that traps air, has a high warmth-to-weight ratio and stretches just enough for ideal comfort and freedom of movement. It's also roomy enough to layer well without making you feel too plump. The shoulder pad reduces recoil fatigue and the front pockets are deep enough to carry extra ammunition or a granola bar. The jury is still out on whether or not you'll be mistaken for a traffic cone, but as always, safety first.
L.L. Bean Upland Briar Shirt
If you've ever lost a bird in the bush, you know how easily a shirt can get snagged and ripped. The Upland Briar Shirt from L.L. Bean is purpose-built for these situations. Based on feedback from their army of devoted field testers, L.L. Bean evolved the comfort and performance of this classic shirt by adding abrasion-resistant nylon fabrics to wick away moisture, and by reinforcing the forearms to deflect brush and thorns. The hidden chest pockets are particularly useful — big enough to stash some essentials but strategically positioned just below the shooting area. L.L. Bean even added a velcro whistle tab to keep your lanyard secure as you move about the the thick stuff. Tastefully incorporating regulation blaze orange into the shoulder pad, this Upland Briar Shirt fits the bill for fetching workmanship that's second to none.
Ducks Unlimited Shooting Glasses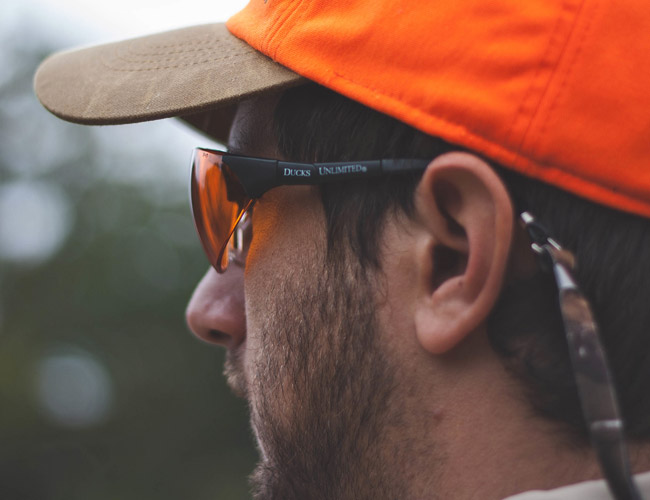 Are there more dapper options out there? We suppose so, but when it comes to bang-for-your-buck shooting glasses, these are the best around. With five interchangeable lenses, Ducks Unlimited makes a pair of safety shooting glasses that are perfect for every lighting situation. This setup also comes with a neck strap and carry case to keep them in tip-top condition.
Filson Tin Cloth Insulated Cap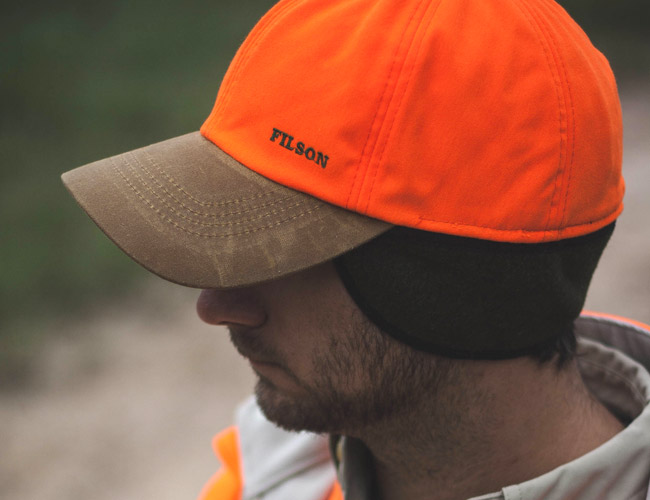 Filson's blaze orange Shelter Cloth Cap marches on in the company mantra to keep you dry and warm, even in fowl ugly weather. The hat has obvious visibility to help you comply with state requirements, has ear flaps for warmth and repels water like nobody's business. The fit is a little snug with the ear flaps up, but the low profile and interior headband make it the best upland headwear on the market. Did we mention it's Filson tough?
TAKING YOUR FIRST SHOT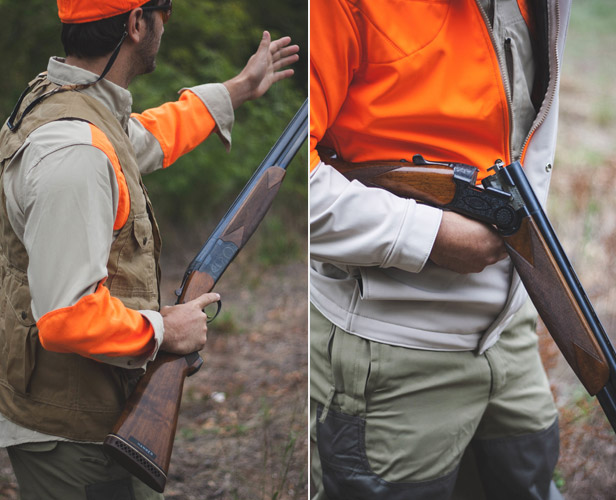 If you're new to hunting, we highly recommend you get the proper training and head out with someone who knows what they're doing. Beyond that, there are three simple (but not necessarily easy) aspects to work on before and during a fruitful hunt: the right gear (look no further), lots of practice, and plenty of patience. When it comes to gear, we've got you covered. But that's not enough. Get on the range with your shotgun to shoot clays before you go into the field. Practice your mount in the mirror so that it becomes second nature out in the field. Finally, in the words of Elmer Fudd: Be vewy, vewy quiet. When you flush a bird, be patient and wait until it's within range. Shooting too far into the distance will get you nothing but a sore shoulder.
Franchi Instinct SL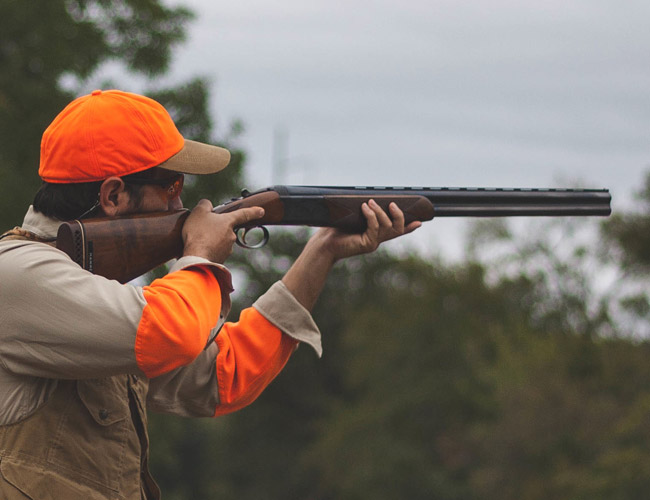 When you're highstepping it through a field all day, every ounce of weight on you starts to add up, shotgun included. Built with a heavy emphasis on light weight and performance, the Italian-made Franchi Instinct weighs in at just five pounds, ten ounces (20-gauge). When you first pick up the over-under shotgun (available in 12-gauge or 20-gauge), thoughts of gnarly recoil begin dancing in your head. But Franchi's snag-resistant recoil pad mitigates the laws of physics and, thus, the thud. The Instinct is available in 26- or 28-inch barrel lengths with extended choke tubes to adjust for clay games and various styles of hunting. Some shooters might prefer a heavier gun with a longer barrel, but when we flush a grouse, we want something nimble — something we can mount and fire quickly all day long.
Gokey Snakeproof Boots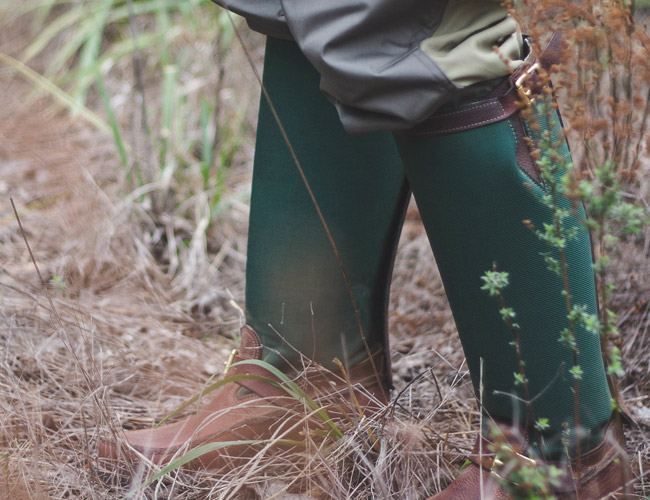 While upland boot choice is largely determined by your climate, Gokey's Snakeproof Boot is one of the best choices all around. Quality of craftsmanship, superior leather and excellent fit all perform in tandem while you work your way brush, field and forest. Whether you opt for the Cordura model or an all-leather custom pair, your feet and calves will be wrapped in the same ballistic cloth used in many bulletproof vests. They're a little on the pricey side, but consider the fact that they'll keep a pair of venomous fangs from sinking into you while you're snapping a scenic selfie and things take on some context.
L.L. Bean Upland Field Pants
A couple days of slogging through the cold generally turn waxed canvas pants into a wet mess. Not so with the L.L. Bean Upland Field Pant. While you're searching for that downed woodcock, the 500-denier fabric protects from brush scratches and guards the waterproof Gore-Tex membrane from punctures. The waistband is lined with rubber to keep your shirt tucked in (a small touch that makes a big difference) and generously provides a full range of motion. A soft polyester lining provides unsurpassed comfort and allows for easy layering, if needed. Downright versatile, these pants are made for any condition. Add in the lifetime guarantee and they're unbeatable.