Drive By :: Arc'teryx Cordova
When FedEx knocked on my door to deliver the Arc'teryx Cordova I was a bit reluctant to open the box. The bag looked a little strange in the press release so I had modest expectations. But the pictures didn't do it justice. As I opened the box, I started grinning. The fabrics felt ultra-premium. The zippers were like shaking hands with an old friend. The stitch placement was practically neurotic. And the fit, thanks to the thermoformed padded back panel, was snug.
No joke, this is one of the most comfortable packs I've ever worn. Arc'teryx says the Cordova was inspired by Vancouver's oldest neighborhood, Gastown, and is intended for minimalist commuters. I'd say that about sums this thing up. It's a bag for commuters who've been around the block, with all the stuff you need and nothing you don't. Laptop sleeve, large front pocket, comfortable straps, and high positioned fleece-lined sunglass pouch. But the best part is it won't slow you down in a pinch and it came in handy on exam week.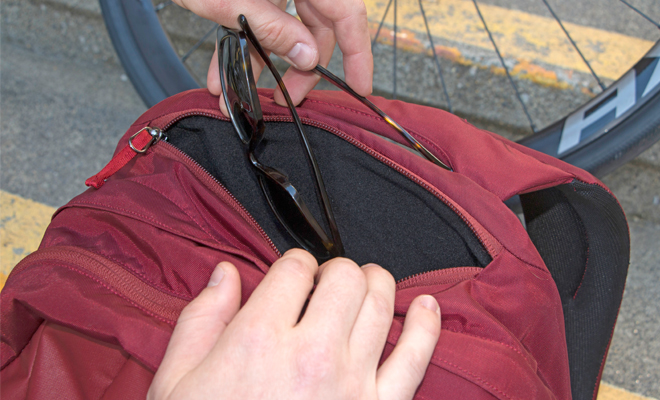 I wake up to the dog licking my face. I turned off my alarm in my sleep again. Now I'm running late for class and, to make matters worse, I have an exam today. I jump in the shower and do 'commuter math' while I'm washing up: by the time I'm ready to go I'll have 20 minutes to cover five miles. Knowing the ride normally takes 25 minutes I grab my new Arc'teryx Cordova, hop on my bike, and pedal full bore towards campus.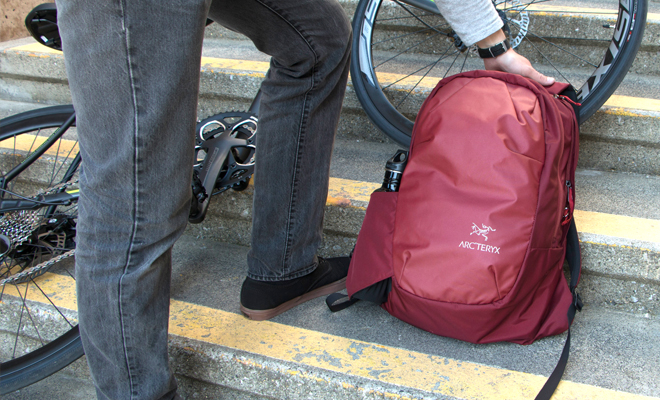 At the halfway point of my ride I reach the hardest part of my commute: eight blocks of a grueling 10% grade hill. I stand up on the bike and power my way up the monster incline. This is where most packs disappoint me.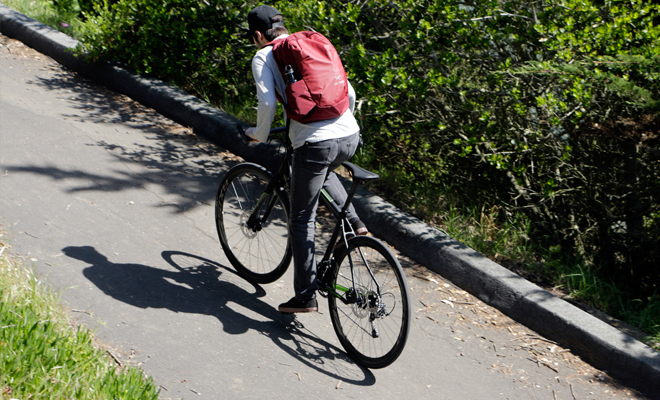 Typically when biking, with each downward pedal the bags I've owned slosh their weight about and fight my rhythm. I end up having to work harder just to manage the backpack. So needless to say I was a bit nervous taking a bag where cyclists weren't the target market. But the Cordova did fantastic. The whole bag is very well balanced, which prevents sloshing about.
This is a pretty impressive achievement when you consider the bag has no sternum or compression straps. After a few weeks of commuting with the Cordova I get the impression Arc'teryx deliberately built the bag with balance-during-movement in mind. After all, what better complement for a commuter than having a bag that won't flop all over like a dying fish while you run to catch a bus. Brilliant!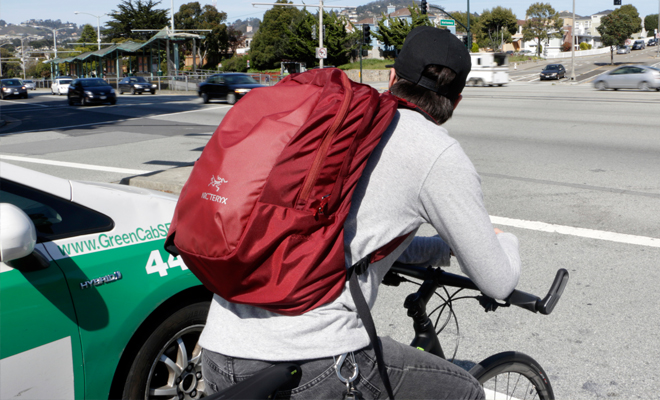 Finally I make it to the top. Ten minutes to go before the exam. I push hard through the bad part of town, flat out past the junkies asleep on the sidewalk. Just a few minutes left and I'm racing through gridlocked traffic on 19th Avenue – splitting lanes and avoiding opening car doors.
This is another situation where backpacks will let me down. I generally don't ride so close to the razor's edge, but when I do there's nothing worse than looking over my shoulder and seeing nothing but backpack. Roll-tops and exotic-shaped backpacks have become a real nuisance for me in situations like this. But the Cordova's minimalist design works perfect for biking at speed.
And the hemispherical front panel has turned out to be real handy for enhanced visibility without sacrificing storage space. The front compartment is genuinely cavernous, but instead of it being some obtrusive angular shape, it gently transitions to an almost invisible horizon when the user is peering over their shoulder. A clever solution.
I pull into campus, park my bike, and sprint to class. A quick zip of the front pouch and I've got everything I need: calculator and pencil in hand. Just in time.
Who it suits:
Commuters, techies, and students alike. Whether you commute by car, train, plane, boat, bike, or any other invention of man, this bag will serve you well for many years…but with one hitch: it's a minimalist pack. It will likely disappoint if you're hauling home stacks of documents or heavy textbooks. That being said, this bag does have room for all the essentials to make your trip to work or school comfortable. And the bag's balanced design will come in real handy if you're running late and need to make up for lost time. It will keep your technology safe and reasonably dry with space for a tablet or other small electronics.
The front pocket is deceivingly large and more than capable of holding your lunch, a big jacket, or anything else you might need on your commute. There are no provisions for a hydration bladder and the straps are fairly thin so I'd recommend keeping the load down as well as avoiding wearing this bag for extended lengths of time. Thus, if you travel light and fast this pack is definitely worth a closer look.
The Good:
Over the past few weeks I've grown to love some unique innovations on this bag. Perhaps the most impressive feature is the foam back panel. For the Cordova, Arc'teryx abandoned the typical breathable foam mesh in lieu of this very clever molded foam back.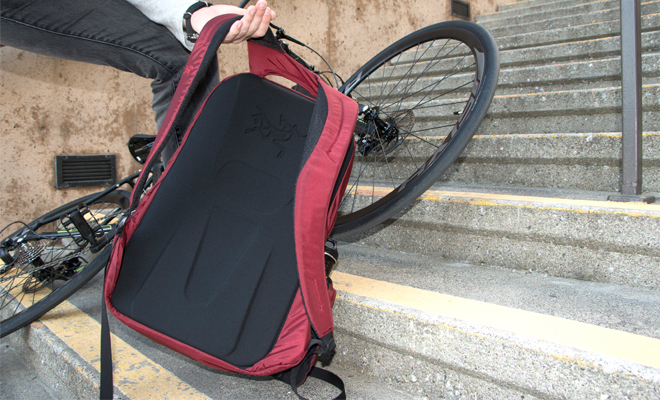 Similar in feel to the EVA foam backing you'll find on some Chrome Industries backpacks, this is a simple but surprisingly effective way to avoid a sweaty or achy back. During my hard ride to class it kept me plenty cool, allowing ventilation between the molded ridges cast into the foam. And when I rode over bumps in the road the foam backing soaked up the shock from my cargo.
However, in an interesting departure from Chrome's EVA foam backing, the Cordova's foam shape provides substantial improvement in structural integrity. During my use of the Cordova, the foam acted like a pseudo framesheet, which greatly helped with load control and load distribution. The bag naturally keeps its shape regardless of how much you put in it, but still is flexible enough to follow the contours of your back.
Heavy loads also feel much more evenly distributed as compared to other bags I've used –no pressure points. It's because of this foam backing I felt comfortable trying it out on my rides in the first place. I'm both surprised and impressed with this feature. Dare I say it, this could be a nice alternative to the breathable foam mesh, which we at Carryology don't really dig.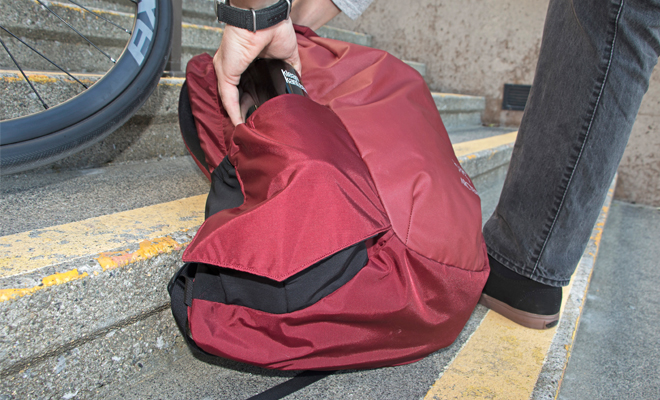 Another feature that caught my eye is the interesting expanding three-dimensional water bottle pouch. It doesn't do anything new or special as compared to standard lay-flat water bottle pouches, but it's an intriguing design. The unusual geometric shape of the outer panel enhances the appearance of the bag when the pouch isn't in use, lying flat and almost disappearing into the lines of the pack. But with a water bottle in place a black elastic fabric and elaborate stitching pattern is revealed.
As dorky as this sounds, the whole thing reminds me of a bomb bay door from a stealth fighter jet. It's refreshing to see a bag maker think outside the box for little things like this.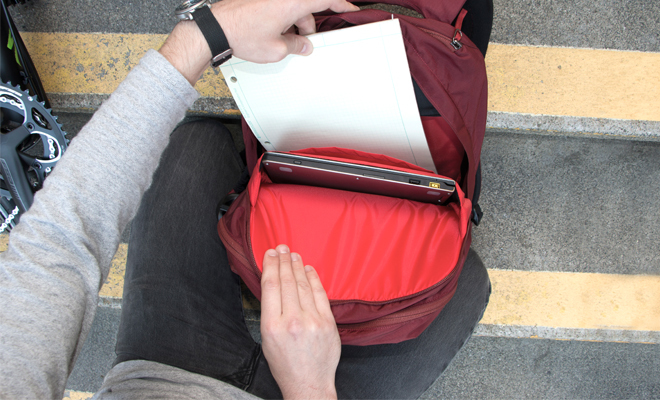 The Bad:
Although this is an interesting and innovative bag, in this case, I'm not feeling the centrally located laptop sleeve. To be fair to Arc'teryx, the central laptop compartment appears to be a movement among bag makers of all brands and it's done for all types of reasons like increasing comfort and access and to protect your Mac baby from untoward bending.
But as an end user I wasn't entirely sold on it. After using this bag for several weeks I found myself thinking that much of the bag's magic seemed to wither away when I was carrying a laptop. The wonderful balance seemed to thin out. Even the foam back's load distribution seemed to be undermined. I found myself moving the laptop out of the dedicated compartment and closer to my back so that I could regain some of that magic. Don't get me wrong, this bag controls loads extremely well – better than most backpacks I've used. And that foam backing is rad. But whenever I was carrying my laptop in the Cordova, the laptop's increased distance from my back seems to have made the pack feel heavier than it should have been.
Another thing that bothered me about the Cordova is that when I was carrying a laptop the bag couldn't stand upright when resting on the ground. No matter what I did this bag always fell over. I tried propping it against different objects, on different surfaces, different packing methods – nothing worked. If I was carrying a laptop, the slightest disturbance sent it tipping or sliding in either direction. This may or may not be an issue for you, but during my exam (and pretty much every class I took this bag to) it drove me nuts.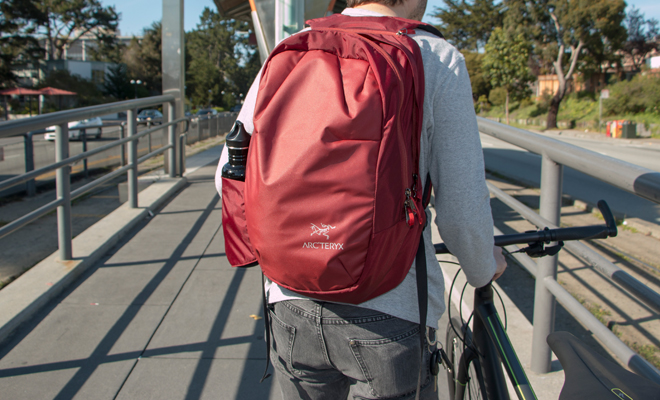 The Ugly:
My one niggle with this bag is the AC2 hemispherical front panel. It's a really interesting idea, provides a cavernous expanse to store bulky items, allows for great visibility, and shows off the superb craftsmanship Arc'teryx is capable of, but unfortunately it's nowhere near full most of the time. This means the clever hemispherical shape of the front panel looks wrinkled and tacky more often than not. Even during the photoshoot of this bag I had trouble filling it out in a flattering way. In all honesty, it makes the bag look poorly planned, which is a shame because this bag is anything but.
If I were king for a day I'd like to see Arc'teryx line this hemispherical panel with something (perhaps the foam they used on the back panel) to help keep its shape when not filled to capacity. They went through a good amount of effort to create the hemispherical shape on the front panel and the end user deserves to enjoy those aesthetics.
Other Bags to Consider:
When it comes to daypacks there's always the classics: GORUCK's GR1 and the Icon Pack from Incase. They set the bar long ago and are still pretty hard to beat.
Conclusion:
In summary, the Cordova is a great pack for those who don't want to be bogged down. It's simple, practical and awesome to use. The materials and textures won't attract unwanted attention, but the craftsmanship and quality will never leave you feeling as though you've settled. Even after all these weeks I'm still a bit irked about the hemispherical front panel, but provided you can look past it, I would recommend this pack to any minimalist commuter – especially those who occasionally find themselves running during their commute.