The Art of Vagabonding with VINJABOND
I'm sure all of us, at one stage in our lives, have traipsed home from summer holidays, sun-kissed, and just wished we could hop back on that plane and holiday forever. Yet, we never really believe it's really possible and just plummet back into the grind of normality and the sitcoms and supermarkets that come with it. But what if I told you that it is possible? What if I told you that there's a whole movement happening now and it's called Vagabonding? The art of living in a state of perpetual travel and adventure…well, you'd be pretty keen to learn more, right? And just by chance a vagabond extraordinaire recently reached out to us. Meet John Cain: vagabond, entrepreneur, traveler, EDC aficionado and the man behind VINJABOND.com

Tell me about your blog VINJABOND?
VINJABOND is my way of sharing my experiences and knowledge of the vagabonding lifestyle.
When did you first discover the vagabonding philosophies?
As a senior in high school over a decade ago, I had not even the slightest urge to travel as I loved New York City and had no intention of leaving my beloved hometown. That is until I saw the movie "The Beach" in theaters on opening night. There's a scene when the lead character finally arrives at the titled beach (of which I also traveled to) and falls to his knees by being awe-struck. That was the moment it hit me that there's a wonderful world out there beyond Manhattan and I wanted to see it all. For the next 10 years I built a life that could let me travel around the world indefinitely.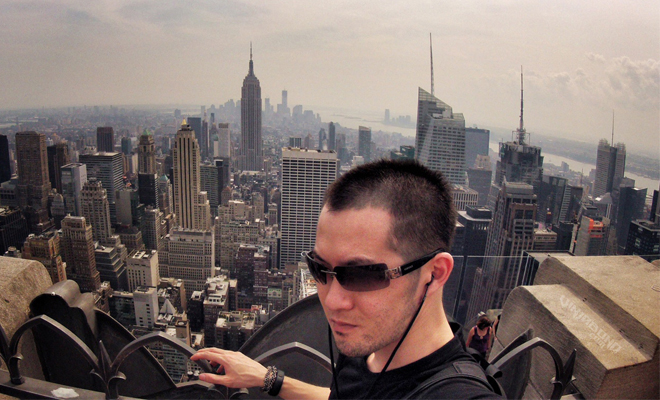 Awesome! Can you give me the low down on Vagabonding? What is it?
Vagabonding is a type of lifestyle. Living a life of constant travel and exploration with no set time limit. It's not a holiday or an extended vacation but just another way of living a life. It's about being a world citizen with passports just a formality.
What kinds of people are drawn to it?
Anyone with a sense of curiosity or adventure looking for more than what ordinary like can offer.
Core principles?
Use all 5 senses to explore the world, live like the locals, evolve as a human and then repeat.
Is there a particular mindset you need to have to succeed?
Say "yes" and "hello" more often. That's all.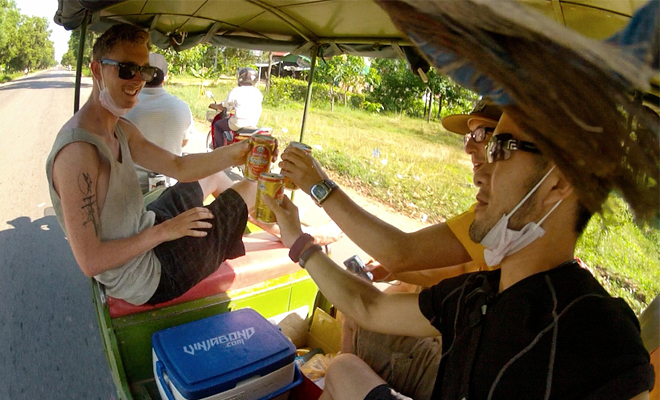 How do you prepare for such long journeys?
Like a career, I spent years preparing and learning this craft to make it a profession and a part of my life.
Is it a case of the less you carry, the longer you have to spend planning?
If anything, the more you carry, the longer you spend planning on unnecessary or unlikely events. You can't and shouldn't attempt to pack for every contingency.
I take it your a minimalist when travelling, does that translate into the rest of your life?
Traveling is my life so I suppose there's no need of translating. But before vagabonding I was already somewhat of a minimalist, traveling full time has led me to perfect it.
It's all well and good to say let's travel the world but that costs big bucks no matter how you look at it, so how do you fund your travels?
The VINJABOND.com website as well as my security consulting business, both of which can be done anywhere in the world.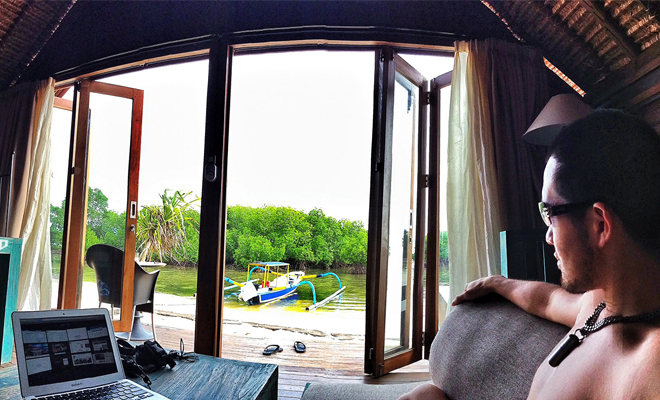 OK, so if you haven't got the luxury of being totally work mobile what can you do?
I have many friends I've met along the way from all sorts of nationalities also traveling around the world that do need to find work. Some of the more popular ways to make money while traveling is to teach English as a legitimate job for several months at a time or work at a hostel for free accommodation.
Once you've got the cash flow worked out how do you select your next destination?
I select new destinations usually on a random basis with no specific direction. Other travelers I meet along the way often influence my next location usually traveling with them for a certain period of time.
How do you adjust to life on the road?
When I initially started traveling the world, the only adjustment I had trouble with was finding the balance of play and work. Since what I'm doing is a lifestyle and not a holiday, so I have make a living while traveling.
Top 3 travel tips?
1) Embrace culture shock like an adrenaline sport and not like a sickness and wait for it to go away.
2) To me, meeting other people in a new country is the best part of travel – locals and other travelers alike. Make this a priority.
3) The longer the journey you plan to travel, the lighter the packing list should be.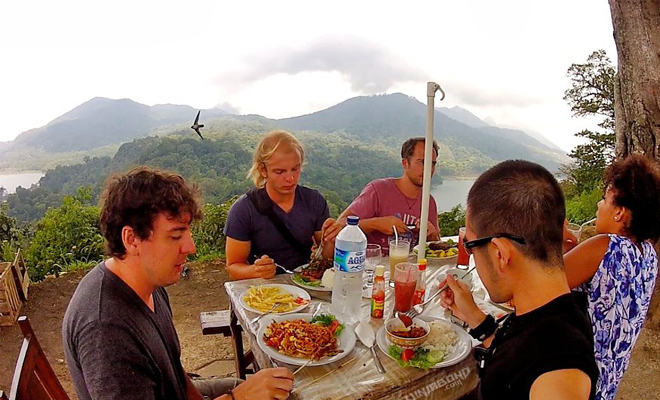 What kind of clothes do you choose when packing and why?
Choosing the perfect clothes for a life of travel was the most difficult part of the packing process. All my tops are made of merino wool from various companies. Bottoms are from premium military or hiking apparel companies that are durable, breathe well and look good. All underwear is ExOfficio as it's specifically made for long term travel.
How do you decide to cull items? What makes it a 'must have?'
The total volume of my gear is no more than 20 liters at its largest. Typical first time backpackers carry 50, 60 or even 80 liters. Despite this, I am still just as well equipped by choosing just the right gear that has specific and practical uses instead of redundant and too many "what if" items. I only get rid of gear when it needs to be replaced. So culling can be avoided with a good packing list.
Do you take any extravagances?
Indeed. But it's all relative to who I may or may not be currently traveling with. When I do travel with another person or group, they are often backpackers with a tight budget stretching their money far – in these cases, a taxi instead of the bus can be considered extravagant. But once in a while if I need a "vacation" from my "vacation", I'll check myself into a luxury hotel to rather get some work done, recover from an injury/sickness or if I'm currently romantically involved.
I know you're a big fan of EDC and believe it's essential to Vagabonding. Why so?
As a vagabond, I am for all intents and purposes, "living out of a backpack". Meaning that everything that I own (within reach) is extremely limited with very little room for variations or new gear. So my strategy for EDC must account for this.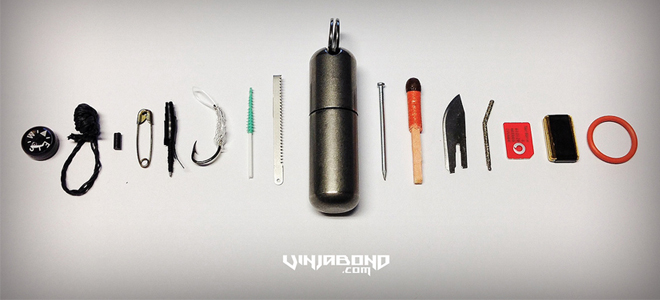 What's your go-to daily EDC?
– Modified Mil Tac HydroBak by CamelBak w/ Solar Charger
– Minimal LoPro Wallet by Tareinco
– SERE Bracelet; Escape and Evasion Kit w/ a Gear Sling (Personally hand-made)
– iPhone 5 w/ a Hitcase Pro
– Covert S35VN Knife: Self Defense / Utility (Personally hand-made)
– Carbon Fiber Impact Dagger: Self Defense (Personally hand-made)
– Lowepro Case: Holds a Spare USB Battery, Adapter and Cables
– Life Capsule Omega by Triple Aught Design: Wilderness Survival Kit
– E Case by Cascade Designs: Durable Waterproof Bag for Passport, Spare Credit / Debit Cards and Cash
– Human Gear Gotubb (x2): Holds Medicine and Coins
– Flea 2.0 by Blackburn: Powerful Rechargeable LED Torch
Wow, you've got a lot of gear that you've listed as 'personally made'. How long have you been designing your own EDC?
I guess I've been modifying existing products to suit my needs for as long as I can remember. But it's rare I make something from scratch, usually when it's not something I can buy so I have to resort to making it myself. Survival training has given me ways to make tools on the fly using whatever material is available.
Nice! Have you modified anything else we'd get stoked on?
Yeah, you'd dig my modified TAD Fastpack Litespeed Backpack, no one else has it like mine.
Mods:
– Solar charger directly connected to a Mophie battery pack on left strap
– Secondary solar charger on right strap
– 130 decibel alarm system, activated by force motion or if zippers are pulled
– All zippers have been removed and "rings" have been attached that all meet in a single area for complete locking
– Cable lock has been integrated around the entire pack and locks the zipper "rings", also to secure on a stationery object
– LED flashlight integrated on the shoulder area of the right strap
– Gear Sling to attach to other packs or security on right strap
– I-Comm pack attached to left strap
– Maxpedition pack attached to the front top of the pack
– Knife holster integrated in the right kidney area
– Additional straps attached to front bottom for shoes, jacket etc.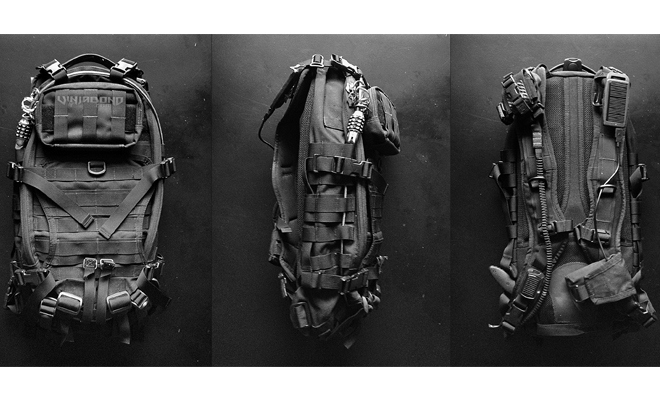 What do you look for in rad EDC?
I believe the most important aspect of EDC design is making it suit the person's needs and style with as much specificity as possible without too much influence from others'.

When thinking of EDC to design, how do you find your inspiration?
Inspiration should come from within when it comes to EDC, as its a uniquely personal ideology.
Do you make the EDC for self use or can we buy it somewhere?
No, the EDC gear I make or modify is just for me. Although I sometimes recreate a piece or help modify gear for a friend sometimes.
Besides yourself, who makes the raddest EDC at the moment?
If I had to narrow it down to just 1 brand, it would be Triple Aught Design. Their designs, build quality and utility is on my level.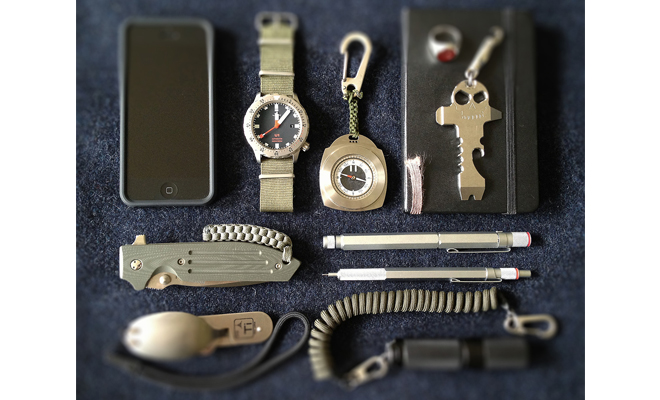 OK, let's talk bags. What's your go-to travel bag?
The backpack was the single most difficult item to choose as this is the thing I'll be "living out of". After many months of purchases, returns and modifications, I finally settled with the FAST Pack Litespeed from Triple Aught Design. It's one of the most well designed backpacks ever created and has been my trusty pack for over a year through 18 countries.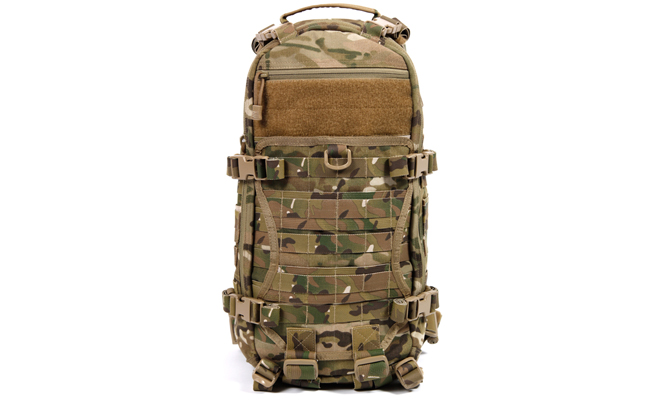 But I recently retired it as I significantly reduced my load when I received a 15 liter custom Cordura duffle bag from Black Yak. I also carry a modified sportHolster by URBAN TOOL for my immediate EDC gear.

Go to camera?
I started out with a GoPro but found a more compact, reliable and effective kit with all the benefits of a GoPro; An iPhone with a Hitcase Pro Wide Lens. I'm known for my travel photos and its all thanks to a mere smartphone.
Who inspires you in the world of vagabonding?
Other travelers and vagabonds. Experienced and new. Hearing about where they come from, where they're going and why they do it.
What brands do you think are rad right now? Who's doing the most exciting stuff?
Whenever I meet other travelers with iPhones, I tell them to get a Hitcase Pro for it. For clothes, I always recommend Icebreaker for their merino wool and fit. URBAN TOOL for their innovative and unique bags. Triple Aught Design gear for the tactical and military minded traveler.
What's the the most awesome place you've been and why?
I've realized that it's the people your with while going to places that makes it truly awesome. Learning this the hard way, I've returned to many places to get back that "magic," but it's just not the same without the people to share it. That said, it was my week on the Koh Phi Phi Islands in Thailand. It was the very first place I wanted to visit after my obsession for travel began. Koh Phi Phi has become fairly touristy since then but it's still one of the most beautiful and fun places I've ever been to.
Worst or scariest moment of your travels?
This is classified.
O-K…have you set yourself any rules or goals to abide by on your journeys?
Be open minded and always remember that I'm the guest, privileged to be in their country.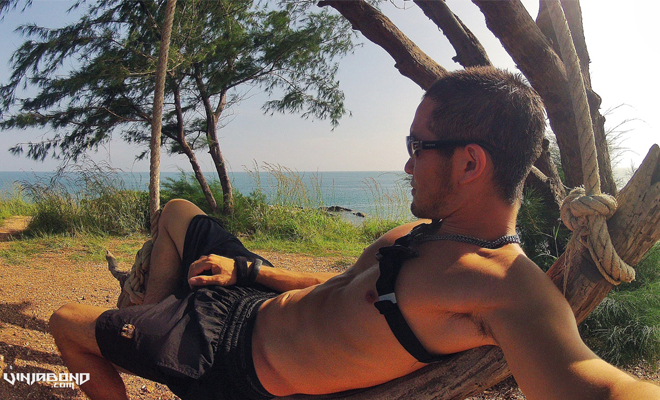 How do you stay safe in your journey?
Street smarts goes a long way but common sense goes even further. The way I look and dress apparently gives off an intimidating aura as many new friends I've met along the way have mentioned. Traveling in a group is the most effective way to stay safe but again, it comes down to common sense and a bit of observation.
OK, so you've been on the road for say 2 years, once home, how do you assimilate back into normal life?
Vagabonding is my normal life. But I do need to assimilate to the local life of whichever country I'm in as I try to stay in each new location for as long as my visa allows me. One day when I do settle down I imagine I'll be going through some severe reverse culture shock, however.