Mini Survival Kits and Pebble Leather Morale Patches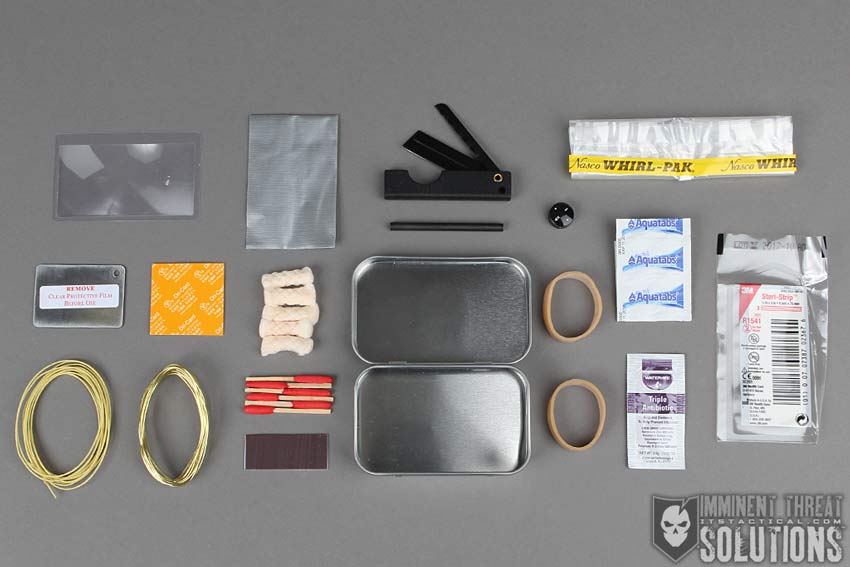 Today we're extremely excited to introduce our Survival Kit lineup that we've been working on for some time now. The ITS Mini Survival Kit and Multi-Purpose Container were designed to complement each other or stand alone to fulfill the basics of survival, yet being affordable and quality made. They're compact, lightweight and fully featured. We've also added a new leather morale patch to the Store. The Pebble Brown Leather Logo Morale Patch is a much darker and more rich alternative to the Natural Leather Morale Patch we offer and both will age nicely over time.
ITS Mini Survival Kit (MSK)
The ITS Mini Survival Kit is our solution for a small pocket-sized survival kit which is based on years of evaluating and tweaking the contents we feel belong, yet keeping it minimal, lightweight and cost efficient.
While we still recommend augmenting this kit with a few extras mentioned in the video below, the MSK is full featured and ready to provide you with tools that can mean the difference in prevailing over imminent threats. The kit includes contents that cover all of the survival basics:
Fire & Light
Signaling
Navigation
Water & Food
Knives & Tools
Medical
Multi-Purpose & Other
The majority of the items in the MSK are individually poly-bagged for added water-resistance. We strongly recommend that you practice and familiarize yourself with the contents of this kit before you "need" to use it.
Another note of recommendation is augmenting this kit with Paracord, a Survival Blanket and your Every Day Carry Knife. There's also enough room in this kit to add a few of your own personal items, such as a mini flashlight or fishing kit, if desired.
ITS Multi-Purpose Container (MPC)
100% Made in America, the ITS Multi-Purpose Container (MPC) is a deep-drawn aluminum container that's Type III Hard Anodized and features a tight fitting lid, internal gasket for water resistance, Velcro securing straps and an internal lid lined with 3M Reflexite.
These containers are heavy duty enough to handle anything you can throw at them. Whether you just need a bombproof container to store the contents of a survival kit, or a case that can do double duty as a shovel, this covers it all. Dig holes, cook food and even boil water right in the ITS MPC!
The lid of the case is laser engraved with the ITS Shield Logo and features two rear slots that the velcro straps pass through and allow them to be retained when the lid is open or removed completely if you desire.
Not only will the MPC fit all the contents in our ITS Mini Survival Kit, but will also house the ITS Urban Kit if you'd like to combine these into one kit for Survival, Escape and Evasion.
ITS Leather Morale Patches
Laser cut and hand-stitched in the US, the ITS Leather Logo Morale Patches are made from American full-grained vegetable-tanned saddle leather. Available in Natural Leather and Pebble Brown Leather, they develop a nice patina and age amazingly over time. We're excited about this new medium and look forward to doing even more with it.
Each patch measures 3.5″ tall x 2.5″ wide and features a sewn hook velcro backing to affix them to anywhere you'd like. The velcro can also be removed with a seam ripper, to sew them on a jacket, etc.