Hotshots: 10 Best Skis of the 2012-2013 Season 十佳滑雪板选购
AUSTIN PARKER
3
4797
---
It seems that you can't walk through a ski resort parking lot without seeing a few new brands of skis and boards being toted around. Some of these new styles are grounded in real testing and evaluation, while others miss the mark in favor of design flashiness, but how to tell? Our intrepid ski testers put quite a few sticks to the test this season to make sure you've got the best ski out there. Whether you're searching for a burly, rockered pow slasher for your upcoming Alaska trip, or you're on the prowl for the perfect park-rat set up to impress the ladies with your mute-540s in the half-pipe, the end of the season is often the best time for great deals. We've got the skis you should be after right here.
Powder
Storm Day? Sick day.
If you live for the face shots and steeps at Snowbird, a dedicated powder ski will get you floating like a pro on those 20-inch storm days. Put your 1980s-era K2s down and graduate to something a little more appropriate for a snow connoisseur of your taste.
DPS Spoon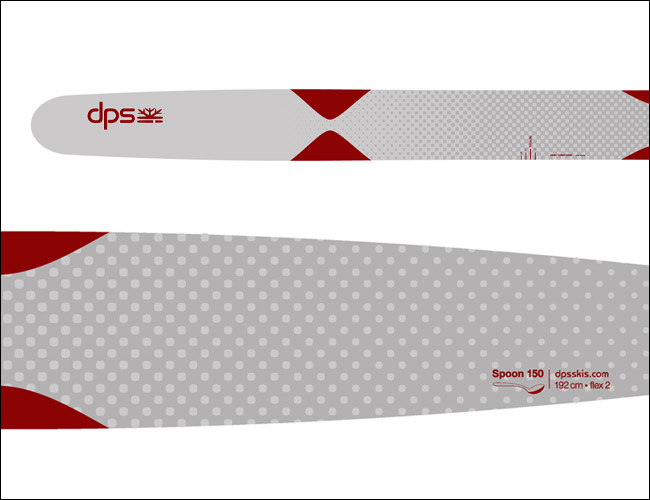 Best Newcomer Ski: DPS uses an ultra-light nano carbon fiber construction for this flagship powder board. With 148mm underfoot, rockered tip and tail and a 3-D convex shovel to plow through the powder, the Spoon begs for deep days. It lives up to DPS's "Beyond Faceshots" motto and is definitely not for the faint of heart. If you find yourself looking down a pillowy spine in the Chugach or Canadian Rockies, we can't think a of a better ski to have on.
Icelantic Gypsy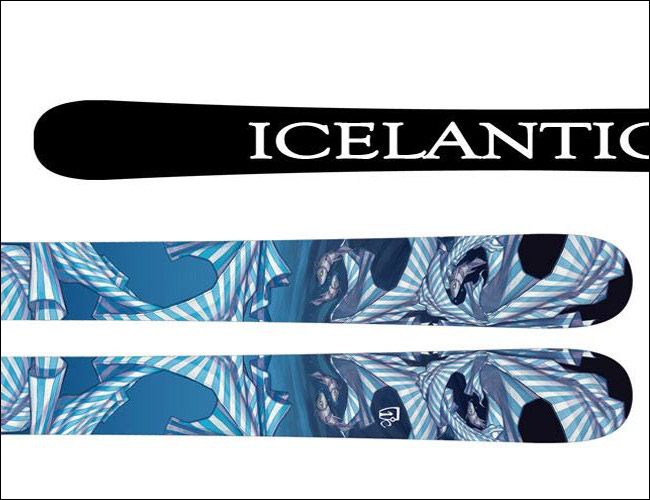 Best Ski for the Everyday Powder Hound: If all your sick days this year seem to line up with the latest storm cycle, Icelantic's Gypsy is built for your powder addiction. Featuring a complete reverse camber profile, the Gypsy is at home sending pow lines switch and bouncing through glades of snow ghosts. It's one of the heavier offerings for a powder ski, but that weight and the ability to lay your full edge down lends itself nicely when you're forced to cut through the groomers to get your last lap in at the end of the day.
Armada Magic J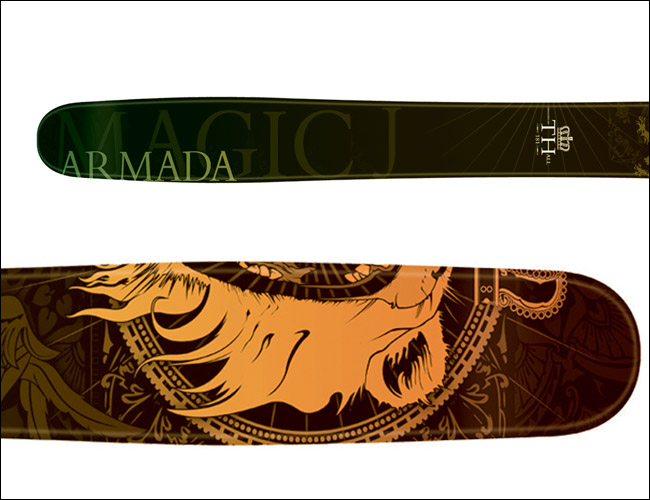 Best Ski for Big Mountain Powder: Tanner Hall's signature powder ski doesn't disappoint (let's just hope his ankles hold up for a season or two). A less conventional taper and a directional fiberglass laminate for increased rigidity allow these skis to be ridden in a downhill race style more than a traditional buttery powder ski. Additionally, its light weight and mix of traditional camber and rockered tip and tail ensure the Magic J is functional as a backcountry touring ski on top of crushing lift-served powder.
Park & Pipe
Take to the air
So you spend most of your days working on that rainbow rail or practicing on your flat spin in the pipe? You might be a park rat. If you're looking for skis that can make you spin faster, balance better, or jump higher, we can't help you, but short of PF Flyers developing a pair of skis, these are the best out there to help you push the limits. When you get that sponsor deal, remember to mention that GP taught you everything you know about park skiing.
4FRNT Switchblade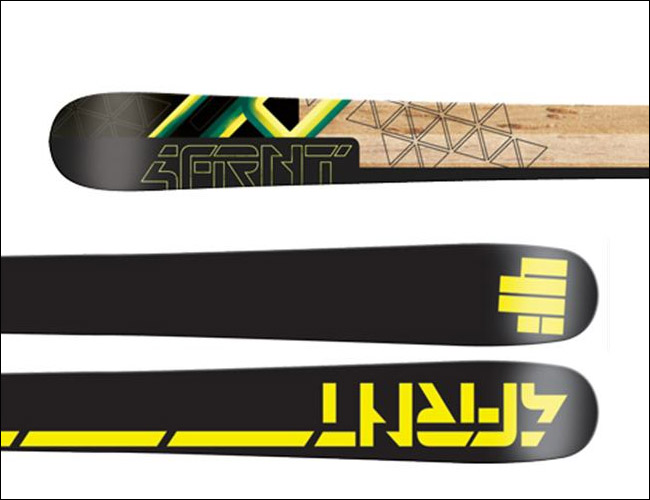 Best Ski for Rail Jibbing: 4FRNT is a rider-owned company, and it shows in their designs. A traditional camber ski, the Switchblade is stiff enough to stomp landings, but has enough flex in the tip and tail to help you stick to the rails without fear. 4FRNT also included their Semi-cap technology, which wraps the topsheet over the ski's sidewall, increasing durability. You'll appreciate this after a couple laps in the park, when you realize you're more battered and bruised than your skis are.
Völkl Wall
Best Ski for the Halfpipe: Few companies in the ski industry have as storied a history as Völkl. Making skis in the same Straubing, Germany facility since 1923, they've been at the forefront of nearly every advance in ski technology in recent history. The Wall features a narrow sidecut and full symmetric design. It's most at home throwing huge airs and tricks in the pipe, where you can easily land switch thanks to its cut and very stable power-box core platform.
Dynastar 6th Sense Superpipe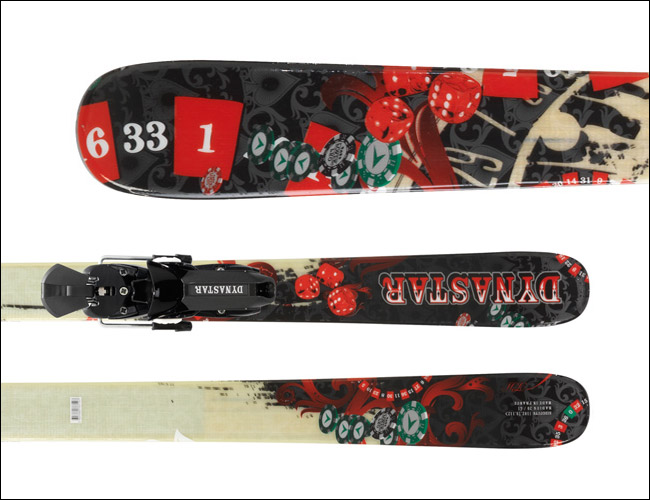 Best All-Around Park and Pipe Ski: Dynastar's 6th Sense series has quietly been racking up awards and podium finishes at freestyle competitions across the world. If your typical season includes laps at Mammoth Mountain's huge parks, Park City's world-class half pipe and a trip to the Alps to see the pros throw down in Tignes, The Superpipe is the best ski to take you there. A proprietary core blend called Spring-Blade aids in adding a little pop to every jump and provides shock absorption should your landing not go as planned. Its aggressive cut will have you boosting smooth spins off of everything in the park.
All-Mountain
Nowhere's off limits
All-mountain skis are for the rider that takes on everything. Mornings spent in search of powder can be capped off with a few afternoon laps on your favorite mogul run or in the park. Previous all-mountain designs were all about compromise — and they were mediocre at everything. This year's offerings, though, have redefined the concept of having a one-ski-quiver. Not that you have to only give your love to one pair… but you could.
Surface Live Life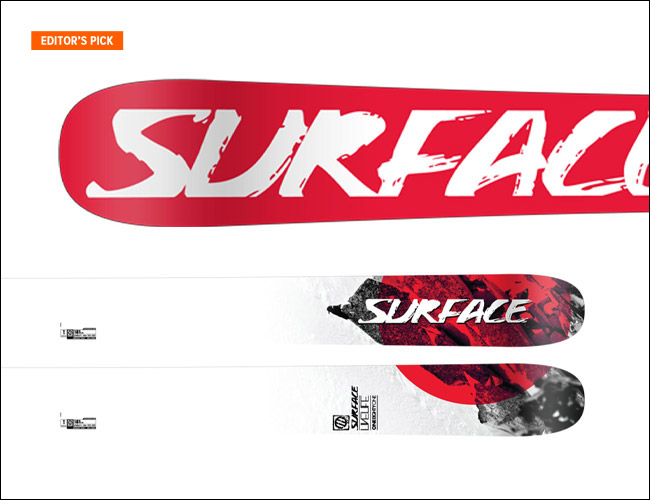 Editor's Pick, Best Ski 2012-13 Season: You might call us biased because we spent much of the season on these skis, but after one lap down the hill it's easy to understand why our testers simply wouldn't get off them and share. The Live Life by Utah brand Surface is a culmination of 6 years of design and testing at local resorts and Wasatch backcountry. At 8.6 pounds per pair, they're a perfect standby for touring when the snow gods start dumping on your local ski hill. Their hybrid camber-rocker design proved stable when getting pitted in deep powder and when throwing tricks in the half pipe. If you want a ski that can handle all conditions, the Live Life is as close to perfect as we can find.
Klint Fringe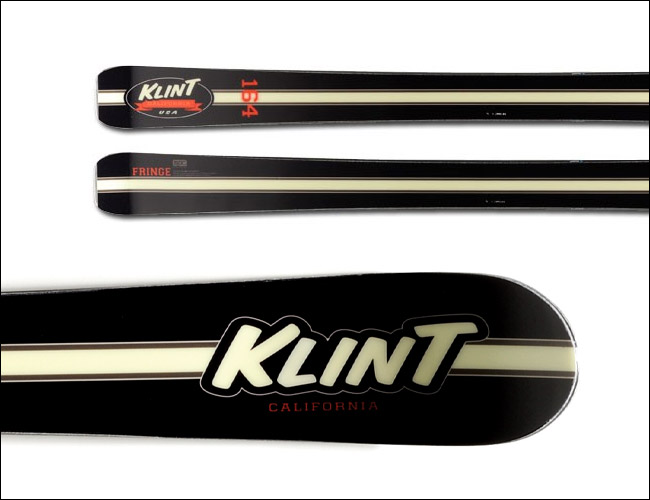 Best Ski For the Traditionalist: When every other manufacturer jumped on the rocker bandwagon, Klint's design team stuck with tradition for their latest all-mountain ripper. The traditional camber easily guts large giant slalom turns on groomed snow, but it's also wide enough to poach some side country lines when the snow gets deep. It's got enough flotation to be forgiving in the powder, yet its birch wood core absorbs vibration at any speed. It isn't an extreme big mountain charger, but the Fringe will certainly give you a taste of the wild side without pushing you past your comfort zone.
Atomic Vantage Ritual
Best Rockered and Smooth Ski: If you believe the hype, Atomic locked a few of their engineers in a room with a supply of good German beer, a ski press, and some titanium and wood core samples to make this ski. They added input from their athletes on what was needed to get a powerful, smooth ride down big mountain lines, and the Ritual was born. A hybrid camber-rocker design ensures this ski is a crud buster in the worst conditions and can float powder right alongside its wider, lighter siblings. If a Cadillac-smooth ride is your first priority, look no further.
Fischer Watea 88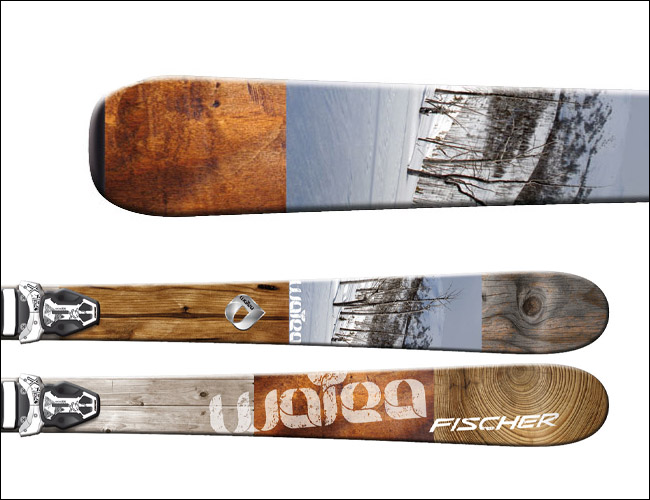 Best Ski for the Speed Freak: Fischer's freeride skis are highly influenced by the brand's racing heritage. At 88mm underfoot, the Watea is less powder friendly than some of the other skis we tested, but that's made up for by the exacting control and ultimate stability provided by the wood block and carbon wrap core technology. If you're looking for a versatile ski that is steady at extreme speed on groomers, powder, or choppy snow, the Watea 88 will lay an edge faster than any ski on the mountain.
(原文来自:http://gearpatrol.com/2013/04/02/10-best-skis-2012-2013/)