Go Deep: 7 Best Dive Watches 七款最佳潜水表推荐
JASON HEATON
1
7151
---
Through a fogged mask, you spy movement just past the pier piling that descends into the dark water below — Al Qaeda frogman or elderly snorkeler? It's hard to tell in the silty gloom. Biting hard on the rubber mouthpiece, you curse that you forgot to strap the dive knife to your leg before descending. Your lungs burn and you realize you're just about out of air. A glance at the luminous dial of your dive watch tells you it's time to ascend. Angling towards the shallows, you kick hard for the beach. You surface and spit out your snorkel, gasping for breath, startling the mother and child sunbathing nearby. A familiar voice calls out. "Come on, 007, it's your turn to make a beer run."
Even if your aquatic adventures never go beyond a beach snorkel, summer is still a great excuse to strap on a dive watch. Timepieces designed for wet work also happen to be perfect companions for backyard barbecues, weekend cabin trips and afternoon doubleheaders. It's no wonder the dive watch remains one of the most popular timepiece categories, thanks to a decidedly sporty and casual vibe that wears well with board shorts and t-shirts, and an overbuilt ruggedness that can stand up to the inevitable scrapes of summer shenanigans and those impromptu night swims. But while there is a fleet of watches that try to capture the adventurous spirit of the diver, a select few go a little deeper. We round up seven of the best new ones for you here.
Timex Intelligent Quartz Depth Gauge Dive Watch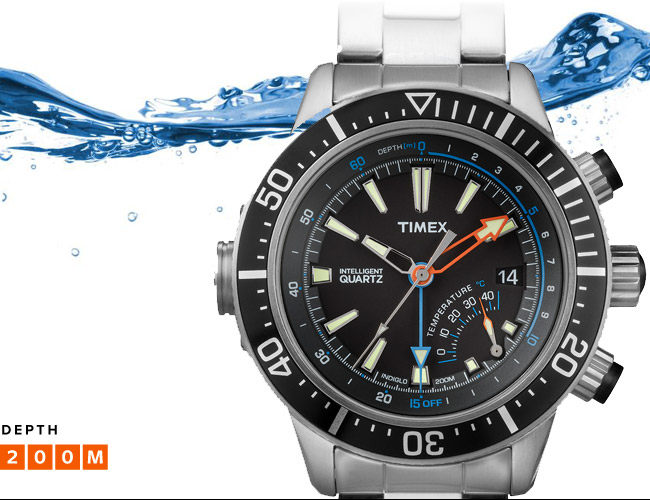 Best Dive Watch for the Data-Driven Diver: The relationship between time and depth for a diver is critical. Stay deep for too long and you risk getting the bends. Yet there are only a handful of dive watches that incorporate a depth gauge; those tend to cost about the same as a week of diving in Cozumel. But the Timex Intelligent Quartz Depth Gauge adds not only a depth gauge (functional to a respectable 60 meters) but also a temperature sensor to a rugged and capable dive watch, all for the price of a decent wetsuit.
Victorinox Swiss Army DiveMaster 500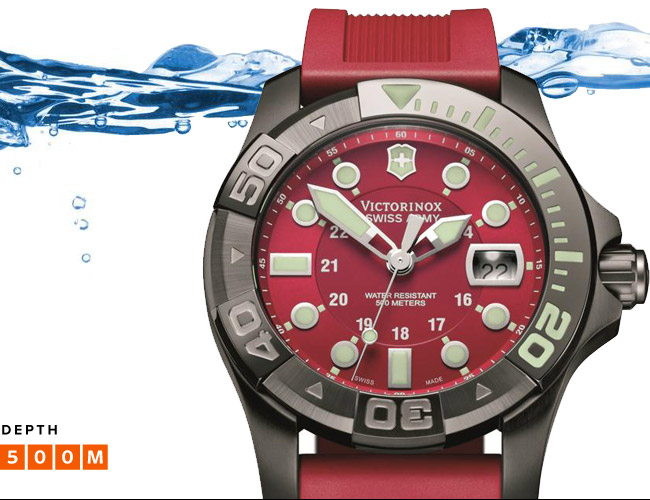 Best Dive Watch for the Value-Minded Diver: Since it was introduced, the Dive Master 500 has quietly become a favorite of dive watch enthusiasts and one of the best values around. The gunmetal steel case, engraved luminous bezel, legible dial and long, supple rubber strap have a fit and finish on par with divers two or three times more expensive. The Dive Master is available with either a self-winding, high grade mechanical movement or a precise quartz ticker (both Swiss, naturally) and a variety of dial and strap colors to match with your summer wardrobe, neoprene or otherwise.
Oris ProDiver Date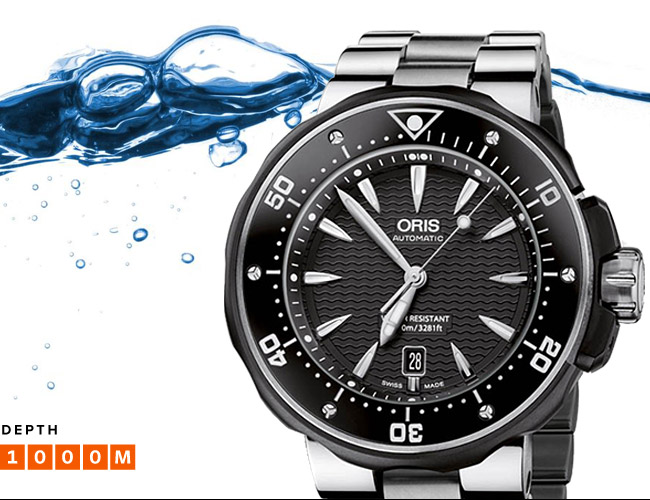 Best For the Next-Level Diver: Oris has long been known for its distinctive, rugged dive watches, but the ProDiver Date, as its name suggests, is a cut above the amateurs. The lightweight, tough, corrosion-resistant titanium case is topped with an innovative rotating bezel that features Oris's Rotation Safety System. This requires the user to pull up on an outer ring before turning it, locking the bezel in place; this prevents accidental rotation, which could alter dive times. The bezel is topped with an engraved and luminous ceramic timing ring that is impervious to scratching. A distinct Oris wave-patterned dial tops it all off. This diver means business.
Tudor Pelagos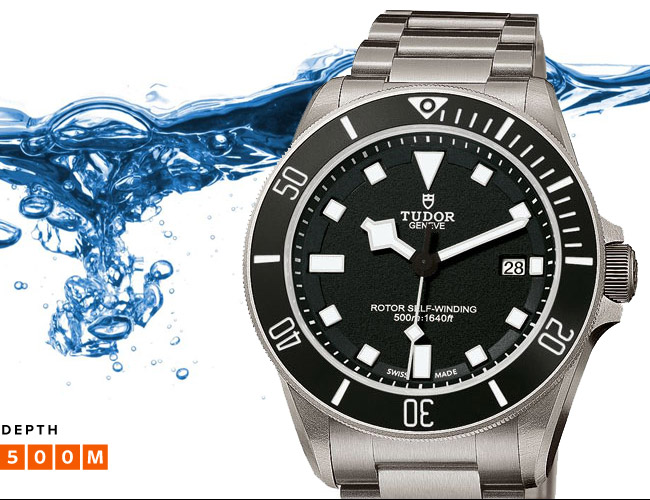 Best Dive Watch for the Nostalgic Diver: Unless you've been on submarine maneuvers for the past few weeks, you know the big news that Tudor is coming back to the United States. Rolex's affordable subsidiary will be sold on our shores for the first time since the 1990s, and dive watch lovers are rejoicing. Following in the footsteps (fin kicks?) of its military-issued Submariner forebear, the Pelagos may be one of the most beautifully engineered divers you can buy, replete with a satin-finished titanium case, a ceramic bezel and classic Tudor design cues. It's available with a rubber strap, but that's not how you'll want to wear it: the coolest feature of the Pelagos is the spring-loaded expanding clasp on the bracelet, which automatically adjusts to the compression of a wetsuit sleeve underwater. Lines are already forming at Tudor dealers.
Bremont Supermarine 2000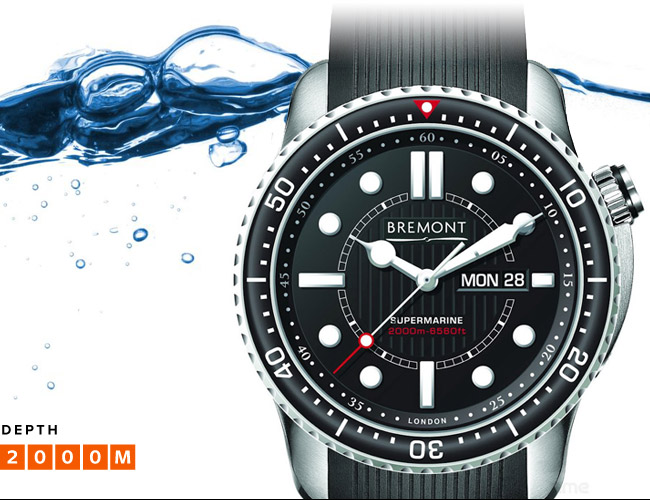 Best For the Deep Diver: It may seem ominous that a 2,000-meter water resistant dive watch is named for an airplane, but not when you consider the company that made it. Bremont, the British darling of the watch world these days, has its roots — and its inspirations — in the aviation world. So when they set out to build a dive watch, rather than name it for a sea creature or submarine, they paid homage to a famous seaplane, the Supermarine S.6B (the first plane to exceed 400 miles per hour, by the way). While Bremont's first dive watch, the Supermarine 500, was perfectly adequate with its shock- and magnetism-resistant 500-meter case, it wasn't good enough for the company. This latest iteration can descend to a crushing 2,000 meters. You won't survive that drop into the abyss, but your Bremont, with its chronometer-certified movement, will still keep impeccable time.
OMEGA Seamaster Planet Ocean Chronograph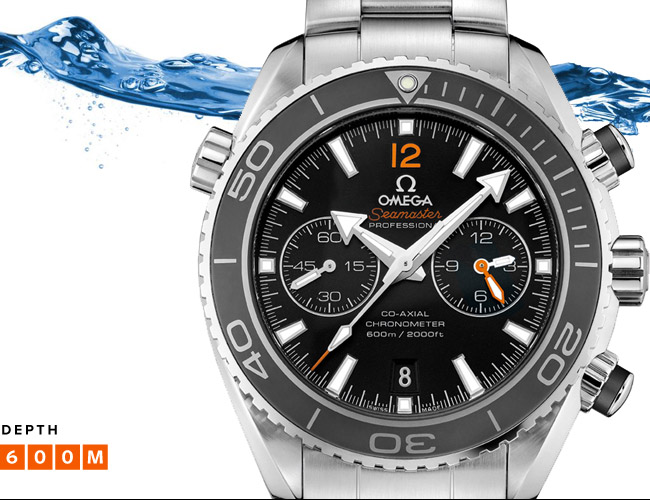 Best for the Uncompromising Diver: OMEGA's deep diver bristles with more technology than a nuclear submarine. A co-axial column wheel chronograph movement with a temperature- and magnetism-resistant silicon hairspring (visible through the transparent caseback) powers the Seamaster Planet Ocean, and on the business end of things, the dial features an intuitive elapsed time counter that reads like a standard clock face. A scratch-resistant Liquid Metal bezel, helium escape valve, and 600 meters of water resistance mean this may be the most over-engineered dive watch you can buy.
Girard-Perregaux Sea Hawk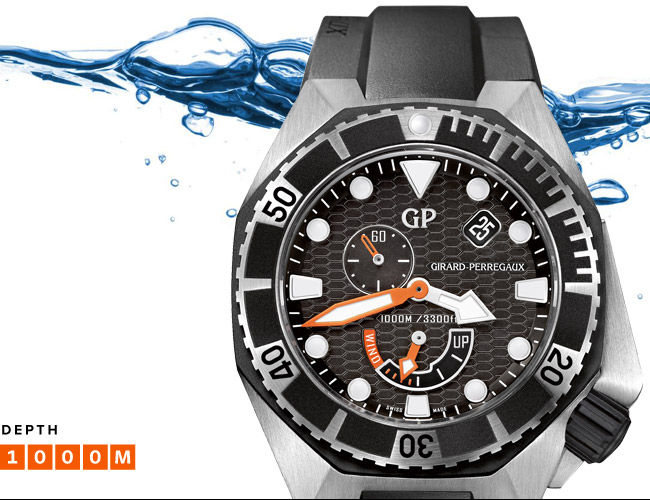 Best for the Discerning Diver: Combine high watchmaking with deep diving and you get the new Sea Hawk. Long a cult favorite, the latest version sports a more modern design while retaining enough DNA from its ancestors to keep devotees of the storied brand happy. There are familiar cues — like the power reserve meter on the dial, a date window at 1:30 and the small seconds display — but the case is rich in contemporary beveled angles, and the ratcheting bezel is inlaid with vulcanized rubber. What makes the Sea Hawk really special, though, is what lurks beneath the sea-monster-engraved caseback: a self-winding mechanical movement entirely designed and built by one of the world's purveyors of haute horlogerie. It almost seems a shame to get it wet. But go right ahead; the Sea Hawk has a depth rating of 1,000 meters.
(原文来自:http://gearpatrol.com/2013/04/22/7-best-dive-watches/)