Kit: Free Solo Climbing 攀岩装备选购
GearKr
650
20013
---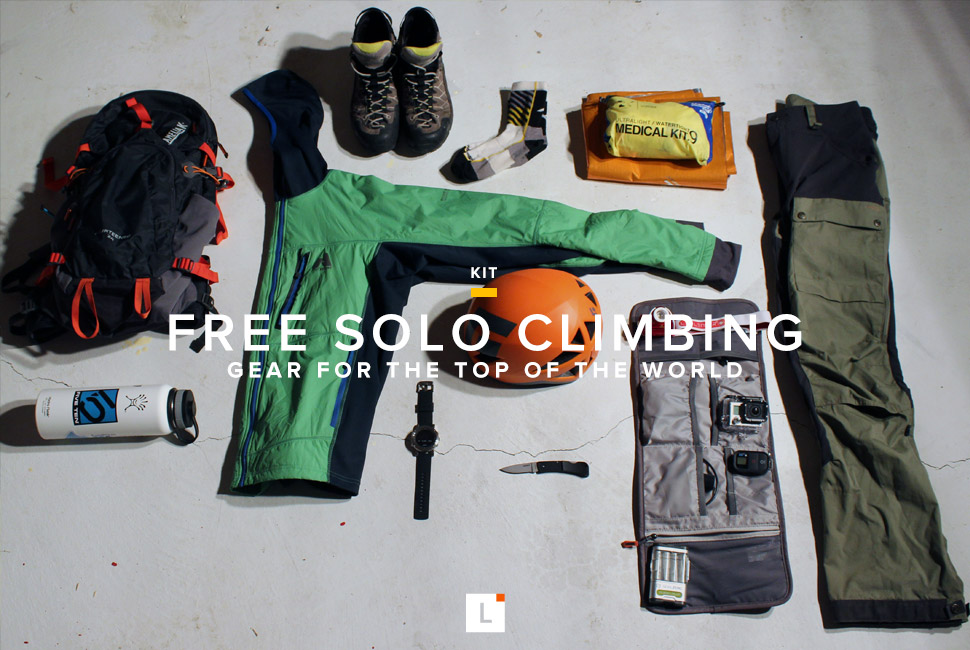 Sometimes the mountains just call your name. You've been staring out your office window all week at fall leaves or fresh snow and you've got to get out on the trail, any trail really, and conquer some high country adventure before you return to your little slice of civilization. Whether you've got a season to train for a summit bit up Mt. Rainier or just a Saturday afternoon to log some miles hiking up the local ski hill, the right gear can mean the difference between enjoying the majesty and struggling through misery (or worse). Here's the gear we used for our recent solo free climb of Mount Olympus in Utah — but it's perfect for any ultralight mountain mission.
Camelbak Fourteener
Long days on the trail — and on the rock — demand a pack that can carry everything you need, but more importantly, it should keep you comfortable through any activity on your backcountry excursion. We found the Fourteener's N.V.I.S. back panel and suspension more than adequate for hauling a big load of supplies up the mountain. With enough space for the 3-liter bladder and 1,400 cubic inches of extra space and organization, the Fourteener's gaping enough for any and all essential gear.
Black Diamond Vector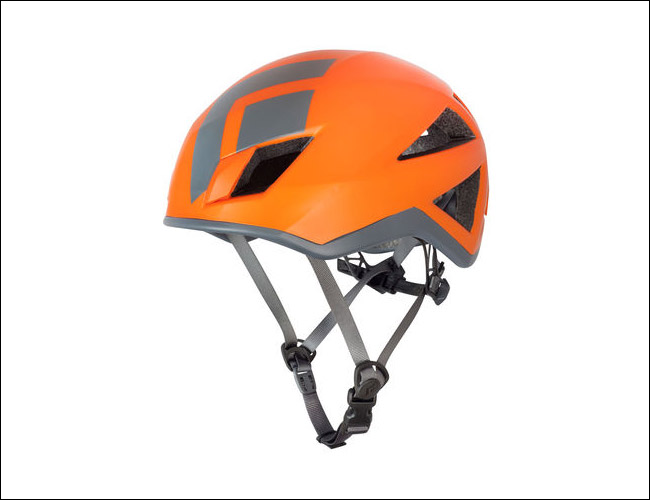 Our day on the trail included 1,100 feet of vertical rock. Whether you're just out at the local crag putting in some sport climbs or making a run up some of many the alpine routes on Long's Peak, a brain bucket is a safety necessity. The Vector is the perfect multipurpose helmet for any mountain endeavor. Its lightweight, ventilated construction means it's just as comfortable sending hot desert sandstone as it is chasing summits above the treeline in the Rockies.
Adventure Medical Kits Ultralight .9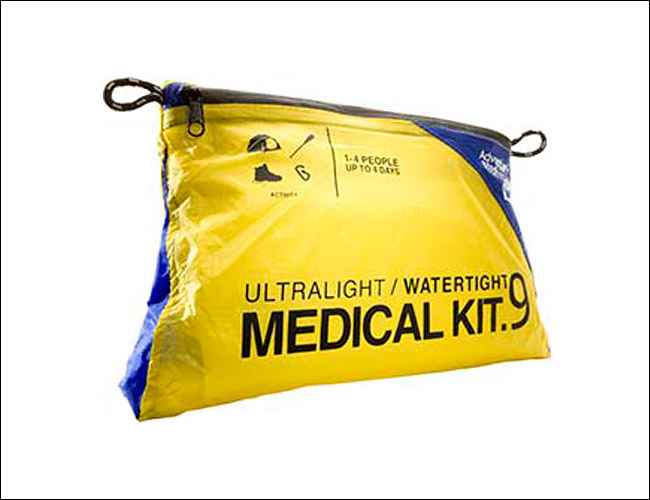 Don't get caught on the mountain without a first aid kit. Weighing in at under one pound, the Ultralight .9 has all the essentials for a small group spending a day on the trail. Waterproof outer and inner packaging keep its contents — which include wound closure strips, wraps and bandages, duct tape, and medication for pain, inflammation and allergies — dry and easy to find should you need them. We augmented our kit with the SOL Sport Utility Blanket, which can serve as an emergency shelter when the weather turns nasty.
Gerber Gear LST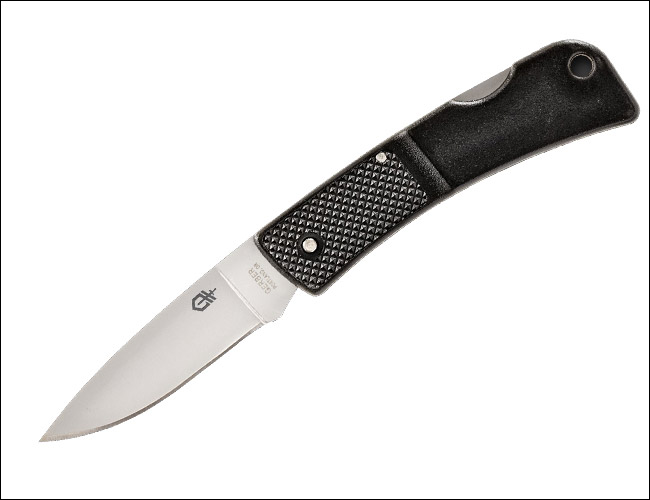 For fast and light missions, a simple knife is an ideal accessory. Weighing in at just over an ounce, and only 3.6 inches long folded up, the LST knife is diminutive (nearly to a fault). The stainless steel blade comes in handy for any task around camp; we used it to trim bandages and cut fishing line on recent trips. At only $23, you can afford to pick up a few so you always have a good knife on hand.
Hydroflask 40-ounce Wide Mouth Bottle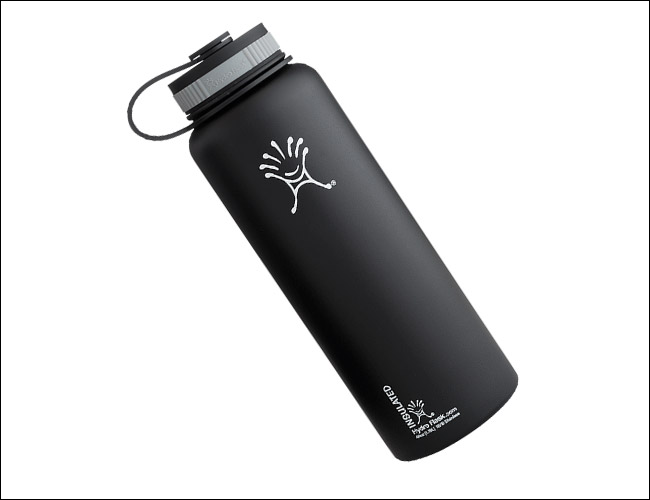 You've got water covered with your Camelbak, but for those pre-dawn starts a hot cup of coffee on the trail is the best type of comfort food. Hydroflask's vacuum-sealed bottles keep coffee or tea hot for hours on the trail and even keep ice cold for more than a day (ours sat in the bottom of our pack for two days and still had ice cubes in it). The 40-ounce size may seem like a little overkill, but if you're going to pack some coffee or your favorite beer to celebrate at the top, bring enough to share…trust us, your friends will "forget" their own.
Fjällräven Keb Trousers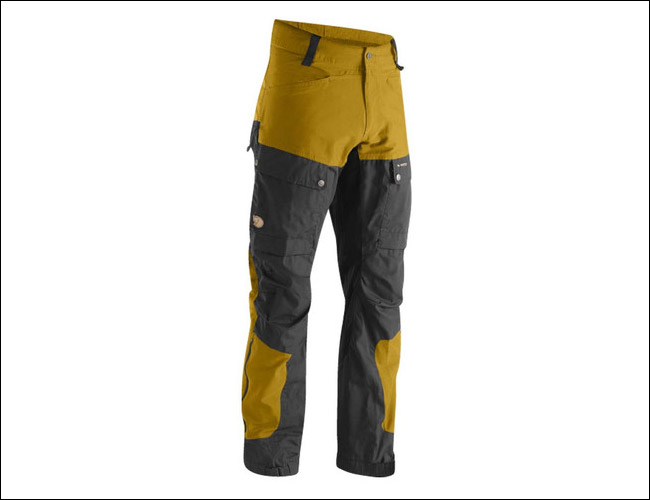 You probably didn't put much thought into the pants you put on before heading in to the office today. You don't have that luxury when you're traveling in the high country. Every piece of your kit needs to perform perfectly — and that's exactly what the Keb Trousers do. Built for trekking in wet spring and fall Scandinavian weather, the Kebs's burly G-1000 construction can handle any mountain environment, and zippered vents can be opened to vent heat. The strategically placed stretch panels behind the knee and on the inner thigh ensure your movement isn't hampered, which can be especially nice when you're inching up a cliff 600 feet above the ground.
Eddie Bauer Accelerant Jacket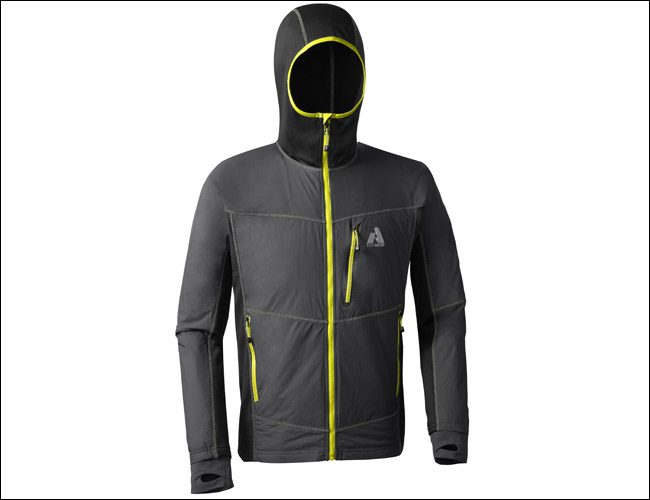 Whether you're hunkering down to wait out a nasty storm or pushing through gale force winds on a summit ridge, the Accelerant Jacket will be your best partner in fighting off adverse conditions. Hybrid construction sheds rain but is breathable enough that you won't have to worry about overheating. The tight hood fits well under a climbing or ski helmet. We especially liked the thumb-hole cuffs, which kept the sleeves in place during climbs.
STM Bags Cable Wrap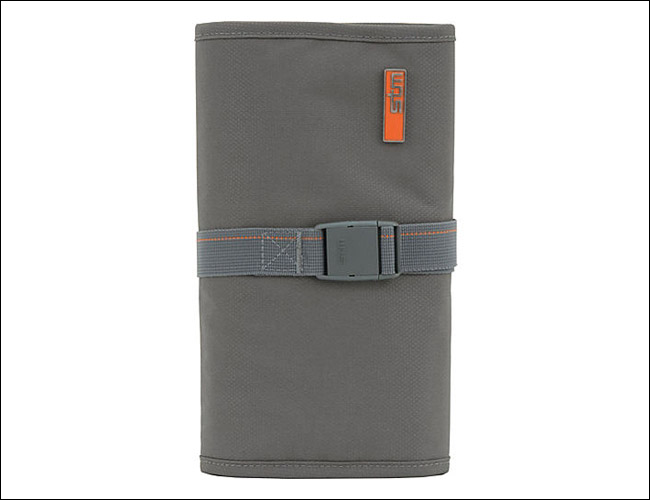 We originally picked this up to organize our everyday accessories for the office commute, but the lightweight organizer has become indispensable for traveling in the backwoods with camera gear and other gadgets. The multiple pouches and zipper pockets are extensive enough to hold ourGoPro Her0 3+ and all of the peripheral mounts and extra memory cards, as well as an extra headlamp, batteries, and Goal Zero power pack. The water resistant outer,and roll-up design are perfect for organizing important accessories and gadgets that you need access to on the go.
Suunto Core Brushed Steel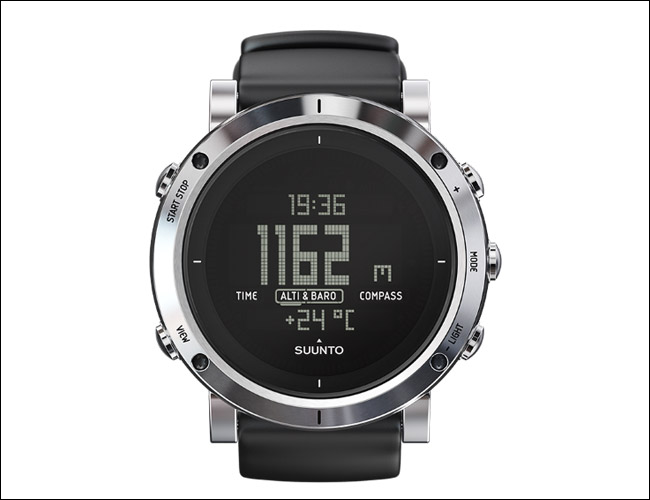 Navigating isn't always as easy as plugging in the nearest Starbucks to your GPS or smartphone. For backcountry travel, we're more fond of the tried and true topographical map and compass. With a compass, altimeter, barometer and weather functions built in, the Core line from Suunto is the perfect all-in-one tool for figuring out where the hell you are. It also cleans up nicely when you finally make it back to town and hit the bar for a few beers and some tales about your epic day.
Salewa Alp Trainers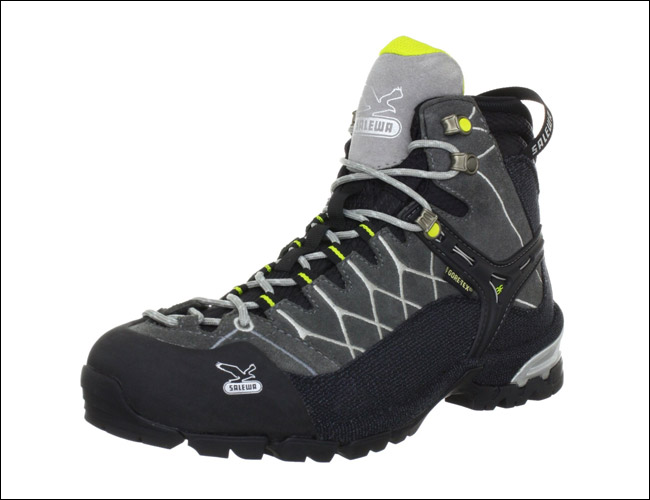 Combine the ankle support of a full backpacking boot with the lightweight construction of anapproach shoe and you've got a boot that can lead the pack up any terrain. We used them for the hike up to the climb. The soles are stiff enough for technical climbing, and with the 3F EVO fit system, these boots will handle everything. Our favorite feature? A silverized mesh liner is naturally odor eliminating, so you won't kill everyone in the car when you take your boots off after a day of peak baggin.
Darn Tough Road Warrior Sock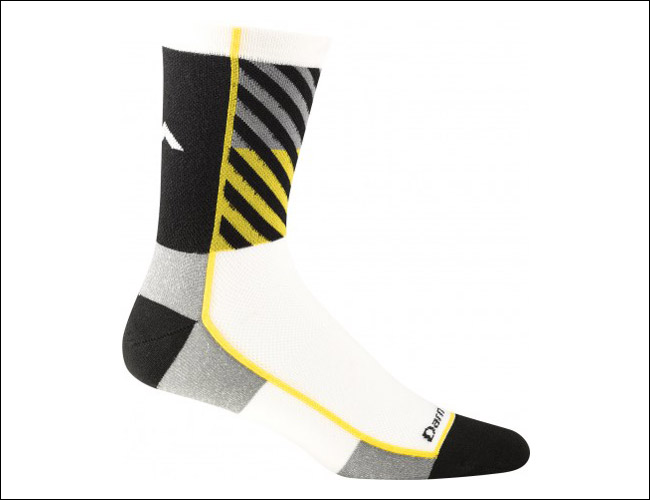 We like Darn Tough's seamless construction for a perfect fit. It doesn't hurt that their stitch count doubles that of competitors; this ensures the socks are durable and snag proof. We like the ultralight, no cushion version, but with everything from no-show running socks to insulated ski socks, they've got a sock for every mountain sport.
Five Ten Anasazi Lace Up Shoes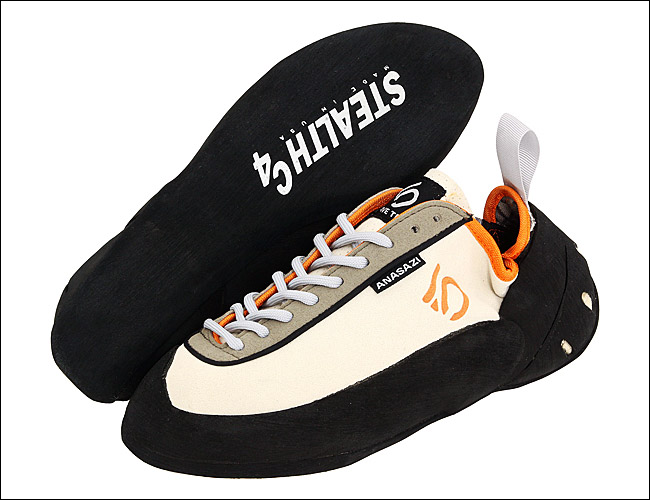 We got sick of blowing off dime-edge-sized toe holds in training, so we searched out the best climbing shoe. The Anasazis stick to any and all rock, from overhung bouldering problems to slick limestone sport routes, and just as importantly, they've got the durability to get you to the top without grinding your feet to hamburger.
Chalk Bag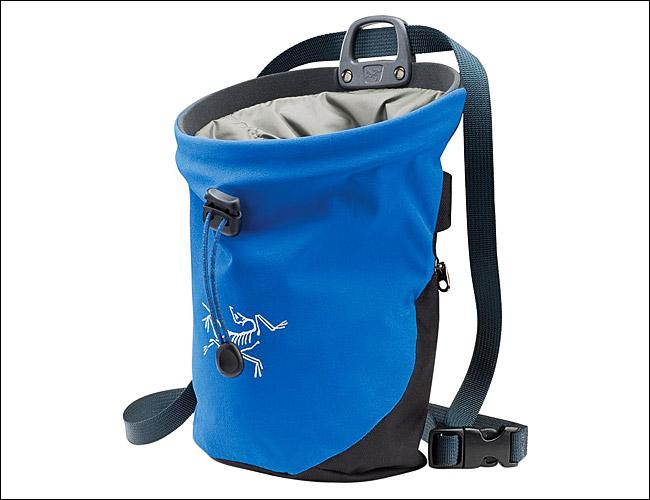 Ours is a limited edition Sickle bag, a holdover from our first big tower climb a few years ago. It's been a good luck charm ever since. You can't find it on sale anymore, but there are plenty of other great options from companies like Petzl and Arc'teryx.