论一个侦搜队员的战术装备修养
John Hurth
6
8151
---
A combat tracker squad needs to travel as light as possible, but still carry the right equipment to survive on the battlefield. In order for the tracker and his squad to successfully perform their combat tracking mission, mobility will be key. The trackers ability to react to the enemy is reduced when overburdened with a heavy load, which will cause physical/mental fatigue and place the trackers in danger when needing to rapidly react to enemy contact.
一个战斗侦查小队需要轻装上阵,但任需要携带足够在战场上活下来的装备。为了使侦查任务能圆满完成,机动性是关键。如果一个队员负重太多,在遇敌反应上会弱逼许多。重装所导致的精神及身体上的疲劳将会使队员在面对需要快速反应的情况下处于危险的境地。
The trackers combat load is the mission-essential equipment required to fight and survive in the environment he's operating in. He can't be expected to carry gear for every possible contingency or combat situation, rather his loadout must be based on his particular mission and the ability to remain mobile but combat effective. When deciding on equipment, choose items that are light and multipurpose. Fighting loads must be light so that the tracker may remain alert, agile and stealthy.
侦搜小队的装备是紧紧贴合任务需求的,并能使其在任务环境下生存。我们不能指望携带所有可能遇到的意外或战斗情况或生存所需的装备。而是基于精准的任务需求,同时保持机动性和战斗力。在装备的选择上,我们需要挑选多用途和轻量的装备,战斗载荷一定要轻,以保持队员的警觉,灵活性以及伪装性。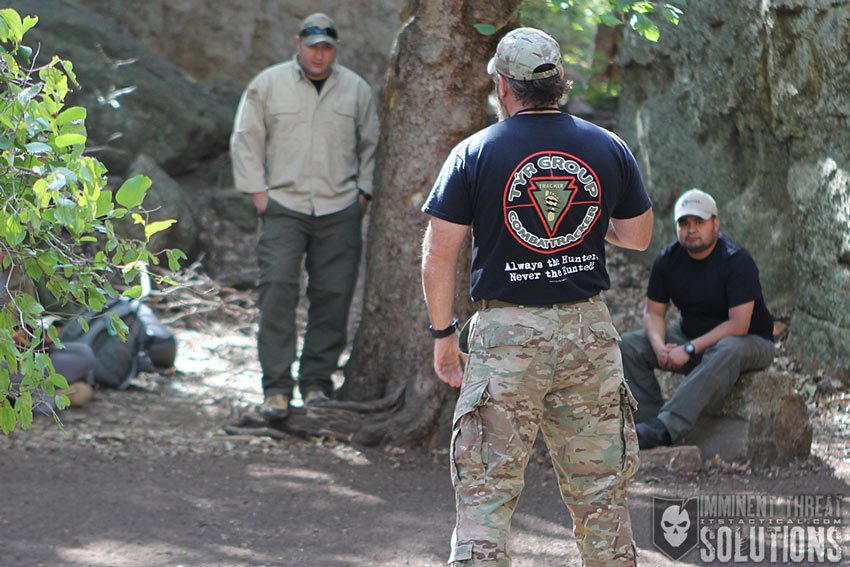 Mission essential equipment is broken down into three categories:
任务所需的装备分为以下三大类别
Level 1: Describes the uniform and equipment that is worn by the individual tracker. These items are the uniform, boots, belt, dog tags, compass, tourniquet and any other survival items carried on his person.

1:第一类介绍队员所穿戴的战斗服和装备。包括战斗服,靴子,腰带,狗牌,指南针,止血带以及其他随身携带的求生装备。

Level 2: Describes the fighting load carried by the tracker which should not exceed 48 pounds. These items are typically the trackers individual weapon, basic load of ammunition and load bearing equipment.

2:第二类介绍队员的武器系统,武器装备不能超过48磅(22KG不到)。这些装备通常指队员个人武器,基础弹药及弹药承载装备(包含三联包这种)。

Level 3: Describes the approach-march load carried for extended operations, which should not exceed 72 pounds (including your fighting load.)

3:第三类介绍了其他拓展装备(配合任务使用的装备),这些装备不能超过72磅(32.6公斤)(包括第二条的武器装备)
Level 1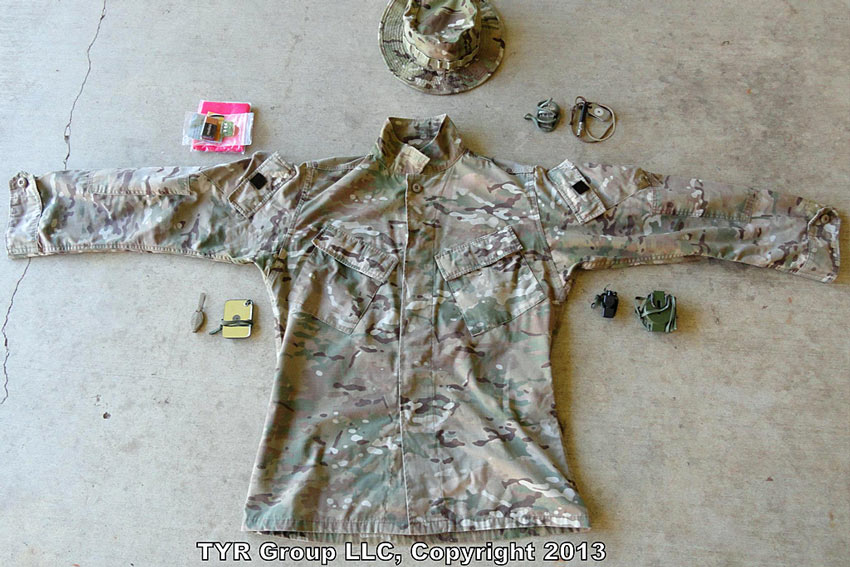 1. Camouflage Jacket. With 1″ square piece of infrared identification, friend or foe (IFF) tape attached.
1:带敌我甄别IR章的迷彩服
2. Camouflage Headgear. With a 1″ square piece of Infrared IFF tape placed on the top of the headgear for identification by friendly air.
2:头顶带敌我甄别IR章的迷彩帽子(方便友方空中甄别)
3. Signal Device. Phoenix IR-15 programmable transmitter with a 9V battery for marking one's own position at night and a 10″x10″ orange signal square cut from a VS-17 Panel. This panel is used as a recognition signal device for linking up with other ground elements.
3:信号设备,Phoenix IR-15可编程IR灯(http://www.prc68.com/I/IR_Beacon.shtml)(可以编程莫尔斯码,这尼玛真少见)以及一个9V电池。用于定位夜间个人的位置。还有一块10英寸*10英寸的橘色信号布(从VS-17上裁下 http://www.bestglide.com/VS17_Info.html)。这块信号布用来作为地面识别信号装置(救援用)。
4. Identification Tags.
4:识别标签(目测姓名条)
5. SAR Eclipse Signal Device. The SAR Eclipse device is very compact and has been tested and observed out to 10 miles during daylight conditions.
5:SAR Eclipse Signal Device(抱歉这个没找到是神马东西)这个装置相当紧凑,并且白天可以在10英里外观测到。
6. INOVA Microlight. This small flash light comes in white, green, blue and red colors and is perfect for signaling or conducting map checks at night.
6:INOVA Microlight  这小JB灯有白绿蓝红光,非常适合作为信号灯,或者半夜照地图用。
7. Signal Mirror. Besides using a signal mirror for signaling, applying camouflage or shaving, it's also a good piece of equipment to deflect and manipulate light in order to view details of an impression.
7:反光镜子,这货就不多说了,反射阳光用,额外提到了可以反射光线来观察某些细小的东西(譬如说手指挑个刺啥的)
8. Whistle. A whistle comes in handy when having to signal commands to other friendly elements over gunfire.
8:求生哨,在枪声震耳的情况下要呼叫友军这货就能派上用场。
9. Magnetic Compass. Although a GPS is a good piece of equipment, it will never take the place of good compass.
9:磁力指南针,尽管GPS用起来更爽但依然无法替代传统指南针。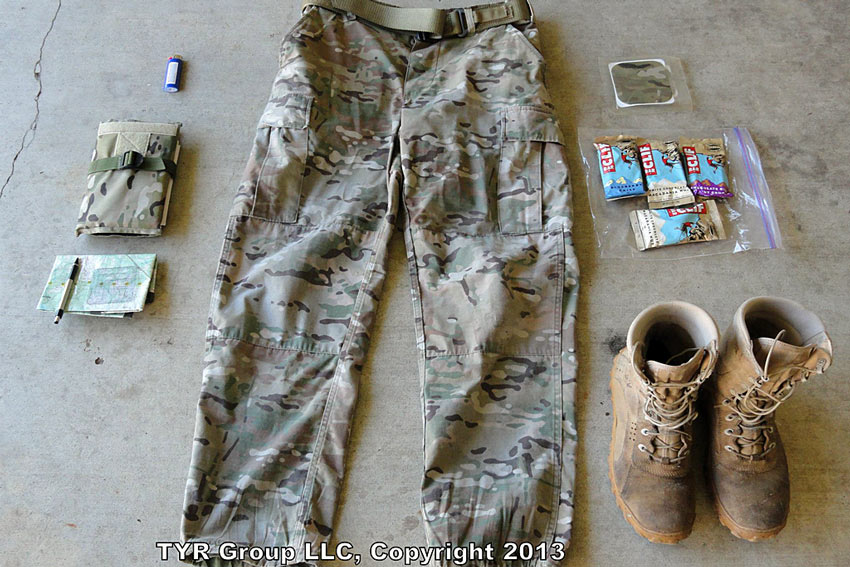 10. Camouflage Trousers.
10:迷彩裤子
11. Trouser Rigger's Belt.
11:垂降腰带
12. Lighter.
12:打火机
13. Notebook. This notebook is used to record information gained during the mission, along with footprint data cards.
13:笔记本,用来记录任务期间的信息,同时附带足迹数据卡(这是毛)
14. Map, Protractor and Lead Pencil.
14:地图,量角器和铅笔
15. Field Expedient Patch Kit. To quickly repair minor rips or tears to the uniform during a mission.
15:针线包,钉个扣子缝个衣服神马的
16. Rations. Should be high energy food items.
16:高热量食物
17. Boots.
17:靴子
Level 2
第二类:(武器类)
1. Load Bearing Equipment (LBE). In this case a Tactical Tailor MAV, Split Front rig.
1:战术背心。LBE  MAV  
2. Radio.
2:电台
3. Magazines. No more than a basic combat load of ammunition for the weapon system should be carried on the LBE.
3:弹夹,不要带太多,塞满LBE就好。
4. Electrical Tape. To secure items together while in the field.
4:电工胶带,在战场上固定东西用
5. Colored Surveyors Tape. For marking the last known sign.
5:彩色胶带,用来标记识别的目标。
6. GPS. The GPS is a good piece of equipment that can track the route of the squad and give the squad's precise location. However, don't become over reliant on technology that's battery operated. When not pinpointing your location, keep the GPS turned off to conserve the battery life.
6:GPS,GPS是很好的装备,用来追踪行进路线和给予小队准确的位置信息,但别过分依赖用电的设备,当不需要准确定位时请关机省电。
7. Strobe Light with IR Cover. For signaling friendly forces.
7:带IR镜的频闪灯(其实直接MS2000就好了吧)用来敌我甄别
8. Multi-Tool. These are great for making small repairs and typically have a knife, file, flat tip and philips head screw driver, can opener and pliers.
8:多用途工具,带有主刀,锉刀 平头螺丝刀 开罐器 钳子 BLABLABLA
9. Spare Batteries. Enough for all your equipment during the operation. When acquiring equipment, choose items that require the same type of batteries. AA batteries are compact and common enough that they can be found just about anywhere in the world.
9:备用电池,携带能支持你整个行动所用装备的电池,同时在选择装备时尽量选择使用同型号电的,AA电池是个靠谱选择,因为太TM普遍了。
10. Weapons Oil and Brush. A bottle of oil to protect and lubricate your equipment is essential in any environment. A shaving brush is also useful for brushing dust and debris from equipment.
10:枪油和刷子,装备的保养在任何环境中都是必不可少的。一把小剃须刷子能很好地清理装备上的灰尘和垃圾。
11. Measuring Device. For taking measurements of impressions or showing scale when taking pictures.
11:测量装备,拍照时用来显示比例,(多用途工具上很多都带尺)
12. Headlamp. A headlamp is a good item to have when it's important to have both hands free such as conducting a prisoner search or some other type of exploitation.
12:头灯,头灯非常有用,在你抓捕嫌犯或者其他需要解放双手又需要照明的时候就能用上了
13. 550 Cord. 25-30 feet of cordage should be carried for repairing, tying or lashing items.
13:550伞绳,带个10米伞绳用来捆绑,修理,SM(大雾)的时候非常有用哦。
14. Knife Sharpener. Carrying a sharpener is essential, as your knife won't do you any good if it's not sharp.
14:磨刀器,磨刀石,魔刀非常重要,一把钝刀不能给你带来任何好处
15. Camouflage Face Cream.
15:伪装油彩孩儿面霜
16. Water Bottles.
16:水壶
17. Knife. A multipurpose knife that has at least a six inch blade should be carried. The knife should be heavy, sharp and versatile enough to use for building shelter, various survival tasks or in use as a fighting knife. The knife pictured above was a collaborative design between the author and custom knife make Jeff Crowner.
17:刀,需要带一把刃长最少6英寸(15厘米)的多用途战术刀。因为要它用来搭建庇护所以要够重,够锋利,够灵活,同时也需要用于各种求生用途以及战斗。图中的刀是笔者和制刀师Jeff Crowner共同设计的。
18. Smoke Grenade. For screening or signaling.
18:烟雾弹,用来掩护和发信号
19. Fragmentation Grenades. At least two fragmentation grenades should be carried when on patrol.
19:杀伤手雷,在执行巡逻任务时最少携带两枚
20. Individual First Aid Kit. This kit provides the necessary equipment to perform Self-Aid/Buddy-Aid and addresses the two leading causes of death on the battlefield, extremity hemorrhage and airway obstruction. Kit in photo includes: Tourniquet, (2) Elastic Bandages, Gauze Bandage 4-1/2″, Adhesive Surgical Tape , Airway Nasopharyngeal Airway, (4) Exam Gloves, (2) Pri-Med Gauze Bandages, EMS Shears, Triangular Bandage andWater Purification Tablets.
20:急救包,包中需要有能执行自我救护以及队友救护的基本物资,并且能救护战场上两大致死原因:下肢出血以及气道阻塞。套件中包含以下物资:止血带,弹性绷带,4-1/2英寸的纱布,外科胶粘胶带,插管工具,外科手套,Pri-Med Gauze 绷带,EMS剪刀,三角绷带和净水药片
21. Gloves. Used to camouflage and protect the hands from sharp objects.
21:手套,提供伪装并保护双手不被割伤。
22. Mag-Lite Flashlight/Blast Match. The Mag-Lite is for tracking during night time conditions. A Blast Match is another great fire producing survival tool designed for all-weather use and can be operated with one hand in case of injury.
22:MAG-Lite手电/信号棒,这手电是用来夜间搜索时用的,信号棒是另外一种火焰生存工具,能在各种气候下使用同时在受伤时也可以单手操作。

23. Rifle. The rifle that is issued. Contrary to popular belief, soldiers and Law Enforcement alike don't get to pick and choose their weapon system or the caliber it shoots. No matter what type of weapon is issued, the operator needs to be an expert with it.
22:步枪,步枪是公发的,和普遍认为的相反,战士和执法部门不能自行选择他们的武器系统和弹药口径,但不管神马鸟东西配发给你,操作者都必须熟练操作它。
24. Weapon Accessories. Optical scopes or red dot sights may be required for the mission depending on METT-T. Also, a Target Pointer/Illuminator/Aiming Light is good to have for operations at night.
22:武器附件。按照任务、敌人、地形、军队和时间(METT-T)来选择光学镜或者红点,同样的,镭射指示器,照明灯(不清楚这个灯特指神马),枪灯是夜间行动的好伙伴
Level 3
第三类:(拓展装备)
1. Ruck Sack. This piece of equipment holds all mission essential equipment that's to be carried by the tracker for extended operations. The size of this pack is dictated by the amount of equipment the tracker will need to sustain himself until a resupply can be requested. The estimated time on operation, terrain operating in and weather conditions the trackers will have to endure are all be factors to be considered.
1:战术背包,这货塞了所有士兵任务所需的装备(这里其实意思是除了第一和第二大类的东西,分类的好处是即使因为各种原因背包或背心被丢弃,你也不会因为必要的生存装备丢失而苦逼。这个相当重要)。背包的尺寸取决于战士所能得到补给的时间。同时任务所持续的时间,战士所经受的任务地形和气候也是考虑因素。
2. Rations. Enough rations for 48-72 hours should be carried.
2:口粮,足够48~72小时的口粮
3. 3-Liter Hydration System. The tracker needs to carry enough water to last for the duration of the operation, or until a suitable water source is found, or resupply occurs. Water is always consumed from the pack first. Should the pack be dropped for any reason during the operation the tracker should have full canteens on his LBE.
3:3升水袋系统,侦搜队员需要携带足量的水来维持整个任务,或者维持到寻找到合适的水源,亦或者维持到补给点。水总是第一个消耗完的消耗品。为了防止水袋因各种原因在行动中掉落或丢弃,队员在背心上(LEVEL2)也需要装一个满载水壶(装满水啊!)
4. Carlton's CAT PAWS (Super Sneakers). CAT PAWS are a great item to place over the soles of the boot so the tracker can conceal his own tracks.
4:Carlton's CAT PAWS (Super Sneakers)(字面意思:猫爪子  反追踪的鞋垫,包在靴子外底)CAT PAWS是反侦察的好伙伴,装在鞋底能够很好地隐藏自己的足迹。
5. VIPER Hood. The Viper hood breaks up the recognizable and familiar outline and shape of the human head and shoulders. The best aspect of the Viper is that it is designed to be worn in conjunction with the trackers combat equipment without interfering with the trackers ability to get to the pouches on his LBE.
5:蝰蛇罩,伪装罩(VIPER hood)能减弱人头和肩膀的外形特征,伪装罩最好的穿着方式是和战斗装备一起(穿战斗服外面),这样就不会影响拿背心上的装备了。
6. Large Trash Bag. For waterproofing or to store trash while on an operation.
6:大垃圾袋,用来防水以及储存行动中产生的垃圾
7. Weapons Cleaning Kit. This kit should be capable of maintaining your weapon in a field environment. At a minimum, the kit should contain a bore brush, chamber brush, cleaning rod, slotted tip for patches, patches, CLP, lens brush for optics and an all-purpose utility brush.
7:武器清洁保养工具,这些工具应该能在野外行动中维护你的武器,至少包含通条,以及各种刷子(你妹这么多刷子,哪位看得懂这些的麻烦M我更改),以及一个通用的刷子。
8. Night Vision Device. Night vision is required when conducting operations at night.
8:夜视装备,当考虑到会有夜间行动就要搞夜视仪了。
9. Spare Magazines. Three extra loaded magazines.
9:备用弹夹,3个额外的弹夹
10. Binoculars. Should be used whenever possible to detect the enemy from a distance. They also provide a larger field of view than a monocular or scope.
10:双通望远镜,无论何时都应该在一定距离上用望远镜观察敌情。双通望远镜也比单筒望远镜和瞄准镜有更大的视野
11. VS-17 Panel. The VS17 Signal Panel can be laid out on the ground to identify troop positions to friendly aircraft or to identify where help is needed.
11:VS-17 求生信号布,这货在第一类中提到过,其实是一块很大的橘色布料,可以为友军直升机提供降落指示,也可以用来辨识需要支援的地点。
12. E-Tool. The E-Tool is a lightweight collapsible spade shovel that can dig or chop.
12:E-Tool (折叠铲),这货又轻又耐操可挖可砍简直就是杀人越货必备的好货
13. Hammock. Depending on the operational environment, a hammock may be essential for staying dry when bedding down for the night.
13:吊床,根据不同的环境,吊床可以在夜间睡觉的时候保持身体干燥
14. Sewing and Equipment Repair Kit. This should include sewing thread, needles and safety pins.
14:大一号的针线包及装备修理工具,包括缝纫线,针和别针
15. Hygiene Kit. Minimal hygiene items such as nail clippers, tooth brush, tooth paste and small wash rag.
15:个人护理套装,啧啧,最小体积的卫生用品,包括指甲钳,牙刷,牙膏还有小抹布
16. Compression Sack or Waterproof Bag.
16:压缩袋或防水袋
17. Basha/Tarp. This needs to be large enough to provide protection from the elements as a shelter, or used as a makeshift litter to transport a casualty.
17:帐篷布,这尺寸需要足够大,可以做成一个庇护所,或者用作临时运输的工具。
18. Sleeping Gear. Depending on the environment, this could range from a sleeping system with a ground mat for extreme temperatures, to a poncho liner for more tropical climates.
18:睡眠系统,依据不同环境,从适应极端温度的地垫到适应热带气候的防雨层
19. Gore-Tex Bivy. The bivy provides a waterproof, breathable cover that keeps out wind, snow and rain.
19: Gore-Tex 露营袋。逃不了狗泰斯的功能层啊。
20. Bungee Cords. For quick lashing of items such as the tarp.
20:垂降绳,用来迅速捆绑东西
21. 550 Cord. 25-30 feet of cordage should be carried for repairing, tying or lashing items.
21:同上的550伞绳,作用一致
22. Spare Socks. Foot maintenance is imperative! Dry clean socks will help prevent blisters, hotspots and athlete's foot.
22:备用的袜子,脚的保养至关重要啊骚年们,干燥干净的袜子有助于防止水泡,磨伤和脚气
Again, when deciding on equipment, choose items that are light and multipurpose. Fighting loads must be light so that the tracker may remain alert, agile and stealthy.
再重申一下,在装备的选择上,我们需要挑选多用途和轻量的装备,战斗载荷一定要轻,以保持队员的警觉,灵活性以及伪装性。
Editor-in-Chief's Note: Please join us in welcoming John Hurth of TÝR Group as a Contributor on ITS. John is a retired U.S. Army Special Forces Soldier who served with 1st Special Forces Group at Ft. Lewis, WA where he participated in multiple deployments overseas to include two combat tours in support of the Global War On Terror. He now uses his years of tracking knowledge as the owner and lead instructor of the TÝR Group where he and his staff conduct training on various tracking techniques.
(这一段说作者很牛逼)
(如有错误请告知修改,括号内容基本为本人主观内容,本文翻译:@坏树三木)