Five Watches for the End of the World 世界末日你要戴上的五块表
Clearly Mayan watchmakers hadn't cracked the horology of the perpetual calendar complication before their ateliers closed for good. Whether December 21st, 2012 portends an ominous implosion of this rock on which we live, a collapse of civilization or just severe disappointment for the crazies no one knows for sure. But it sure does present a great excuse to stock up on bombproof gear. We've got five timepieces to see you through the fire and brimstone — and if the Mayans were wrong, well, you've still got yourself a pretty badass watch.
Sinn EZM-10
No list of apocalypse-proof watches is complete without a Sinn. The German brand is known for its obsessively overengineered timepieces, and the EZM-10 is the culmination of everything they've learned to date. "EZM" stands for Einsatz Zeit Messer, "mission timer" in German, and past EZMs were developed for Germany's serious forces of military divers, police and firefighters. The watch's list of features is long. Its hardened titanium case is water resistant to 200 meters and is filled with Argon and with a copper sulphate capsule to absorb moisture; the movement, a Sinn-modified Valjoux 7750 with a central minutes counter and 24-hour subdial, utilizes Sinn's patented DIAPAL oil-free escapement; the rotating pilot's bezel is screwed on, and the crystal is secured against sudden pressure drops. We could go on but time is short. Suffice it to say, when it's time to bug out, this is the watch to be wearing.
Casio Pathfinder PAG240
When you have to head for the hills and live off the land, this rugged Casio will be your new best friend. The Pathfinder has Casio's Triple Sensor technology — barometer/altimeter, thermometer and digital compass — so plotting a course away from chaotic cities and forecasting storms is suddenly well within your wheelhouse. Sunrise and sunset data also help you stay out of sight after dark when the zombies come calling. Of course, finding watch batteries may become a difficult proposition, so the fact that this Tough Solar Casio gets its juice from the sun is an added bonus.
Panerai Luminor Marina 1950 3 Days (PAM 422)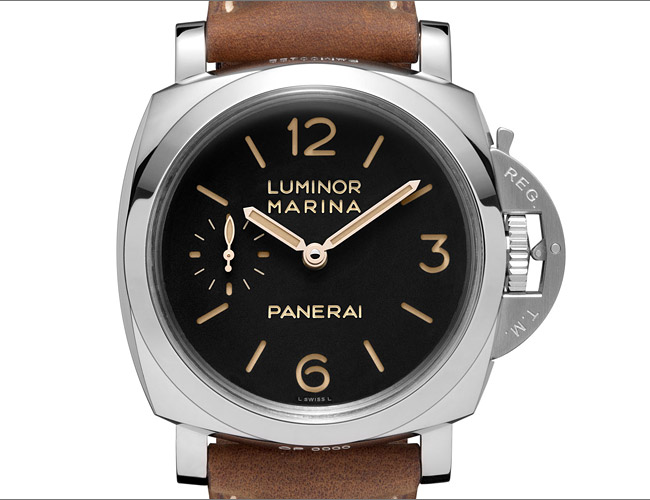 Who needs electricity? Alongside a hand-cranked diesel engine, a handwound mechanical watch will see you through just about any catastrophe. After all, when you're snaring rabbits and rubbing sticks together for fire, the last problem you need is a failed watch. Simplicity is the secret here, and there are few simpler timepieces than a Panerai. This survival watch's large sandwich dial is easy to read at a glance, with only five-minute hashes and oversized numerals that glow like a watch named, "Luminor" should. The in-house Panerai handwound calibre has a three-day power reserve; the meter on the movement tells you when it's time to crank it up again.
IWC Big Pilot Perpetual Calendar Top Gun
Just because the Mayan calendar is coming to an end doesn't mean yours has to. Plus, if the Mayans were wrong, you're still well prepared for whatever comes your way. With a stealthy ceramic 6-bar water resistant case, pressure-proof crystal and magnetism-shielded movement, there isn't much that can harm this watch. Yes, it's a $40,000 timepiece, but you were going to empty your bank account anyway, right?
NOMOS Glashütte Sonnenuhr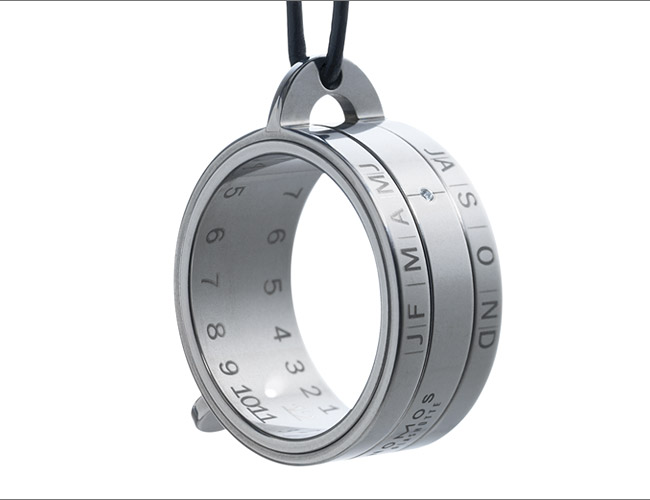 When the clocks all stop and we're knocked back to the Stone Age, tell time like… well, like the Mayans did. With the sun. Lightweight, durable and highly portable, the Sonnenuhr ("sundial" in German) is the least expensive in-house timepiece that the small Bauhaus watch company from Glashütte, Germany offers. It's worn around your neck; pull it out when the sun is shining to get a quick read of the time. Align the hole on the middle ring with the mark for the current month, hold it up to the sun, and wherever the light hits inside the ring is the time of day. And if the Mayans were wrong and Christmas comes as usual this year, you can always wrap it up and put it under the tree for your sweetheart.
(原文来自:http://gearpatrol.com/2012/12/18/five-watches-for-the-end-of-the-world/)