Camp Caffeine: Lessons in Outdoor Brewing 营地咖啡装备选购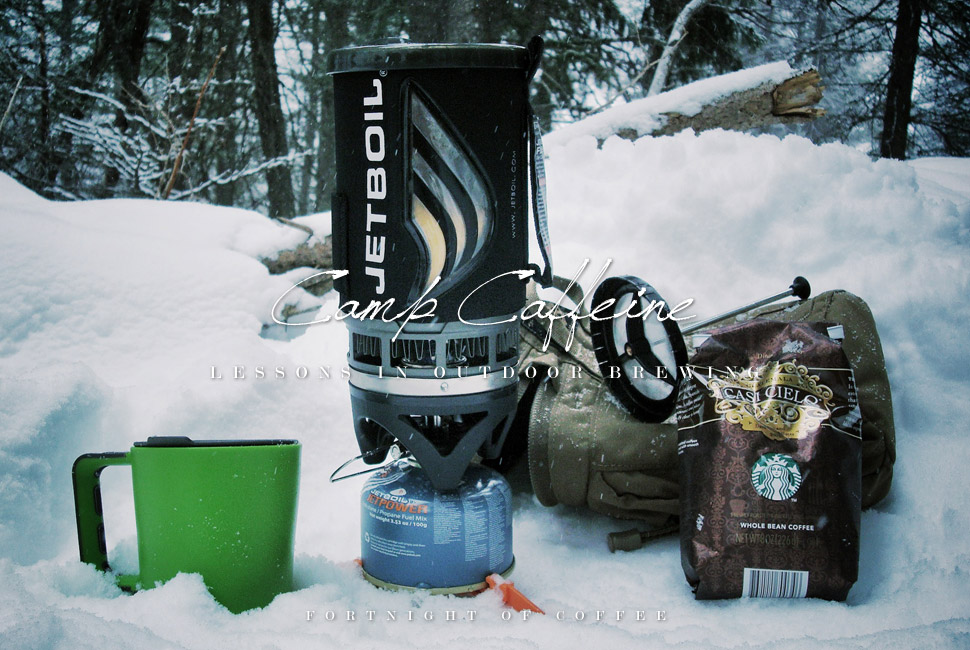 Something about sitting atop an unexplored peak to watch the sunrise while enjoying your favorite coffee just feels right. Maybe it's the sub-freezing temperatures and obligatory wind chill, or it's the all night trek catching up with you. Regardless, whether you're just out early to poach a few lines of fresh powder before the lifts open, hiking out to your secret fly-fishing spot, or on a multi-day trek down the Appalachian Trail, coffee shouldn't be left off your packing list. With that in mind, we've got the best tried and true methods for brewing your favorite coffee for you next adventure, be it a weekend of car camping or a full blown backcountry expedition.
Jetboil Flash Java Kit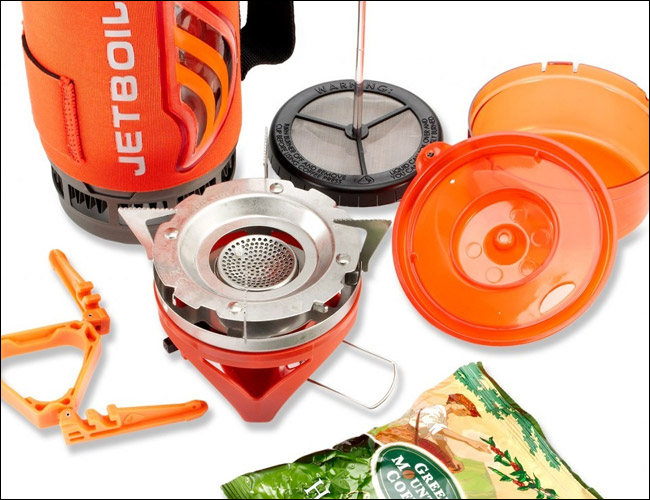 Editor's Pick: We covered Jetboil during the Outdoor Retailer show, and for good reason. Their proprietary flux ring heating system can get a liter of water boiling in just over 2 minutes. Combine that with a lid built for the integrated French press and a neoprene sleeve that has a color-change heat indicator, and you'll have dinner cooked and be enjoying your favorite brew faster than your friends can get their fire or stove up and running. The only downside? Propane stoves can be a little finicky in extreme cold or at altitudes higher than 10,000 ft — take our word on it. Brewing a cup during a blizzard while field testing in the Wasatch Range of Utah was an adventure all by itself.
Handpresso Wild Hybrid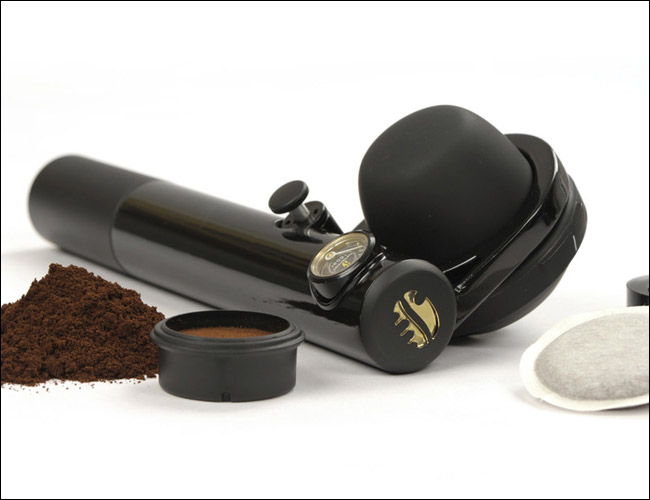 For the Classy Camper: For espresso enthusiasts, there's no need to forego your addiction when you're roughing it. Using a hand pump mechanism and grounds of your choice — Handpresso even offers single serve pods — you simply need hot water to prepare an espresso shot on the go. It's light enough to throw in a daypack, so you can enjoy your handpresso after a day on the river or at the crag, but elegant enough that it won't be out of place at the office in case of an all-nighter. Cups and arrogant baristas not included.
GSI Outdoors 30 oz Java Drip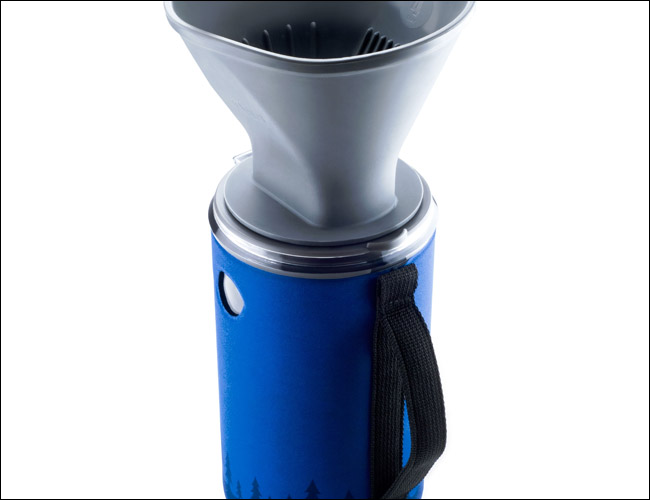 Group's Go-To: When you've got to have those extra 4 cups on hand, look no further than GSI Outdoors' java drip systems. A detachable lid is compatible with regular paper coffee filters. The main body is sealable and features double wall construction and a neoprene sleeve to keep your coffee hot and your hands burn free. Portable drip brewers tend to be the most idiot-proof (but if you enjoy fishing grounds out of your teeth, see our last method below) and GSI's quality ensures you'll have a reliable brewer for years of camping. It's your call to share your Joe among your buddies' mugs or save that precious dark roast for yourself.
Stansport Black Granite Percolator
Throwback Brewer: If a more traditional campfire brew is more your style — and you're not concerned about size or weight — the Black Granite Percolator by Stansport will have you brewing 12 cups of your favorite roast in no time. Decidedly low-tech, all it requires is filling the included coffee basket with your choice of coarse grounds and then adding water and a heating source. The basic design of this pot has been used since 1949, and adventurers have carried it from the wilds of the Sawtooths to the Denali range and back since then.
Cowboy Coffee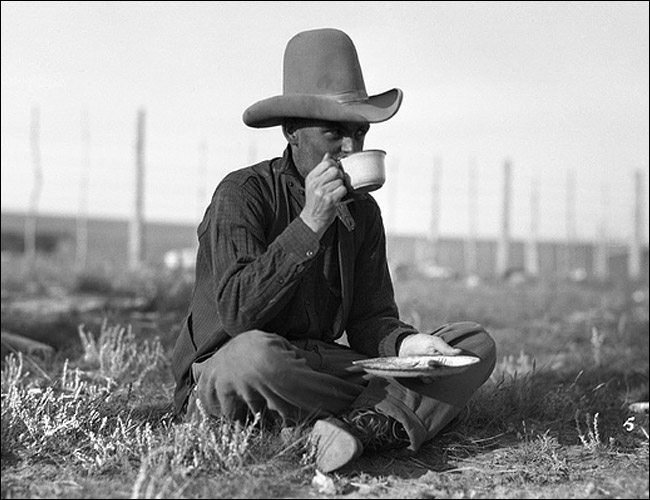 Jeremiah Johnson's Brew: If a pot brew is still too avant-garde, the old Cowboy Coffee standby is the easiest, albeit messiest, way to brew a cup while out in the backcountry. There aren't any special pots or methods required. Simply spoon out 2 tablespoons of coffee grounds into your go-to camp mug and add boiling water. In a few minutes your coffee will be ready to eat drink. You can add a few drops of cold water or milk to settle the grounds, or do as the men of the wild west did: grow a thick mustache to filter them out as you drink. It may not be be the preferred method, but it quite possibly the manliest way to drink coffee.
Bonus: Ranger Bullets/Pudding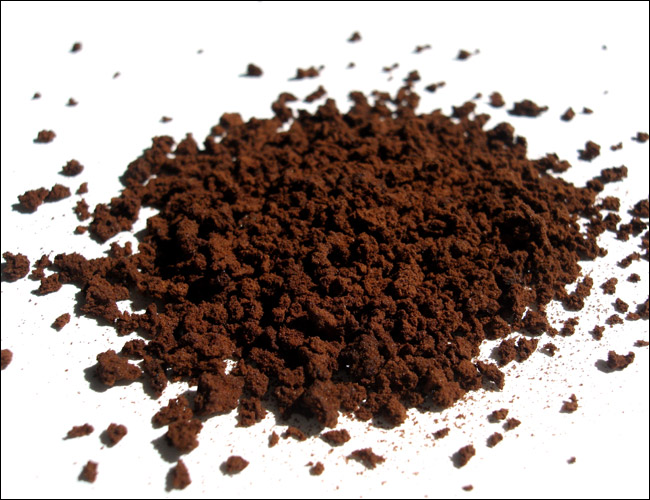 (Dis)Honorable Mention: If you've ever had the misfortune to eat a U.S. Military issued Meal-Ready-To-Eat (MRE) you've probably seen the included pouch of instant coffee and wondered, "how awful could it be?" To be honest, after a few days without a hot meal, a decent night's sleep or shower, that instant coffee is a godsend. But what if you never have enough time to actually heat water and enjoy it? Enterprising service members created a few ways to utilize the caffeine in the most direct ways possible. First up: Ranger Bullets. This is using that instant coffee packet like a pinch of chewing tobacco. Hold it between your lip and gums and you get all the benefit of caffeine with none of hassle of heating up a mug of water; it also tastes like death warmed over. Ranger Pudding, on the other hand, started out innocent enough — men would trade their hot chocolate mix and peanut to make a goopy mess that tasted positively angelic spread on an MRE cracker. Of course, the good-idea-fairy intervened, and the coffee powder was added to the recipe. Result? Caffeine-enriched pudding that has the added benefit of cleaning out your internal plumbing faster than you could ever want.
(原文来自:http://gearpatrol.com/2013/02/22/camp-caffeine-lessons-outdoor-brewing/)