Die-Hard Drives: 5 Best Rugged Hard Drives 五款坚固的硬盘选购
In today's digital era of technology, "Knowledge is Power" has taken on a much broader meaning as data becomes our most valued asset. How we as users go about portably accessing and backing up these personal files — music, photos, financial documents, and third-party software — has proven to be just as critical. Whether it's the aspiring music producer shopping beats around to labels or the established accountant keeping tabs of clients' paper trails, everyone can use a sturdy and high-functioning portable hard drive, especially those who remain adventurous and (naturally or otherwise) accident prone.
We're talking an external device that can withstand the daily wear and tear. Something that can handle being tossed in the messenger bag; something that can survive a natural disaster. Need we remind you of Hurricane Sandy, or of last Friday's party at your place? Didn't think so. Luckily for you, there's a handful of damage-proof HHDs available sure to safeguard all your stored data — and we've found the best.
LaCie Rugged Thunderbolt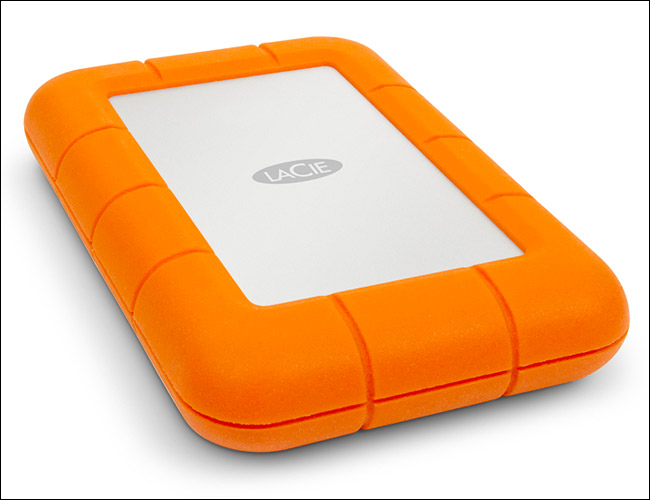 Best for Data-Reliant Nomads: Whether it's constantly on the move through the streets of New York or traveling cross-country wedged somewhere in the back of the trunk, LaCie's offering delivers on all protective ends. Aside from being the first bus-powered, USB 3.0 Thunderbolt drive to utilize SSD for storage purposes, the device stuffs powerful specs into a solid aluminum case outfitted with an orange rubberized bumper that handles both tough falls — up to four feet without permanent damage — and heavy shock absorption with ease. Read and write operations perform at nearly double the speed of its competitors, and it comes bundled with a suite of optional utilities, including Wuala cloud storage, AES encryption program and a backup assistant. What's more, it comes bundled with a 50-centimeter Thunderbolt cable, an accessory not packaged in most Thunderbolt-compatible products. The drive also plays nice with both Mac and PC platforms.
ioSafe Rugged Portable
Best for the Luxury Heavyweight: If money is no object, then consider ioSafe's impenetrable storage block your best (and safest) bet. The chic minimalist look of the drive radiates affluence and dominance, though its chief strength clearly lies in a heavy-duty construction, which is capable of withstanding anything from the most extreme weather conditions to a freaking shotgun blast. As a matter of fact, it can sustain an estimated 2,500 pounds of crushing force, survive a drop of 20 feet, and stay alive immersed in 10 feet of water. Try running it over with your car or take it to the gun range for some target practice if you doubt its impervious state. This thing's like Will Ferrell in theAustin Powers movies.
How has ioSafe made such a resilient product? The computer hardware manufacturer likes to credit its "Full Metal Jacket" technology for the disaster-proof resume; they machine carve the aluminum (or optional titanium) chassis from a solid billet. The Rugged Portable SSD doesn't compromise on execution either, offering prompt transfer speeds and a one-year subscription to Data Security Service, saving you thousands on recovery engineering costs should the worst happen.
SSD, HDD, HHD, WTF?
So you want an external hard drive that lives a life as rugged as you. Good. Now what the hell are these acronyms? The plain ole hard drive has come a long way. From the days of Cray to the blazing speeds of solid-state drives, the price of space/cost has roughly doubled every 14 months, increasing by an order of magnitude every 4 years. We don't know what that means either, but the result is that things are getting cheaper — and will only continue to do so. Until people start paying us for memory though, a quick primer:

HDD: Introduced in 1956, this is the data drive you've come to know. It uses rotating platters coated with magnetic material to store your photos (naughty or nice) and other important documents. Old ones also serve as good places to sit for Robert Redford and Ben Kingsley.
HHD: Hybrid hard drives (sometimes called H-HDD) are large bugger hard disk drives that pair a standard hard drive and lots of cache or even an SSD (see below) to speed up access to the same locations. That means faster startup times, etc. They're as common these days as an LCD monitor.
SSD: Solid-state drives don't actually contain a disk. Instead, they are set up similarly to RAM, but in a fashion where they store data persistently. SSDs have been traditionally expensive, but as they grow more common (like in your MacBook Air or Ultrabook), their prices are being driven down. They're blisteringly fast and far-less susceptible to damage when dropped.
Adata DashDrive Durable HD710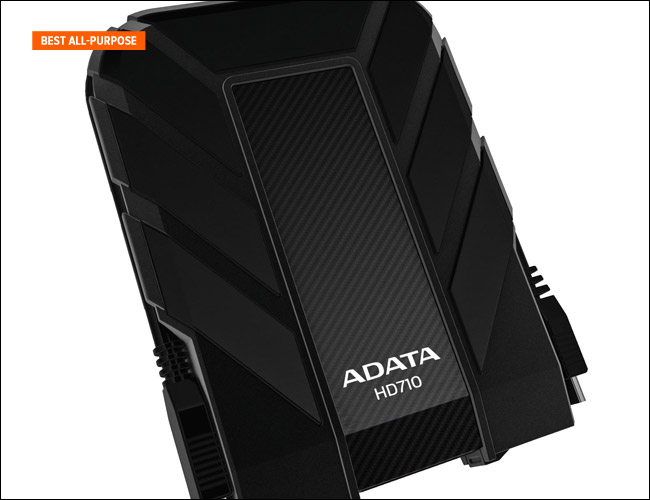 Best for All-Purpose Users: Housed in a soft-touch rubberized exterior that's both shock- and waterproof, this rugged-yet-slim HHD flaunts impressive measurements, scaling at less than half a pound and 0.85 inches thick. The HD710 passes both of the stringent IEC 529 IPX7 and Military MIL-STD-810G 516.6 drop tests, meaning you can leave it submerged in up to six inches of water for a half hour and it'll operate at 100 percent immediately afterward.
The HD710′s unique symmetrical form factor plays a huge role in its toughness, allowing the drive to endure impacts on an even plane, therefore securing all internals from shifting. Furthermore, the carbon vinyl outline makes the device a nostalgically trendy item to lug around in a carry-on bag or in-hand. And though most of the attention is solely focused around aesthetics, keep in mind that the drive delivers pretty fast USB 3.0 speeds. The USB cable wrap-around design and blue LED data transfer indicator and power statuses make for a sweet finish, too.
Buffalo MiniStation Extreme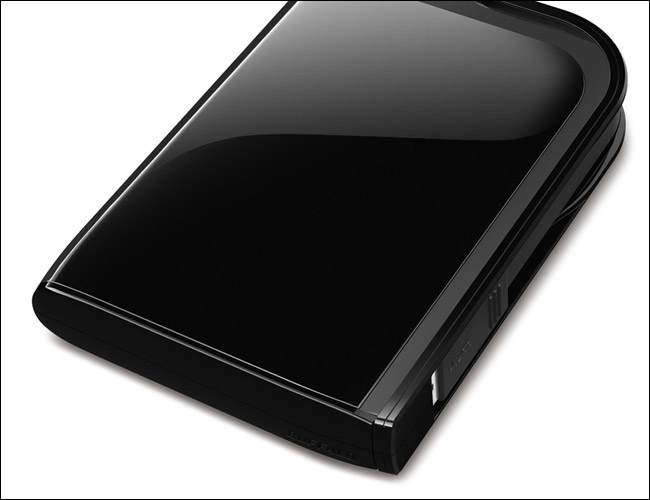 Best for the Sophisticated Data Saver: Granted the MiniStation Extreme bears a sharp resemblance to a digital datebook, it serves best as a robust backup solution, reliably efficient enough to secure all bachelor-inspired data (from personal contacts to provocative, ahem, media files). But an attractive sheath of this caliber can only be best complimented by a military-grade, shock-resistant jacket — one enclosed in shock absorbers that save it from up to a two-meter drop.
Where the MiniStation Extreme truly excels, though, is in the performance department, producing quick data transfer speeds courtesy of its dynamic USB 3.0 interface and TurboPC technology, the latter feature built to utilize a computer's RAM for increasing transfer rates. Buffalo also provides a number of pre-installed software facets, such as backup software, along with encryption and password features, to secure data from any prying hacker, or worse, fatal-attraction type attempting to access personal files.
Silicon Power Rugged Armor A80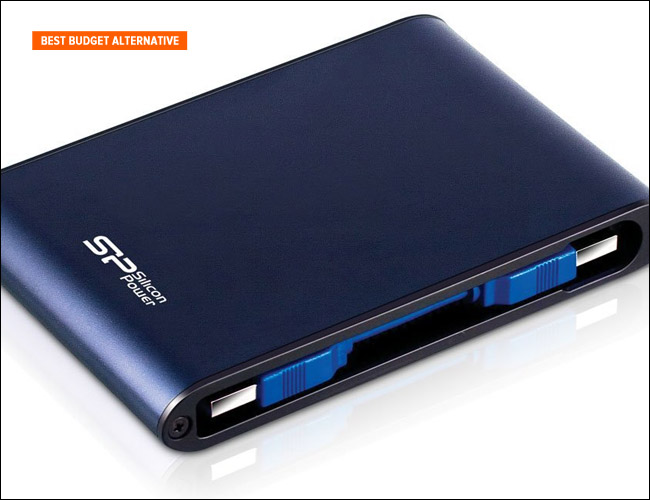 Best Budget Storage Alternative: The most cost-efficient option of the rugged collective comes IPX7 certified: submerge it in up to a meter of water for 30 minutes and it'll come out fully functioning. In addition, Silicon Power has made the A80 compliant with MIL-STD-810F 516.5 procedure IV (have fun finding that one in the Boring Encyclopedia of Military Product Testing), testing all 26 contact points on the device for direct drops on solid surfaces to ensure it meets military standards.
Performance-wise, the A80 generates solid benchmarks with estimated write speeds clocking in at 85MBs and 100Mbps read speeds via USB 3.0 connection. That's some of the fastest results for an HDD on the market. The amicable carry-cable design has sturdy grooves that lock the accompanying USB cable in place, and it comes pre-formatted to support Mac, Windows and Linux computers. To top it off, the company advances a three-year warranty.
(原文来自:http://gearpatrol.com/2013/03/14/die-hard-drives-5-best-rugged-drives/)