Keep Calm Carry-Ons: 5 Best TSA-Approved Pocket Knives 五款最佳口袋刀具
Editor's Note: Perhaps we spoke just a little too soon. Unfortunately, the TSA reneged on their plan to allow small knives and multitools on flights, stranding your EDC at the security gates. For the time being, don't bring any of these pocket knives to the airport — but do feel free to enjoy their miniaturized quality elsewhere.
Many of us remember the days of over-zealous and hyper-vigilant guardians of flight security; I've had children's safety scissors, nail clippers (sans nail file), and three wooden toy swords (gifts for my sons) turned away in the name of national security. Being a serving member of the military didn't help, even on the occasion when I was flying with both a service rifle and pistol on a contract aircraft.
The lifting of the Transportation Security Agency's prohibition on knives brings both a boon for your every day carry (EDC) and a challenge in deciding on a folding knife that meets the TSA's parameters. The search may involve more than simply looking at the list of requirements, though — the first implementation of any bureaucratic policy runs into the reality of execution on the front lines. Wading into travel regulations and the many suitable sharp options on the market, we've found the five best pocket knives (plus a bonus) that will both get the odd job done andactually make it onto a plane.
Wenger Esquire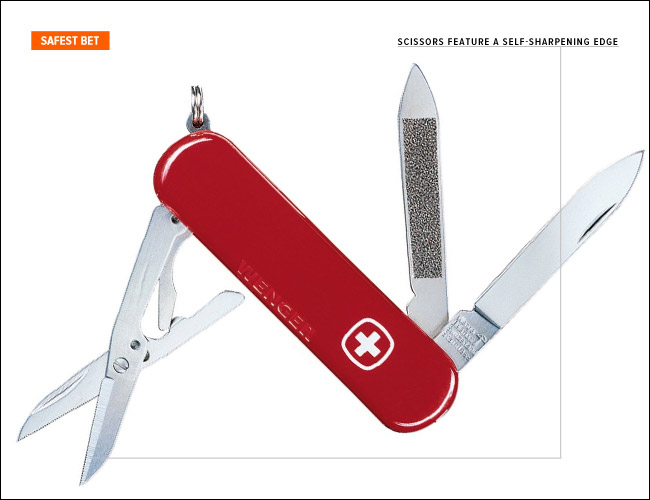 The Safest Bet TSA-Approved Knife: With a compact design with 6 implements for 7 convenient functions, the Esquire Swiss Army knife (SAK) is a minimalist choice with lots of capability. It includes a pen blade, springless scissors, a nail file, a nail cleaner, a toothpick, tweezers and a key ring. It's slightly larger than Victorinox's Classic (both companies are owned by Victorinox, so the battle of "original" vs. "genuine" SAK is now moot). Wenger's springless scissors are superior, with a serrated self-sharpening edge, and for this reason alone the Esquire is the better choice. Consign yourself now to the eventual loss of the toothpick and then the tweezers — it happens with every SAK, Wenger or Vic.
Victorinox Midnite Minichamp
Best Well-Turned-Out TSA-Approved Knife: The 2.25-inch Midnite Minichamp is a SAK that packs 16 tools (TSA-compliant blades included) into a slim pocket carry. This knife adds an LED light to the basic Minichamp, a nice touch while you're rooting around for your socks under a strange bed at 2 a.m. The most complete keychain-sized mini SAK from Victorinox, the multi-tool has 2 different blades, scissors, nail file with nail cleaner, cuticle pusher (works better than dragging 'em on the ground, Neanderthal), screwdriver with ruler, a fruit peeler with scraper (trust me, she'll love this), a marginal bottle opener with a magnetic Philips screwdriver, wire stripper, pressurized ballpoint pen and either tweezers or a toothpick — pick one and then replace it with the other when you lose the first.
K.I.S.S. (keep it small, stupid)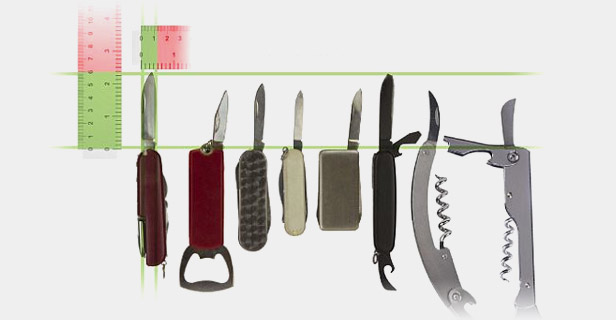 The TSA provides a list of constraints (must haves) and restraints (must not haves) for allowed edged blades: no more than 2.36 inches in length, 0.5 inches in width, with no blade lock and devoid of a molded handle. Those eased restrictions still have many in the EDC community scratching their collective heads. Measuring differences are going to be the bane of anyone who skirts the edge of the limits — tip to tang versus the blade proper will present a learning curve for TSA's execution in the trenches. Don't bet your recent acquisition on a basically trained Transportation Security Officer's ability to make the distinction. Government agencies are ever conservative, but all the more so where life safety applies, so err on the small side, as there will be growing pains during the breaking-in period for the policy.
Case Peanut XX Prime Stag Pocket Knife
Best TSA-Approved Classic Jackknife: Coming out of the box razor sharp, the Case Peanut looks like a knife your grandfather carried. The stag handle makes each knife unique, and the antler will wear with age and use to add even more character. While not quite large enough for traditional carving, the Peanut handles small chores will style and agility. It measures 2.875 inches closed, and weighs 1.2 ounces — the right size to disappear into your pocket, yet large enough to get those sundry jobs around the house, yard, and office done; its second blade gives you a utility tool to conserve the edge of the main blade.
While the stag-handled version comes in stainless steel (not "surgical" steel, as mislabeled by Amazon), Case also offers several Peanuts with CV (Chrome Vanadium, or high carbon steel) blades for those who prefer carbon steel for the ease with which it takes a fine edge and acquires a patina. W.R. Case and Sons Cutlery Company has been making premium, hand-crafted knives for more than a century and still crafts the knives in Bradford, Pennsylvania with the finest materials and time-honored techniques.
Gerber Dime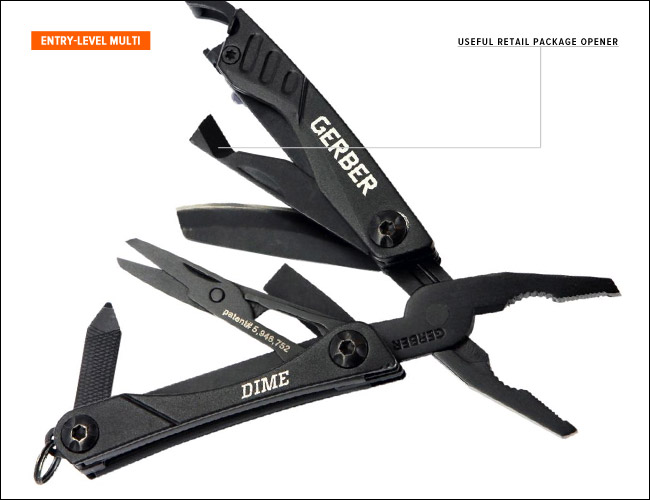 Best TSA-Approved Entry-Level Multi-tool: The Dime is a solid basic option for light duty. While it elicits complaints regarding fitment and flimsiness, and initial tool opening tightness is a real fingernail destroyer, the inexpensive multi-tool handles small jobs just fine, and the package opener is convenient for cracking plastic clamshells. The scissors are better than most, as is the bottle opener, though both have a learning curve (hint: use the scissors right-side up).
Leatherman Squirt ES4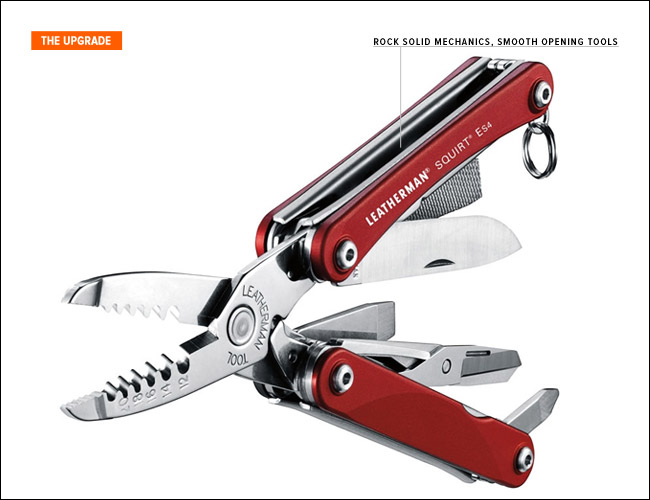 Best TSA-Approved Multi-Upgrade Knife: With the Leatherman Squirt, you get a significant bump in quality and durability — for only a few dollars more. Leatherman's keychain multi comes with both needlenose pliers and a pair of scissors, eliminating a previous compromise in earlier models. For even more utility, the pliers come with wirestrippers in five gauges, from 20GA to 12GA, making the Squirt a no-brainer choice for a computer network tech. The mechanics of the Squirt are rock solid, and the tool opens and closes smoothly. (As a disclaimer, I've carried a Leatherman of one variation or another for over 25 years, and I'm partial to their tools.)
Emerson Hummingbird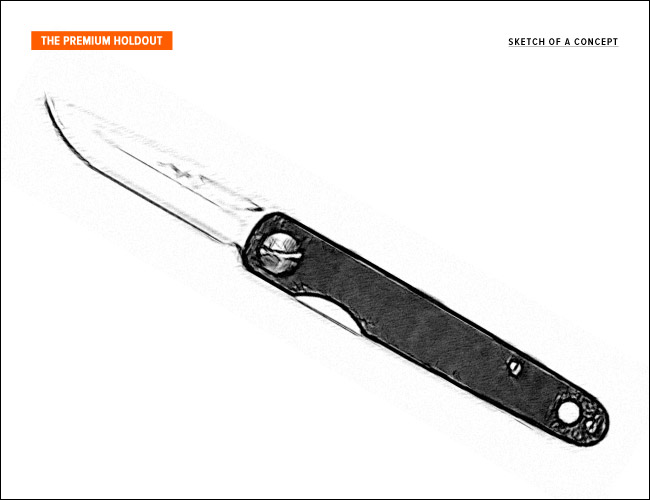 Bonus: Best TSA-Approved Premium Holdout: Ernest Emerson, the maker of high-end tactical folders popular with military and law enforcement, is rumored to be modifying his Hummingbird blade to be TSA-compliant. A craftsman who focuses on utility over art, Emerson is a proponent of knives as both tool and weapon, and he designs and builds them for hard use, with 154cm high carbon steel and a chisel-grind edge. While we advocate you remain seated with your seatbelt securely fastened during flight, an Emerson would be the EDC you'd want if you get the call, "Let's roll".
(原文来自:http://gearpatrol.com/2013/04/05/keep-calm-carry-ons-5-best-tsa-approved-pocket-knives/)