Adventure Proof: 5 Best Rugged Compact Cameras 五款最佳三防相机推荐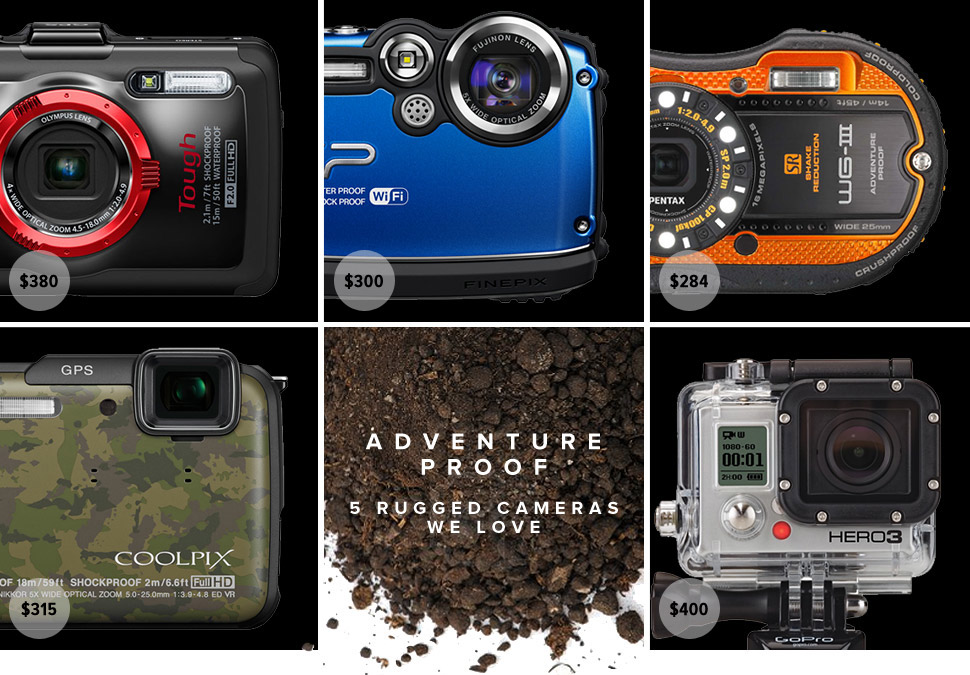 Smartphones have made typical point-and-shoots about as useful as Ryan Lochte in a public speaking class. But until our favorite thigh weights gain a thicker skin, there will always be space for tougher rigs designed to take a licking and keep on clicking. Toss one of these rugged cameras into your bag before your next big adventure, and maybe you'll finally capture some evidence to go along with that hell of a yarn.
Pentax WG-3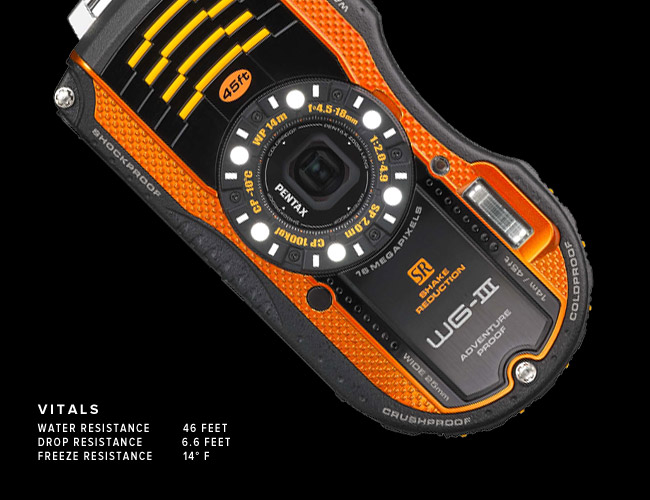 Best Rugged Camera for the Gadget Snob: Pentax has always been adventurous, and the WG-3 puts their attitude in to concrete form. With a very "extreme sports" (and/or transformer turd) exterior aesthetic, built-in compass, external clock, and carabiner, along with water resistance to 46 feet, cold resistance to 14 degrees Fahrenheit and drop resistance up to 6.6 feet, it's as tough and functional as any other camera on this list. But with technical specs like a 16MP CMOS sensor with a lens that opens up to f2 with a 4x optical zoom, full HD video, macro LED lights around the lens for close in shooting, and a 3-inch LCD monitor, it's got the shooting chops to back up its brawn.
Olympus TG2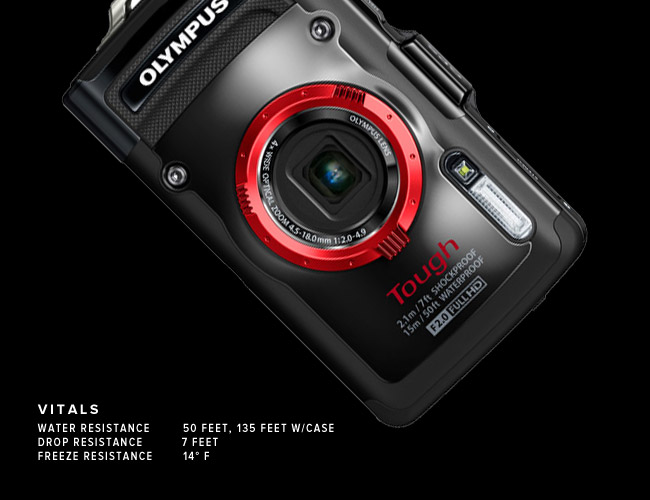 Best Rugged (and Versatile) Camera: Like the Pentax, Olympus's tough guy model sports an f2 lens with a 4x zoom. There's also built-in GPS tagging for your images (a nice touch) and in-body super macro zoom for shots with microscopic closeness; tall butterfinger types will love that it's also shockproof up to 7 feet. What set the Olympus apart, thought, are its optional accessories: namely, an underwater housing (increasing its depth rating from 50 to 135 feet) and both fisheye and tele lenses and converters. Of course, you'll have to shell out extra for those. Do those add-ons make up for its slightly disappointing 12MP sensor? That's up to you.
Fujifilm XP200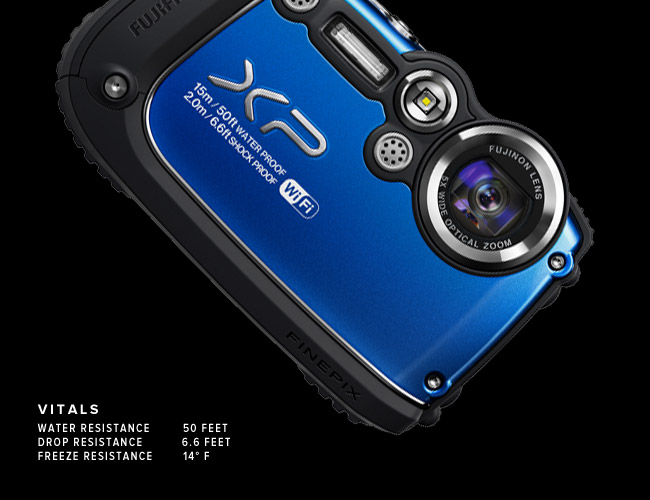 Best Rugged Camera for the Connectivity Junkie: If getting some Facebook likes is more important than a good-looking camera (even though it comes in black, blue, red and yellow), the XP200 gets you your fix with wi-fi connectivity to your smartphone, tablet or computer (through a Fujifilm app). Of course, that's on top of the standard level of fortitude: it's waterproof to 50 feet, shockproof to 6.6 feet and freezeproof to 14 degrees. A 16MP sensor and 5x zoom along with 1080/60i video provide quality images — so good, in fact, that those exes might "poke" you back.
GoPro Hero 3 Black Edition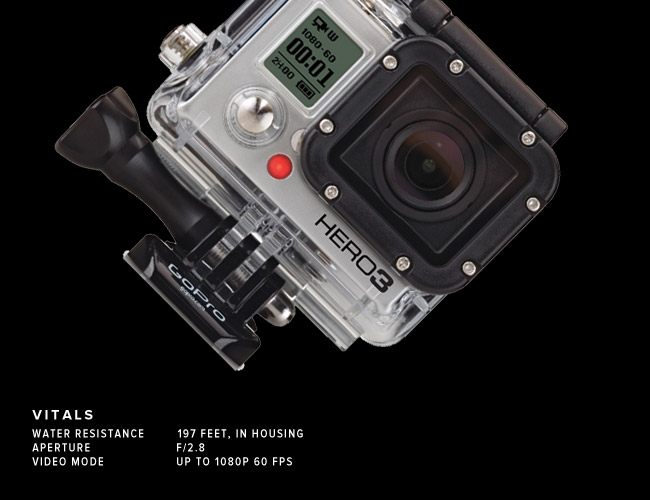 Best Rugged Camera for the Videographer: While other major manufacturers play catch-up in the action cam game, GoPro is breaking new ground with their Hero 3 Black Edition. It's 30% smaller and 25% lighter than the already tiny GoPro HD Hero 2, measuring a mere 20mm thick when removed from its compatible plastic armor (which sports a special double lock and an overall smaller form factor that gives it 197 feet of waterproofing). Other improvements include integrated wi-fi and a revised flat lens that provides two times the sharpness and low-light performance. Video is obviously the name of the game for GoPros in general, but its still chops have also been vastly improved; there's also a Continuous Photo mode that captures 12MP stills at a steady 3, 5, or 10 photo-per-second rate, up to 30 photos at a time.
Nikon AW110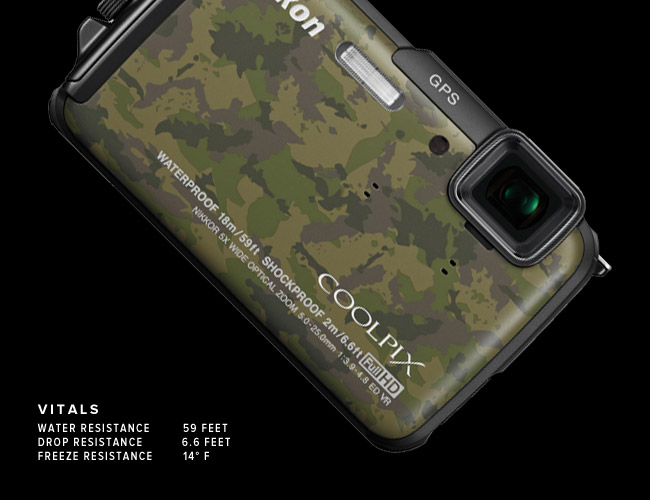 Best for the Seriously Abusive: It may lack the overcompensating tough guy exterior of others on this list, but don't be fooled by its sparing use of rubber: Nikon's AW110 still packs top-of-the-line point-and-shoot features into a waterproof (up to 59 feet), freezeproof and shockproof frame. Its 16MP BSI CMOS sensor matches the resolution of the Pentax WG-3, and it boasts a slightly better 5X (28-140mm) f/3.9-4.8 optical Nikkor zoom lens. The finer things, like a 3-inch OLED display, built-in wi-fi and GPS, also take the hassle out of seeing and transferring those intense moments in the (hopefully) tamer environment of your home.
(原文来自:http://gearpatrol.com/2013/04/12/adventure-proof-5-best-rugged-compact-cameras/)