Kit: Fool's Gold 100 山地骑行装备选购
Competing in endurance mountain bike racing requires a significant amount of time on the bike. There are days when you eat your breakfast and lunch on the go, get on your bike before the sun comes up and even get lost in the woods trying to find six hours worth of trails. All riders settle into distinct collections of gear to help make the bike their home, but for us, this kit offers the perfect blend of performance, durability and comfort.
Scott Scale 29 Pro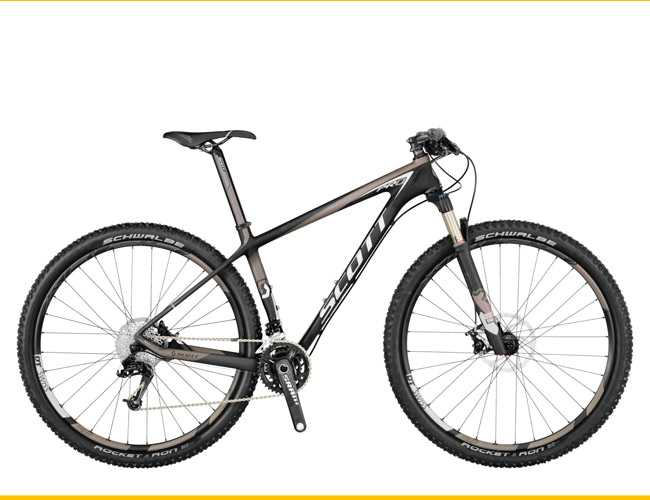 When looking for a light, fast, hill-climbing machine with all-day comfort you can't beat this bike. We started with the frame and built the Scale with an SRAM XO, Easton EC90 carbon wheelset and some contact point comforts from Ergon.
Stages Cycling Power Meter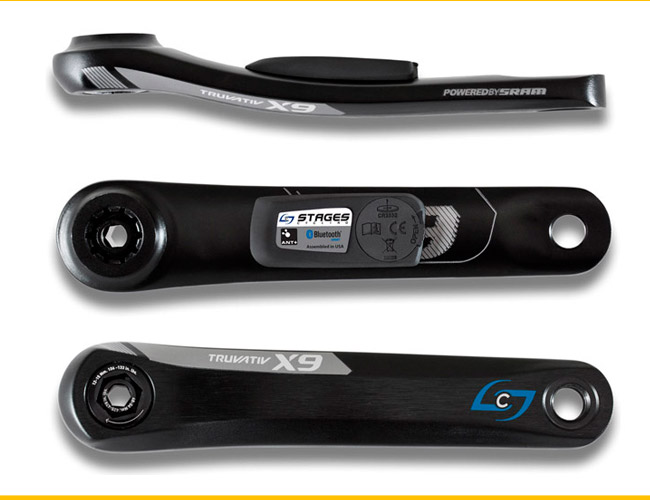 On long rides knowing wattage is essential for managing pace while tracking calorie expenditure — data that helps you know what to put back into your body to stay fueled. Stages's meter hits the big selling points: accuracy, easy installation, and a competitive price.
Castelli Free Aero Race Bibshort
Finding the right pair of shorts takes some experimentation, but once we pulled on the Castellis it was hard to consider wearing anything else. The Aero Bib has been field tested by the Garmin team over hundreds of hours and is designed to provide long-lasting, durable comfort.
Castelli Prologo 3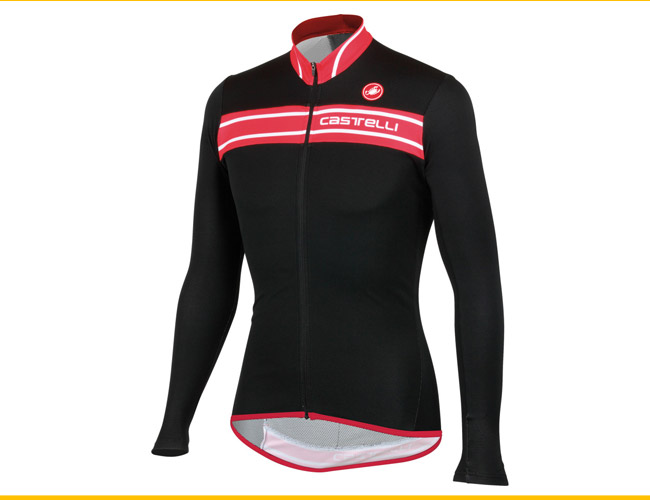 For long, hot days, the dual-layer Stratus with Prosecco fabric provides exceptional moisture management, and the mesh across the shoulders adds some stretch and ventilation. The three external pockets and one zippered pocket make it easy to store a few zip lock bags of full of your favorite on-the-go nutrition.
Skratch Labs Exercise Hydration
Looking for a light, clean-tasting drink to help hydrate and replenish electrolytes that's also made of natural ingredients? Skratch Labs has been tested in the field by athletes competing in races like the Tour de France, and now it's available for us average guys. It's also easy on the stomach over extended periods of riding.
Timbuk2 Bike Seat Pack XT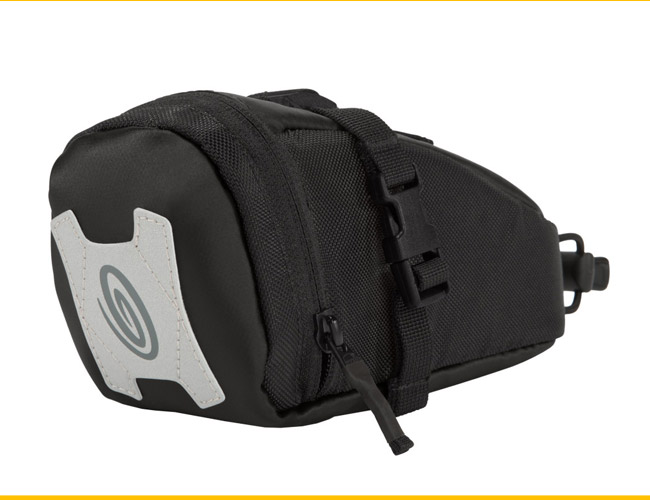 What do you do when you don't want to wear a CamelBak, your jersey pockets are full of food and you have no room for a 29er tube, CO2 and a multi-tool? Time for a seat-mounted bike bag. The XT is a bit larger than the standard seat bag but that extra space makes it a great way to avoid carrying a hydration pack.
Giro Atmos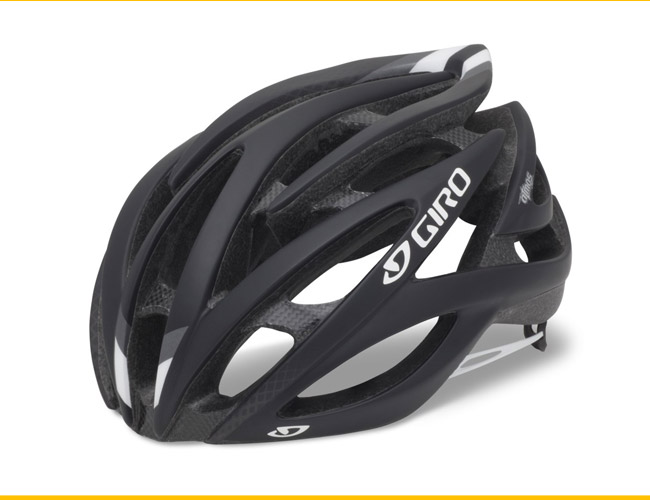 Earlier this season we put the Atmos to the ultimate test: a spill at 20 mph. The shell cracked — but our brain was left intact. Bonus points for great ventilation and comfort.
Specialized Pro MTB Shoes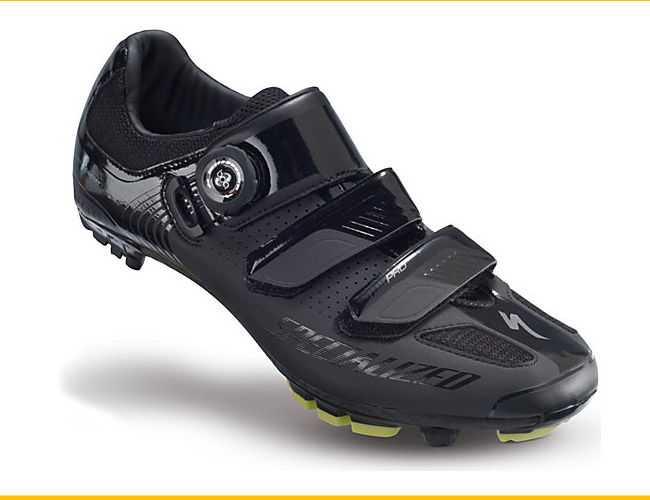 Second to the chamois, your shoes are the main contact point with the bike. Ratchet and velcro straps provide a snug fit on the Pro MTB while mesh panels increase airflow. (Note: the shoes in link are the new version of those pictured above.)
Light and Motion SECA 2000 Enduro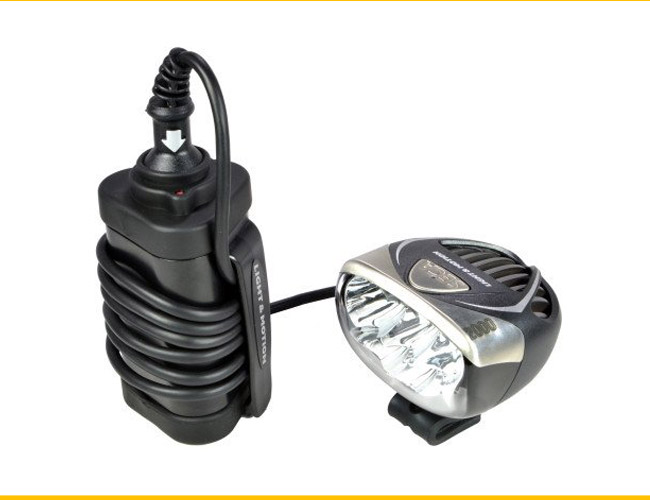 A good lamp is vital training beyond the daylight. The SECA 2000 Enduro's battery is hardly noticeable in the jersey pocket, and the light mounts on the helmet without adding much weight. Switched from its low setting to the max 2000 lumens, it lit up the trail like there was a searchlight following us.
Paceline Chamois Butt'r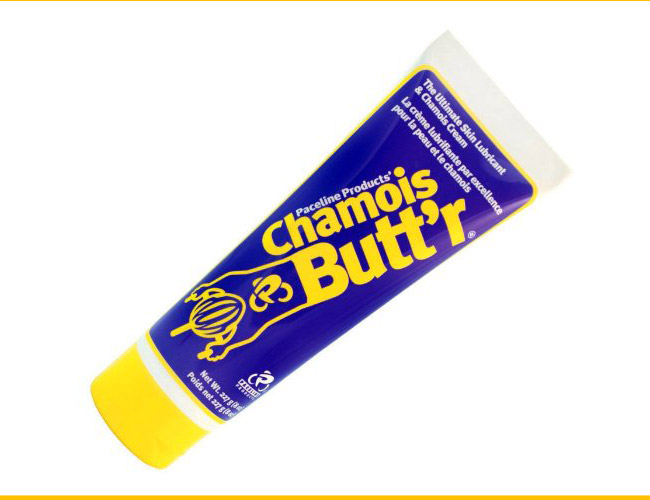 This hardly requires explanation. But if we must: chafing on long rides is torture — but you can help yourself out by applying this stuff to your underside and on your chamois.
Garmin Edge 510
The Garmin 510 is compact, light and loaded with features that make it a great partner on epic rides in the woods. Since many of our training rides have been solo we've used live tracking, which allows for real-time monitoring of your location in case something goes wrong.
(原文来自:http://gearpatrol.com/2013/09/26/mountain-biking-essentials-fools-gold-100)