Kit: Diving the Bahamas 潜水装备选购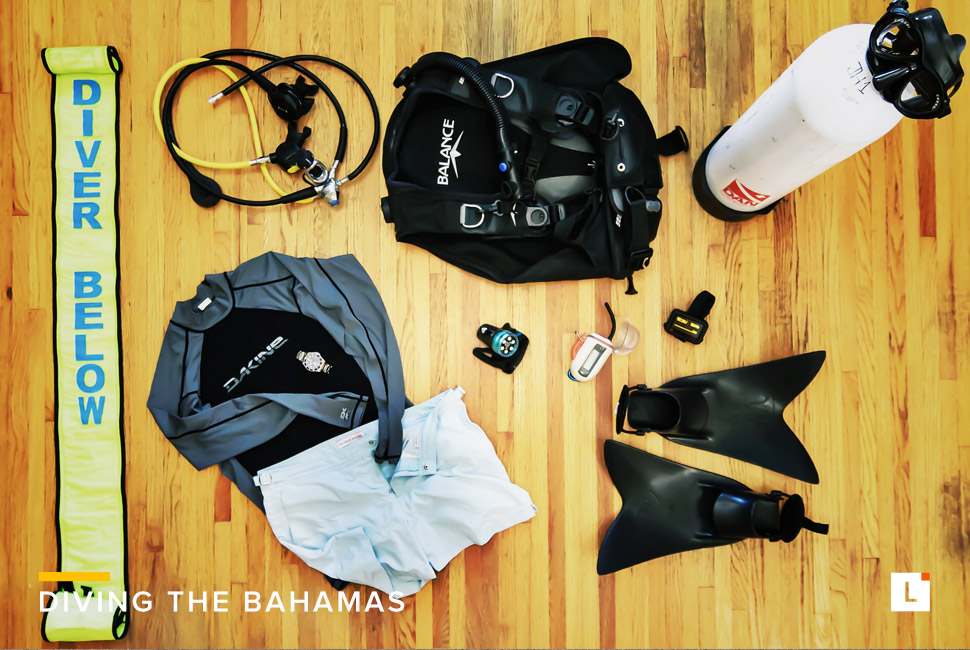 While we love diving for its ability to transport us to an alien world, defy gravity and commune with nature, we also love it for the gear. Diving may be the most gear-intensive sport out there, with the possible exception of mountain climbing. Without your mask, you don't see, without your tank and regulator, you don't breathe, without your dive computer, you risk a nasty case of the bends. But while dive gear is first and foremost your life support system, it can also be elegantly designed in that minimalist, form-follows-function way we like. For our recent trip to the Bahamas, we packed along our favorite warm water diving kit, a collection of necessities, safety backups and just a little bit of style.
Aqua Lung Balance Buoyancy Compensator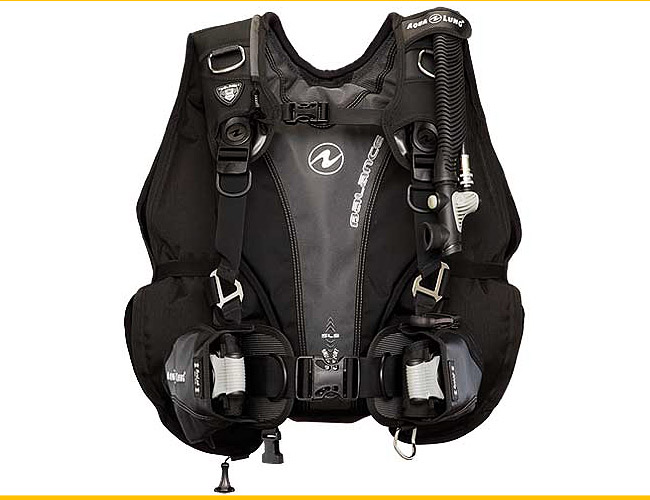 The Balance has been a favorite of divers since it was released a few years ago for quite a few reasons. It combines the superior buoyancy characteristics of a back inflate BC with the convenience of integrated weights. Small rear pockets allow weight distribution for optimized trim, and the large expanding front pocket holds a dive light or slate. The clip-in weight pockets are secure and easy to insert. Just don't forget them on the boat between dives lest you find yourself bobbing like a cork. Plus, it's lightweight and folds up small, making it a good travel BC.
Mares Abyss 22 Navy Regulator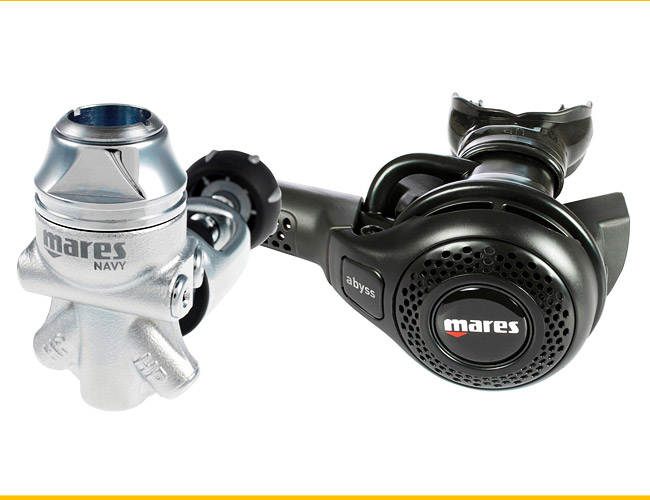 The "Navy" part of the name is more than marketing: this reg has been approved by the U.S. Navy for use by its divers in cold water thanks to its environmentally sealed first stage and heat exchanging second stage, both of which prevent freeze-up and free-flow. A high-impact plastic, aluminum and rubber housing make the Abyss a rugged choice for the rigors of being bashed around a boat, and its stealth-black color scheme gives it a Special Ops bent. We've used this reg everywhere from ice diving to the Bahamas and found it up to all challenges.
Force Fins Pro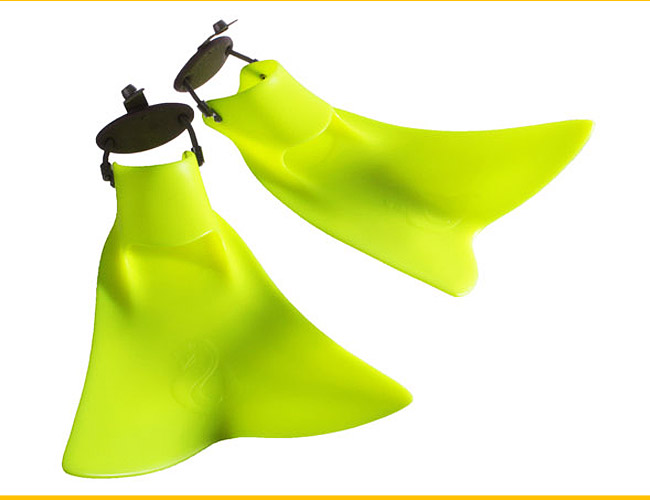 They may not be for everyone, but these funny-looking fins have made it on to the U.S. Navy's approved list for its divers — so there's that. The odd shape actually was designed to mimic the tail of a fish and the open foot pocket prevents cramping. We've been diving these fins for years, and nothing matches them for their combination of power and maneuverability. Matched with the optional bungee straps they are easy to don and doff, even on a pitching boat ladder. They're not the best for surface swimming or free diving, and be prepared for comments and jokes on the dive boat from other (more insecure) divers with lesser fins.
Dive Rite NitekQ Dive Computer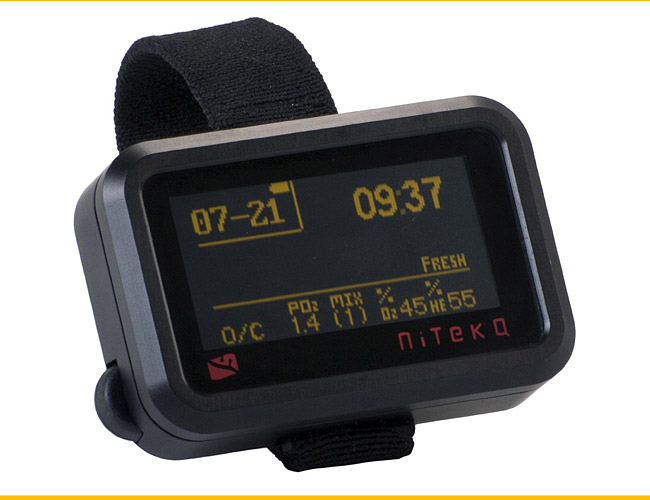 This dive computer is designed for technical divers using mixed gas like heliox and trimix but does perfectly fine tracking your time and no-deco limits on good old air or nitrox. Fully programmable via its intuitive interface or with the provided USB cable, the NitekQ has the most legible display of any computer we've tried thanks to its superbright LCD. It's a bit heavy and we aren't entirely fond of its stretchy strap, but for a computer that has deeper limits than we'll ever push, this is one case where overkill is a good thing.
Dakine Storm Neo-Insulator Rash Guard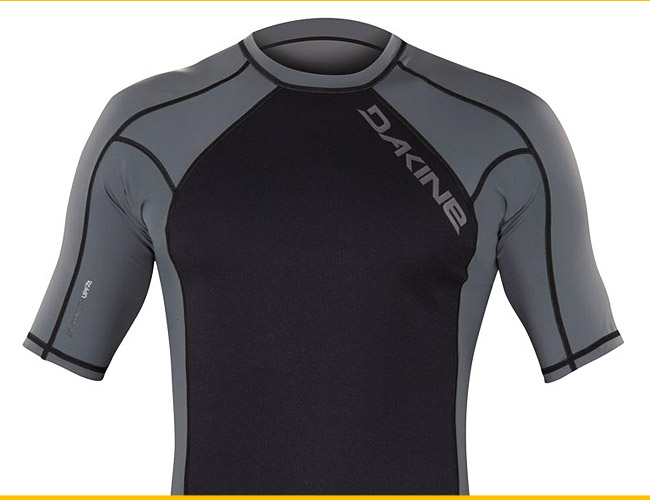 After years of uncomfortable traveling in a heavy, soggy wetsuit, we discovered this rash guard from Dakine. Originally designed for surfers, it works just as well for diving. The one-millimeter neoprene on the torso provides ample warmth in water temps down to about 80 degrees, and the thinner sleeves mean movement is unrestricted and that it dries quickly. The rear zip with Velcro tab is a nice touch, making it easy to put on and take off, even when wet.
Orlebar Brown Setter Trunks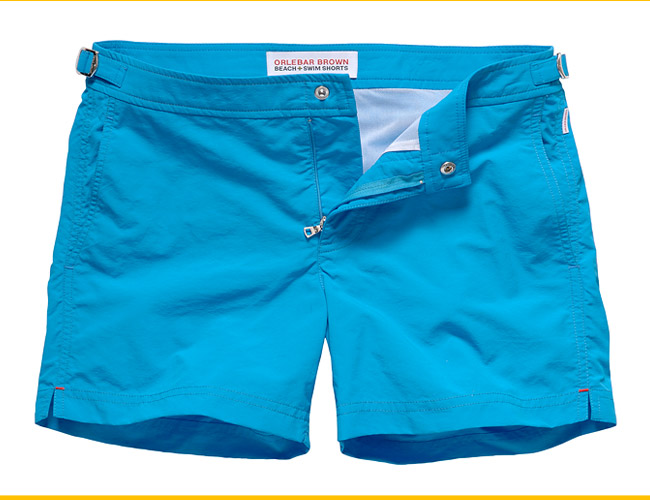 When you're diving the Bahamas, do as Bond did in Thunderball and opt for some stylish trunks rather than baggy board shorts. The Setter has a shorter inseam to show off all your hard work in the gym, and the side tabs eliminate the need for unflattering and uncomfortable elastic at the waist. They dry quickly, meaning by the time you step off the dive boat you can walk directly to the bar for a martini and still look good.
Cressi Sub Occhio Plus Mask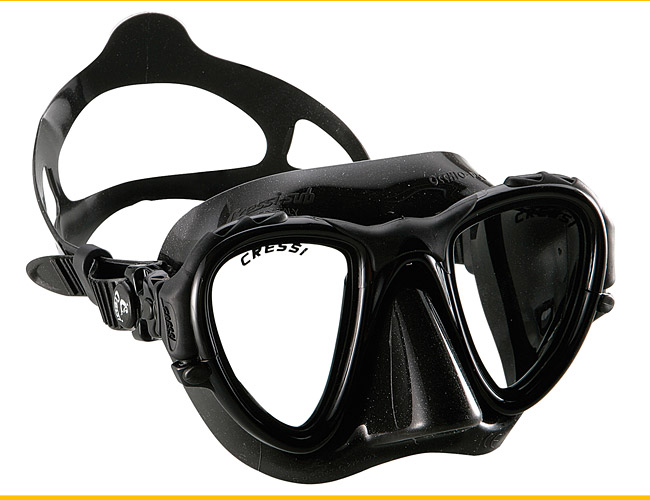 While some divers opt for a giant mask, we like this minimalist one from Cressi Sub. Originally built for freediving spearfishermen, its low volume makes it very quick to clear. The black silicone skirt and frame is great for underwater photographers, too, eliminating distracting light from peripheral vision. It's not ideal for divers with large faces, so be sure to try before you buy.
Nautilus Lifeline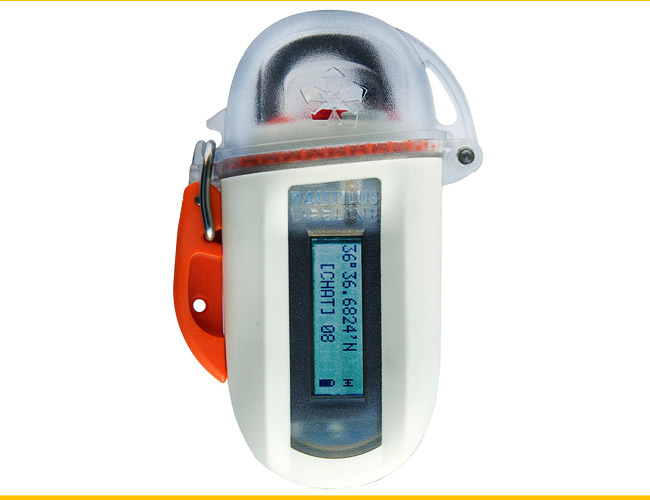 Ever see the movie Open Water? If those unfortunate divers had a Nautilus Lifeline, the movie would have had a happier ending. Devised by a liveaboard dive boat captain accustomed to dropping divers in remote corners of the open ocean, the device, which can be clipped to your buoyancy compensator, acts as a two-way radio to communicate with your own boat, a general hailing radio for calling out to any boat in the area or, in the worst case, an SOS device to call in the Coast Guard. We never dive without one.
Light & Motion Sola 800 Dive Light
For night diving or scouting under ledges for eels and lobsters, a good light is vital. There is none better than the Light & Motion Sola 800, which could double as a stadium light if the Superdome ever goes on the fritz again. Even on the lowest of its three settings, the Sola outshines every other light on dives, almost annoyingly so. It has spot and flood settings and is rechargeable via its wet connect gold-plated cable, a good thing since this one sucks battery life on medium and high settings. Sure, it's expensive, but there's nothing like watching a tarpon hunt sardines by its beam on a moonless night.
Tudor Pelagos Dive Watch
Tudor is Rolex's more affordable line of watches, but that doesn't mean the Crown has cut corners. The Pelagos is a culmination of everything Rolex has learned in its 60 years of building dive watches and may just be the most capable one on the market today. The titanium case, with its Triplock screw-in crown, is rated to 500 meters — but typical Rolex overengineering and understatement means it could probably go twice as deep (not that you could). The bezel has a ceramic insert with luminous markers and ratchets like a Swiss bank safe. The titanium and steel clasp on the bracelet is a masterpiece, with its free-floating dive setting, which expands and contracts to compensate for the compression of your wetsuit sleeve. Of course, your dive computer renders the Pelagos obsolete, but what better excuse is there to buy a kickass dive watch than as a backup bottom timer?
(原文来自:http://gearpatrol.com/2013/08/08/kit-diving-bahamas/)